Tarnished plant bug – a strawberry menace
Tarnished plant bug is a season-long pest of strawberry, with both adults and nymphs causing misshapen or poorly-developed fruit. Spring is a good time to begin monitoring and, if necessary, controlling for tarnished plant bug, since early-season feeding is more damaging to your production than late-season feeding, and insecticide controls are most effective against the nymphs.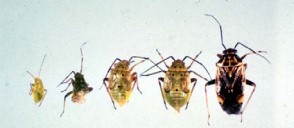 There are many pests to be aware of this time of year in strawberry production. To learn more about other spring strawberry pests, visit our previous articles published in this newsletter about: strawberry root weevil, black vine weevil, eastern flower thrips, two spotted spider mites, and cyclamen mites.
| | |
| --- | --- |
| Common Name | Tarnished plant bug, Lygus bug |
| Order | Hemiptera |
| Family | Miridae |
| Scientific Name | Lygus lineolaris |
Identification and life cycle
Tarnished plant bugs overwinter as adults in leaf litter, generally in wooded areas, along fence lines, or in alfalfa fields. The adults are ¼ inch long, green with brown and yellow markings, and have wings. They could be confused with big-eyed bugs and other beneficial bugs – look for the yellow v-shaped marking just behind the head and yellow triangle-shaped markings along the margin of the wings to identify tarnished plant bug.
Eggs are laid in early spring, and nymphs begin to appear shortly after temperatures reach 68°F, generally in mid-May. Tarnished plant bug nymphs are green and wingless. Nymphs could be confused with aphids, but move more quickly and, under magnification, do not have "cornicles" (a pair of backward-pointing structures on the abdomen that are characteristic of aphids). There are four to five overlapping generations per year in the Midwest.
Both adults and nymphs feed on foliage, flowers and fruit of strawberry, and both cause damage to the fruit, but the nymphs are more voracious of feeders and so are generally more damaging. Nymphs are also more sensitive to insecticides, so controlling earlier in the season if you have a history of tarnished plant bug damage will greatly help in managing populations.
Damage symptoms
Tarnished plant bugs feed on the strawberry directly, causing "catfacing" (misshapen fruit). Catfacing can also be caused by frost damage or poor pollination. However, catfacing caused by tarnished plant bug tends to be on the tip of the strawberry where they prefer to feed. Most frequently they feed in an upright position on an upright berry, feeding at the tip of the berry (see picture at right). The presence of hollowed-out seeds is very characteristic of tarnished plant bug damage, as they often feed by piercing and sucking out the seeds.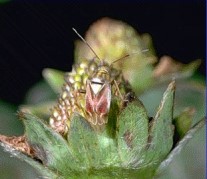 Monitoring and control
Monitor for tarnished plant bug using a small beating sheet, which can be any white piece of paper or cloth, secured on a clipboard in an embroidery hoop (or a white plate or a Frisbee turned upside down would work great too!), placed under the strawberry plant. Then tap the plant firmly against the beating sheet, and inspect for bugs. An Ontario Ministry of Agriculture, Food and Rural Affairs video shows how to monitor and identify tarnished plant bugs. As mentioned in the "Identification" section, tarnished plant bug may be confused with big-eyed bugs, which are a beneficial species. Big-eyed bugs have big, conspicuous eyes, and lack the yellow markings.
Monitoring should begin before first-flower, and ideally should be done twice per week until you begin to harvest. The action threshold for tarnished plant bug is an average of one bug per four strawberry plants. Tarnished plant bug prefers alfalfa over strawberry and can become problematic if you have an alfalfa field near your strawberry farm. Monitor for tarnished plant bugs closest to alfalfa fields, and keep in mind that when alfalfa gets cut for hay, tarnished plant bugs may move to strawberries for food.
Cultural control: Tarnished plant bugs are polyphagous, also feeding on a range of weeds common to strawberry production. For that reason, good weed control can help reduce the likelihood of issues with tarnished plant bug. Additionally, they often lay eggs on weedy patches or cover crops in spring, so weed removal and discing under cover crops in the spring can help reduce tarnished plant bug pressure. However, avoid mowing weeds during strawberry bloom or while fruit is developing, since removing weeds may push the tarnished plant bugs to feed only on strawberries.
Earlier-flowering varieties of strawberry may escape the worst of tarnished plant bug damage, so planting more early-season varieties could provide host-plant resistance. Floating row cover placed over strawberry plants can be effective at a small-scale. Cover the plants in the early spring, but be sure to remove the cover during bloom to allow pollinators access to the flowers.
Chemical control: Insecticides are more effective against nymphs rather than adult tarnished plant bugs. For that reason, early season monitoring and prompt insecticide applications are recommended once you reach the action threshold of one bug per four plants. The following table contains information on some insecticide options available for use on tarnished plant bug in strawberry in Wisconsin. We do not recommend these chemistries above other options, and all product recommendations can be found in the latest Midwest Fruit Pest Management Guide. As always, it is the law to read and follow the label.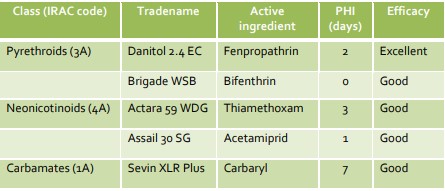 This article was posted in
Insects
and tagged
Tarnished Plant Bug
.