A new invasive fly – the African fig fly
The African fig fly (AFF, Zaprionus indianus) is an invasive fruit fly, closely related to the genus Drosophila, which was first detected in Wisconsin in 2012 as one specimen. We have been keeping an eye out for AFF, in particular in our spotted wing drosophila traps and 2017 marked the first year with a small population of this species in the state. AFF is not able to damage or infest intact fruit in the way that spotted wing drosophila does, and, to date, has only been shown to cause economic injury in the fig industry. However, AFF can be a secondary pest of many fruit crops, with yet unknown economic impact. Additionally, they can expand their range and proliferate rapidly, making AFF an invasive species of concern to keep an eye on. Throughout the spring, summer and fall of 2017 we caught AFF in our spotted wing drosophila traps, and we will continue to monitor for this pest in 2018. It is likely that AFF travel on wind patterns to Midwest from Southern states where it is now established.
| | |
| --- | --- |
| Common Names | African Fig Fly |
| Order | Diptera |
| Family | Drosophilidae |
| Scientific Name | Zaprionus indianus |
Host Range: AFF is able to feed on a large number of berry fruit crops we grow in Wisconsin, including grapes, strawberries, raspberries, blackberries, blueberries and peaches. There is some evidence that grape is a preferred host for AFF. However, it is only able to feed on fruit that is over-ripe or already damaged, so, although they may contribute to fruit breakdown or secondary infection, they cannot cause the initial damage to intact, ripe fruit.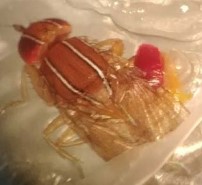 Identification and Life Cycle: The AFF has a very distinctive appearance, and is easy to identify under magnification. The adult fly has a light-colored body and bright red eyes, and is slightly larger than the typical drosophilid flies, such as spotted wing drosophila. Under a hand lens, three obvious white stripes bordered in black are seen running along the length of each side on the fly's back and sides (head and thorax). The larvae, or maggots, are legless and have a single hook-like tooth at the mouth-end with which they feed within berries and other soft fruit. The larvae are nearly indistinguishable from drosohilid maggots, such as spotted wing drosophila.
The AFF is native to tropical climates, and it is unlikely they would be able to survive even a mild winter in Wisconsin. However, they are able to travel long distances on air currents, and are expected, at least some years, to move up from Florida in the summers, and to infect our fruit in the summer and fall. So far, AFF has only been found in Wisconsin in the summer of 2012 and 2017, and we will be monitoring to see if they return in 2018.
They develop from egg to adult in 20 days (in the laboratory at 75F), and females lay on average 60 eggs, so once AFF reaches Wisconsin each year, populations will be able to build up quickly. We do not know at this time how many generations there would be per year in Wisconsin.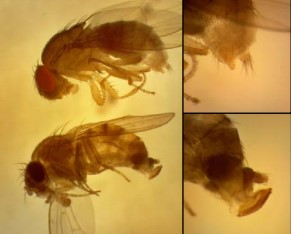 Damage Symptoms: Like spotted wing drosophila and other drosophilid flies, AFF lays eggs inside fruit, where the larvae develop. Unlike spotted wing drosophila, AFF has a weak ovipositor and is unable to cut into undamaged fruit. For this reason, AFF is expected to only be present in rotting or previously damaged fruits. However, AFF is a relative newcomer to more temperate climates, so specifically which crops will be affected and how strongly remains to be seen.
Because AFF and spotted wing drosophila exist in similar habitats, they are likely to interact with each other. AFF may lay eggs in fruit damaged by spotted wing drosophila females, and populations are expected to build up alongside spotted wing drosophila. It is unknown at this time, but competition between AFF and spotted wing drosophila may serve to help keep spotted wing drosophila populations in check.
Monitoring and control: All management practices previously described for spotted wing drosophila would help manage AFF populations. Scouting for the AFF can be done using the same traps as those used for spotted wing drosophila. These are both available commercially, or can be made by putting some small holes in the top of a deli cup. The traps should be baited with a yeast-sugar solution or a commercial spotted wing drosophila lure. It is not recommended to test the fruit directly to determine infestation rates for AFF, since the larvae of AFF will be indistinguishable from the other drosophila maggots that may be present in damaged fruit.
Cultural control: Cultural control practices, such as sanitation, may help to mitigate AFF population build up each year. When feasible, removing all damaged or rotting fruit from the plantings, and solarizing or freezing it to kill drosophilid larvae, will help prevent successful AFF development on your property. This is already a recommended practice to help reduce spotted wing drosophila numbers.
Because AFF is able to move long distances, they will be able to re-infest yearly from southern climates, even on a farm with excellent sanitation practices. Netting, or exclusion, which has been done with some success to prevent spotted wing drosophila infestations, will additionally prevent AFF infestations. When using netting, the mesh size must be no greater than 1/32 inch. It is best to net 3 the fruit after early fruit set, so as not to interfere with pollination, but before fruit begins to ripen. Additionally, it is important to ensure the mesh is adequately fastened to itself and to the ground, so adult AFF cannot sneak in through any holes.
Chemical control: Chemical control is not yet recommended in Wisconsin, as AFF populations are not currently at infestation levels. If spraying does become necessary, it will be beneficial to choose an insecticide that also shows efficacy against spotted wing drosophila. Some insecticide classes that are effective against both AFF and spotted wing include spinosyns, carbamates, and organophosphates. As always, it is recommended to rotate IRAC chemical classes to delay insecticide resistance, and to consider the effects on non-target and beneficial insects. Please check the latest Midwest Fruit Pest Management Guide for full product recommendations. If you suspect that you have found AFF, please contact the University of Wisconsin-Madison/Extension Insect Diagnostic Lab at (608) 262-6510, idl@entomology.wisc.edu or http://labs.russell.wisc.edu/insectlab/contact-us/
This article was posted in
Insects
and tagged
AFF
,
African Fig Fly
,
SWD
.