Mating disruption for management of insect pests in apple
Thank you all for attending the WAGA field day, it was a great turn out and I appreciated all the questions, comments, and discussions over the topic of mating disruption for the management of apple insect pests. Here is a summary of what we discussed.
Mating disruption (MD) is a pheromone-based tool where dispensers of artificial sex pheromones from (usually) females are placed in orchards and lead to a reduction in the probability of males finding females (Fig. 1). In turn, mating is reduced, thereby egglaying is reduced to below the economic threshold.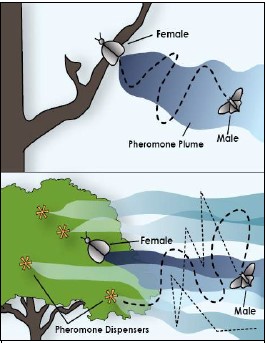 Mating disruption pheromone dispensers are available for codling moth, Oriental fruit moth, dogwood borer, peachtree borer and lesser peachtree borer as well as for some leaf roller species (OBLR, Pandemis, omnivorous leaf roller, light brown apple moth). In 2012, there were 20 insect species targeted with MD and this approach was used on nearly 2 million acres worldwide. In Wisconsin, we currently only have codling MD registered and we will discuss MD in the context of codling moth management herein.
Several mechanisms by which mating disruption may happen have been discussed. One is the competitive approach where dispensers in orchard might mimic calling female, attracting male to many false sources, or the noncompetitive approach where dispensers might release so much pheromone that the background concentration of pheromone masks normal communication. More information can be found here on how these mechanisms act on the insect.
Monitoring effectiveness of MD: it is important to check that MD is actually happening in your orchard. Use codling moth monitoring traps to track pest activity and density to assess the effectiveness of MD. The target insects are not killed and are still flying around, so there is a need to make sure adequate control is achieved by looking at a reduction in moths trapped in the monitoring traps (as an indicator that males are not finding females). Ideally, use the CMDA lures for monitoring populations in MD orchards for better assessment of trap shutdown as these lures will attract both male and female codling moths.
Manufacturers: there are different manufacturers for MD products including Pacific Biocontrol, Suterra, Scentry, Trécé, Ridge Quest Inc, ISCA. This is not necessarily an exhaustive list. We do not endorse any company or products over others.
Dispensers: Dispensers vary in the number used per acre and the release rate associated with the type of dispensers. There are 1) the densely distributed dispensers (e.g., hand applied, microencapsulated, spray formulations) where the layout of the dispensers distribute the pheromone in the orchard; and 2) the sparsely distributed dispensers (e.g., misters) with fewer point sources and higher release rates which rely on natural aerial distribution of the pheromone in the orchard.
Benefits of MD:
Slower development of insecticide resistance
Improved biological control of this and other pests in orchard
Less farm worker exposure to insecticides and lessened environmental impact
No residue on crops, nontoxic to beneficials

Adopted widely in Pacific Northwest with good results
OMRI approved
Season long activity
Compatible with all other control methods
Works all season long, rain or shine, and no need to reapply
Some considerations:
Size and location of orchards less than five acres or near a source of the pest (abandoned orchard, unmanaged trees, hosts nearby) may not obtain optimal results. Smaller size orchards increase the amount of edge with surrounding landscape and may increase the likelihood that mating will occur outside of the MD area and then attracting mated females back into the orchard to lay eggs on fruit
Border sprays may be needed if source of pest nearby
Pest level: high populations (above 1% crop damage the previous season) will need to be controlled with insecticide first year of MD
Other non-target pests that were controlled by insecticide for target pest may see resurgence.
Mating disruption dispenser displays that were discussed at the field day
Isomate Misters: Place in top third of tree for codling moth, 1-2/acre in grid pattern (209ft apart). Could use CM/OFM combo in mister. Temperature sensor. Place in upwind of prevailing wind with direction for plume to cover trees. Consider phytotoxicity of branches near mister
Isomate CM Flex: 200-400 dispensers/acre
Isomate C Plus: 400 dispensers/acre
Isomate CM Ring
Tangler with launcher for delivery of MD dispensers
This is not an exhaustive list, many other products are available. These were just displayed at our field day and we do not endorse any company or products over others.
Take home message: Mating disruption is an effective management strategy. All dispensers for codling moth work similarly in their efficacy at providing MD in apple orchards and the cost of dispensers vs. cost of labor to apply these dispensers should help determine which is most appropriate for your orchard. Check with the manufacturer if the product is registered in Wisconsin before purchasing it, not all products discussed are registered in Wisconsin.
This article was posted in
Apples
,
Insects
and tagged
Mating Disruption
,
WAGA
.