Dogwood borer and mating disruption
Spring is in the air and if you have not already done so, this is the time of year when you should be ordering traps and other supplies for monitoring and managing insect pests in apple. One management strategy we discussed as a viable option for several of our insects at the summer field day last August is mating disruption and you can find a previous article of the WFN where we discussed this topic.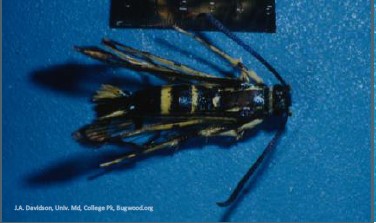 Some growers have considered using mating disruption for dogwood borer (DWB). This clear wing moth lays eggs in burr knots and can cause severe damage to tree trunks and tree vigor. More info about DWB and other borers can be found in this article. Mating disruption is available commercially as the DWB Isomate product from Pacific Biocontrol; however it is NOT CURRENTLY REGISTERED in Wisconsin.
It came to my attention that some Wisconsin growers may be purchasing DWB mating disruption dispensers and using them here. While these may be available from neighboring states or online, it is against federal law to use these products in a state where they are not legally registered with EPA. Please, make sure to ask your suppliers (especially if you purchase online) if any of the products you are considering to purchase are registered in Wisconsin. You can also check registration status in Wisconsin by going to the DATCP website and check their pesticide data base for current registration status or you can contact me at guedot@wisc.edu or 608-262-0899.
Now, I am currently in conversation with Pacific Biocontrol, the maker of DWB Isomate to investigate the possibility of them registering this product in Wisconsin. Conversations have been fruitful as they just told me last Friday that they are pursuing the process to register DWB Isomate in Wisconsin. The process will take some time and I will keep you informed as soon as it is registered in Wisconsin as I will continue communicating with the manufacturer to provide a new strategy for apple growers in Wisconsin for managing DWB.
Happy growing season!
This article was posted in
Apples
,
Insects
and tagged
DWB
.