Amaya Atucha named 40 under 40 by Fruit Growers News
Fruit Growers News and Vegetable Growers News magazines have announced the Fruit + Vegetable 40 Under 40 Class of 2019 – a group of exemplary agriculture professionals nominated by their peers for the impressive accomplishments of their young careers. Amaya Atucha, Assistant Professor and Fruit Crop Extension Specialist at UW-Madison's Department of Horticulture, was named to this list.
The 40 Under 40 Awards represent a broad spectrum of agriculture industry professionals, from growers and farm market operators, to Extension agents and industry suppliers. These young professionals are making substantial strides for their individual businesses and the industry as a whole.
"Our Fruit + Vegetable 40 Under 40 Class of 2019 represents the future of our industry, and it's clearly in good hands," said CEO and Publisher Matt McCallum. "In their young careers, these honorees are already making a positive impact while also demonstrating exceptional leadership, motivation and innovation."
For the entire list, go to https://vegetablegrowersnews.com/news/fruit-vegetable-40-under-40-class-2019-announced/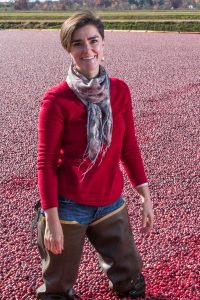 This article was posted in
Horticulture
.