Leaf tissue analysis for berry crops- Now is the time
Leaf tissue analysis is the best indicator of plants' nutritional status as it measures directly the concentration of nutrients in the plant. Soil test can be a use tool as well, however results of soil test do not always correlate with the amount of nutrients that plants are actually up taking. A good recommendation for growers is to take foliar samples on an annual basis and a soil test every 3 years.
Foliar nutrient analysis is the best way to assess the effectiveness of your fertility program, as it allows growers to detect when nutrient levels in the plant are approaching deficiencies before visual symptoms are observed, allowing growers to take corrective action in advance. The analysis provides information on N, P, K, Ca, Mg, Fe, B, Mn, and Zn levels in leaves sampled and a guideline with the concentration range for these nutrients expected in healthy plants.
When and how should I collect the leaf samples?
The standard recommendation for foliar sample collection is mid-summer because during this time of the year nutrient levels are most stable in the plants.
For blueberries, 80 to 100 leaves should be collected from the middle section of shoots (not old leaves from the base, nor new leaves from the tip) selecting young newly matures leaves fully exposed to the sun. For blackberries and raspberries, collect a minimum of 50 fully expanded leaves from primocanes (non-fruiting canes). For strawberries a minimum of 50 leaves should be collected from first fully expanded leaves after renovation.
A general recommendation is to collect the leaves across the planting in a zigzag pattern. Leaves should be sampled from plants that are representative of the entire field, and separate samples should be collected from areas where plants have poor growth or present visual symptoms of nutrient deficiencies.
Once you have collected the leaves, gently wash them with distilled water to rinse off soil and spray residues, and let them air dry. Place the leaves in a clearly labeled paper bag and send them to the lab. If you cannot wash the leaves after collecting them, place them in a cooler or refrigerator until you can process them (do not allow leaves to wilt before you wash them).
As a reference we are providing tables with the desired range of nutrient concentrations for blueberries, brambles, and strawberries.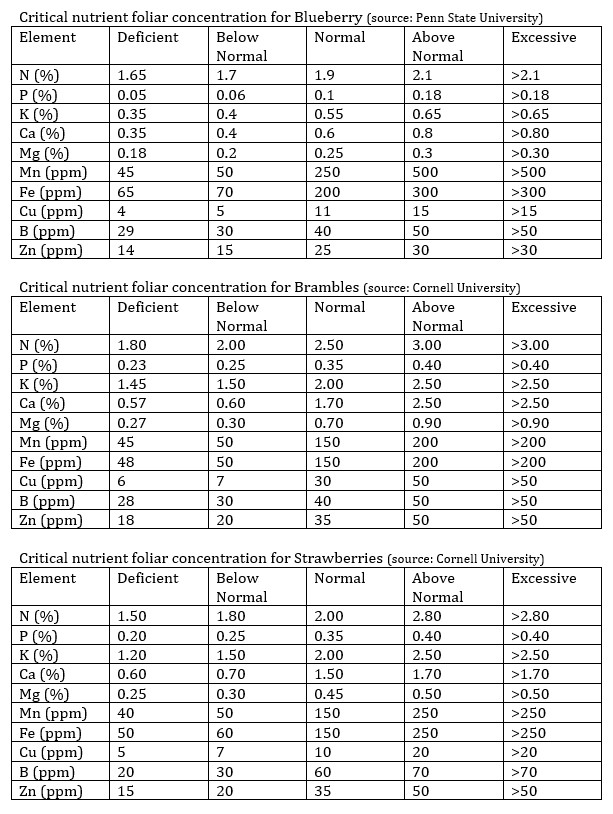 This article was posted in
Berries
and tagged
foliar nutrient
,
leaf tissue analysis
,
Raspberries
.