Tissue analysis to determine nutrient status of cold-hardy wine grapes
In Wisconsin, mature leaf petiole is the most common tissue used to assess the vines nutritional status. There are two recommended timing for petiole sampling, at bloom, or during veraison. Some people prefer to sample at bloom time because that allows for enough time to apply any nutrient that might be deficient (especially nitrogen and boron), while others advocate for the veraison period because nutrient concentration is more stable and results more reliable during this period. Regardless of the timing in which you decide to sample the most critical thing is to be consistent and sample at the same time every year, so that you can compare across growing seasons how your vines are responding to your fertility program, as well as to diagnose problems or anomalies in nutrient concentrations within years.
Instructions to collect Petiole samples:
Divide the vineyard into sampling areas based on the type of soil, cropping history, and variety. In addition separate sampling areas by variety and age (e.g. one sample should be taken for a 3 year old Marquette block, and a separate sample for a 8 year old Marquette block). If you have an area in you vineyard that shows symptoms you should collect a separate sample for it.
Collect 50-100 leaves/petioles (use the higher end of the range for varieties with smaller leaves such as Foch and Marquette). Leaves/petioles should be collected randomly from 20-30 vines within a sampling unit, by collecting 2 leaves per vine from both sides of the rows and canopy. Select leaves/petioles from shoots that are well exposed to sunlight, healthy, free of insects, diseases or physical injury.
If sampling at full bloom, collect leaves located opposite the first or second flower cluster of a shoot (Figure 1). If sampling at veraison, collect the 5th to 7th fully mature leave from the tip to the base of the shoot (make sure the shoot has not been pruned)(Figure 2).
Separate the petioles from the leaf blades (if rinsing is required remove the leaf blade after the washing process, do not leave the leaves soaking in water as they will leach nutrients) and place the petioles in a labeled clean paper bag or bag provided by the tissue analysis lab (Figure 3.). It is critical to label each sample to be able to keep records of each sampling area.
Let the petioles dry at room temperature or send them immediately to the laboratory. Do not use plastic bags.
Contact the tissue analysis laboratory before collecting and submitting your samples to determine any specific requirements.
You should request the following nutrients for testing: Total nitrogen (N), phosphorus (P), potassium (K), magnesium (Mg), calcium (Ca), manganese (Mn), zinc (Zn), boron (B), iron (Fe), and copper (Cu).
Sufficiency range for nutrients in Cold-Hardy Grape petioles (Based on Domoto and Rosen)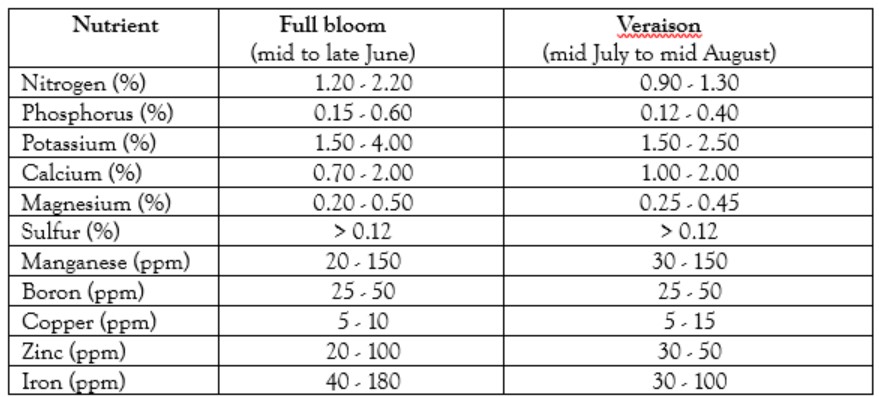 List of Plant and Soil Analysis Laboratories:
(The provided list of laboratories is not an endorsement to any particular laboratory and does not exclude other facilities that provide similar services)
University of Wisconsin Soil and Forage Analysis Lab
2611 Yellowstone Drive
Marshfield, WI 54449
Ph: 715-387-2523
https://uwlab.soils.wisc.edu/plant-tissue/

AgSource Laboratories-Bonduel
106 N. Cecil Street
Bonduel, WI 54612
Ph: 715-758-2178
http://agsource.crinet.com/page5714/PlantTissue

Dairyland Laboratories, Arcadia, WI
217 E. Main Street
Arcadia, WI 54612
Ph: 608-323-2123 
 https://www.dairylandlabs.net/agronomy-services/plant-tissues

 U of MN Research Analytical Lab
135 Crops Research Building
1902 Dudley Avenue
St. Paul, MN 55108
Ph: 612-625-3101
http://ral.cfans.umn.edu/
 
AGVISE Laboratories
902 13th Street
P.O. Box 187
Benson, MN 56215
Ph: 302-843-4109
http://agvise.com

Minnesota Valley Testing Laboratories
1126 N. Front Street
New Ulm, MN 56073
Ph: 800-782-3557
http://www.mvtl.com

A & L Heartland Laboratories
P.O. Box 455
111 Linn Street
Atlantic, IA 50022
Ph: 712-243-6933
http://www.allabs.com

AgSource Laboratories-Belmond
1245 Hwy 69
Belmond IA 50421
Ph: 515-444-3384
https://www.agsourcelaboratories.com/ 

Minnesota Valley Testing Laboratories
35 L Avenue
Nevada, IA 50201
Ph: 515-382-5486 or (800) 362-0855
http://www.mvtl.com/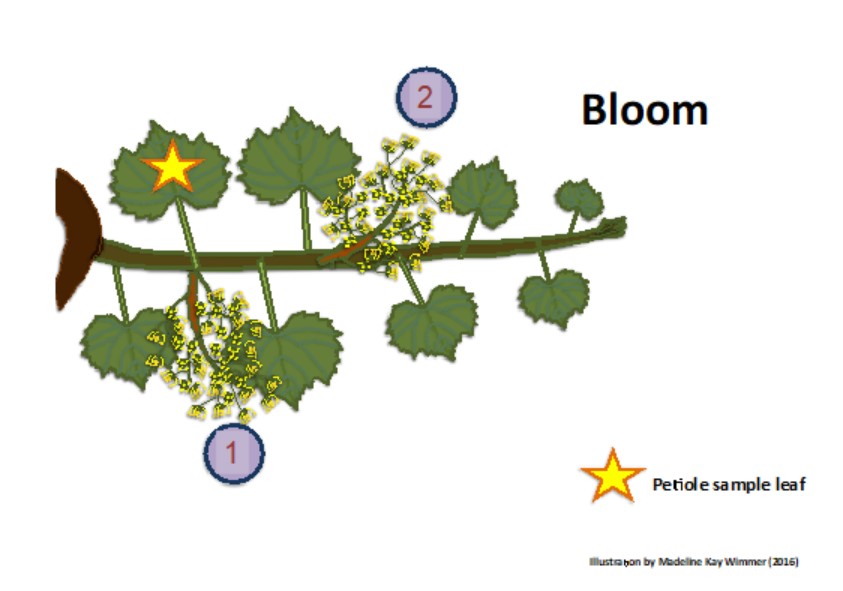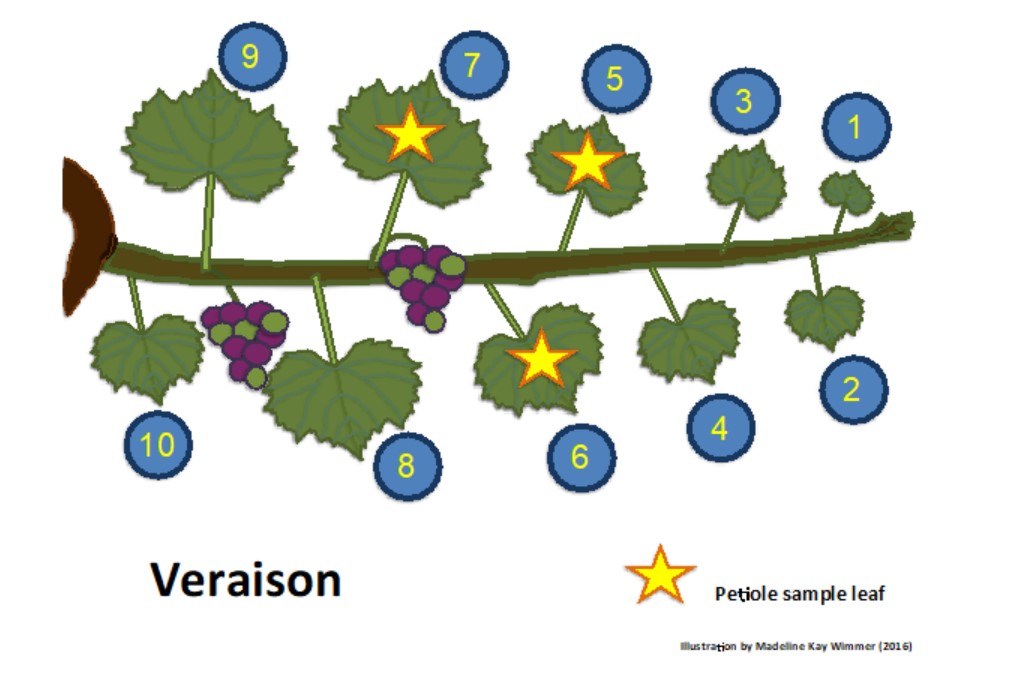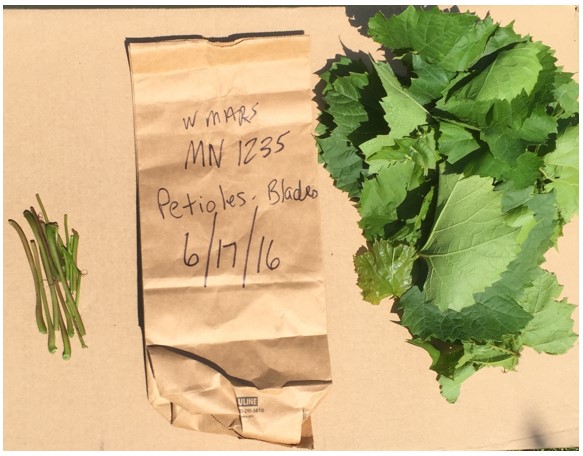 This article was posted in
Grapes
and tagged
veraison
.