Grape scouting report: Not much to report!
Scouting at the West Madison Research Station (WMARS) vineyard occurred on 8/26/19 which was a chilly and rainy day. Likely due to the weather, we did not see a single Japanese beetle (JB) during our scouting. Sevin XLR Plus (active ingredient carbaryl) was applied on the WMARS grape vines on 8/21/19 to control Japanese beetle and this may well be the last insecticide application for this insect this summer. Overall JB populations seem to have subsided substantially in Dane County.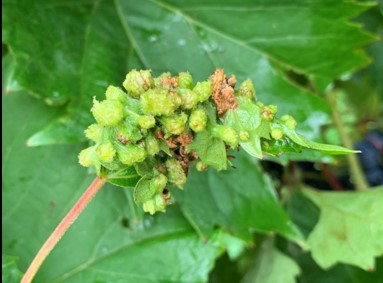 Grape phylloxera galls continue to be observed on all cultivars, including Brianna, Frontenac, Itasca, Petite Pearl, Marquette, and Crimson Pearl with leaves folding over on some cultivars, such as Frontenac (Figure 1). Incidence seems more predominant on Frontenac, Marquette, Brianna, and Itasca this week. Please remember that many of these galls are old galls that remain on the leaves if not pruned out. Remember to plan a preventative soil application of Admire Pro next spring around bud break if you experience high numbers of phylloxera galls and/or leaf folding.
Similar observations were made at the Peninsular Ag Research station (PARS) in Door County: the presence of old grape phylloxera galls and no JB or any other insect of importance to report.
Thanks to Andi Nelson and Annie Deutsch for scouting at the research stations.
Happy growing season!
This article was posted in
Insects
and tagged
Japanese beetle
.