Door County Fruit Crop Pest Report, September 9, 2019
As we approach harvest, make sure to double check the preharvest interval for any product you might use!
Insect and Disease Control
Apple
Disease Pressure – An increase in moisture over the last couple weeks is resulting in late-season apple scab pressure. If you choose to use a fungicide, it is recommended to use one labeled for sooty blotch and fly speck as well.
Insect Pressure – There were low levels of codling moth and apple maggot caught over the last week. If you are still catching apple maggot in your orchard, a final insecticide application may be necessary. Wooly apple aphids have been observed in low numbers in orchards with lots of shade and poor airflow in the lower limbs. The best time to control this pest is early season (pink to petal fall). Dock sawfly may begin to emerge, especially in orchards with poor weed control. It is not recommended to use an insecticide to control this pest, because it's activity is too unpredictable. If you notice damage after harvest, consider improving weed management next year to prevent problems.
Final fruit drop suppression sprays can still be applied if the preharvest interval allows for enough time before harvest. Color development is ahead of what we would expect based on apple maturity. Make sure to perform other tests for maturity rather than relying on color alone.  It is too late to do any additional summer pruning at this time, because the fresh cuts need adequate time to harden off before the winter.
Cherry
Disease Pressure – If a final post-harvest fungicide application was put out, leaves should stay on the trees through the fall which will keep them healthier going into the winter.
Insect Pressure –Even though spotted wing drosophila continue to be caught in traps, insecticide applications should stop. Continuing to spray insecticides after harvest could actually speed up the development of insecticide resistance.
Grape
Check out the Fruit News for grape maturity information. Nets or other bird deterrents should be in place by now since most varieties are past veraison.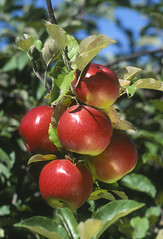 Apple Maturity at PARS for apple collected on Sept 3, 2019
| | | | | |
| --- | --- | --- | --- | --- |
| Variety | Firmness lbs (range) | Starch (range) | Brix | Color % |
| Paula Red | 13.5 | 3 – 6 | 10 | 58% |
| Zestar | 13.6 | 4 – 5 | 11 | 50% |
| Cortland | 17.7 | 1 | 8.1 | 30% |
| Honeycrisp | 18 – 19 | 1 | 7.4 | 15% |
| Nova Spy | 19.7 | 1 | 8.4 | 20% |
Apple maturity reports will be published weekly on the Peninsular Agricultural Research Station website.
This article was posted in
Apples
,
Berries
,
Door County Report
,
Grapes
and tagged
Door County
,
insects
,
SWD
.