Codling Moth and Apple Maggot Still Present and BMSB is Picking Up
Reports have come in that low to large levels of codling moth and moderate levels of apple maggot were caught in monitoring traps in the last couple of weeks. If you are over threshold for these insects, a final application of an insecticide may be warranted.
We are also seeing brown marmorated stink bug (BMSB) populations increase and growers should be paying close attention to BMSB feeding on apple. If you are finding BMSB in your orchard, you may apply an insecticide at this time. For more info on BMSB please refer to this previous article.
We are conducting a study on BMSB that includes surveying for parasitoid wasps with BMSB egg sentinels in the hope to assess what biocontrol agents are present in WI for this pest. We are sampling in South Central WI in the last row of apple in orchards and at the wood edge and deeper into the woods. So far we have found two different species of parasitoid wasps visiting the BMSB egg masses and three different species of wasps emerged from egg masses. They were found either in the BMSB egg masses placed in apple trees at the edge of the orchard or 25m into the woods. This is great news as we did not recover a single parasitoid from any of the BMSB egg masses we placed in apple orchards throughout last summer.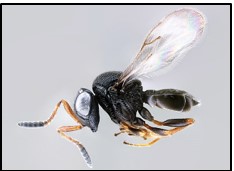 We are still sampling and waiting to see what emerges out of the egg masses we brought back into the lab as it takes several weeks for them to emerge. So far, the fact that we identified five different species visiting or emerging out of BMSB eggs is very promising as it indicates that several species have cued on to BMSB eggs. The parasitism rate has not yet been calculated but will likely be very low and no Trissolcus japonicus (the samurai wasp) have yet been recovered from BMSB egg masses in Wisconsin. The samurai wasp is the most promising egg parasitoid species for BMSB biocontrol has it has high parasitism rates (60-90% mortality of BMSB in Asia) and specializes on attacking only certain kinds of stink bugs like BMSB. This wasp has been found in several states, including on the East and West coasts and last year in Michigan. We will keep sampling until October and will keep you posted of what we find.
Happy harvest!
This article was posted in
Insects
and tagged
Apple maggot
,
BMSB
,
Codling Moth
.