Door County Report, September 24, 2019
The rain just keeps coming. Apple harvest is ongoing and grapes are slowly increasing in sugars. Apple and grape maturity reports will be published weekly on the Peninsular Agricultural Research Station website https://peninsular.ars.wisc.edu/apple-cherry-pest-update/
As we approach harvest, make sure to double check the preharvest interval for any product you might use!
Insect & Disease Control
Apple
Disease Pressure – Late pin point scab has been observed in McIntosh and Cortland in some orchards. A late season apple scab spray may be needed in blocks with active apple scab lesions due to the high amount of fog/mist we've had over the past week. For an in-depth article on apple scab, click here.
Insect Pressure – There are still a few remnant apple maggots adults flying and they were caught in two orchards. Second generation codling moth flight is over. The oblique banded leafroller flight is nearly over as well, and only two moths were caught this week. No brown marmorated stink bugs have been caught this year, but other types of stink bugs are active. There appears to be some stink bug or tarnished plant bug damage showing up on fruit in some blocks with heavy insect pressure. The feeding from both species looks very similar to bitterpit. If you are noticing higher amounts of what you think is bitterpit, it is worth checking the fruit closely to evaluate whether it is actually insect feeding damage.
When testing for apple maturity, it is important not to go by color alone this year, because color is developing faster than the apples are maturing. Make sure to use a variety of tests so that you ensure your apples are harvested at the optimal time.
As you pack this season's crop, evaluate what pests/disorders impacted your crop this year so that you can better adjust your pest management program next year.
Grape
Grape fruit maturity data are included in the most recent Fruit News and local data is posted on the PARS website. Grape brix dropped in some varieties this past week. This decline was likely due to the large amount of rain diluting the sugars within the fruit. We are also noticing some varieties (especially LaCrescent) breaking off at the rachis. This may be a condition called bunch stem necrosis which Amaya Atucha posted an article about in the last issue of the Fruit News: Berry Shriveling in grapes: Late Bunch Stem Necrosis.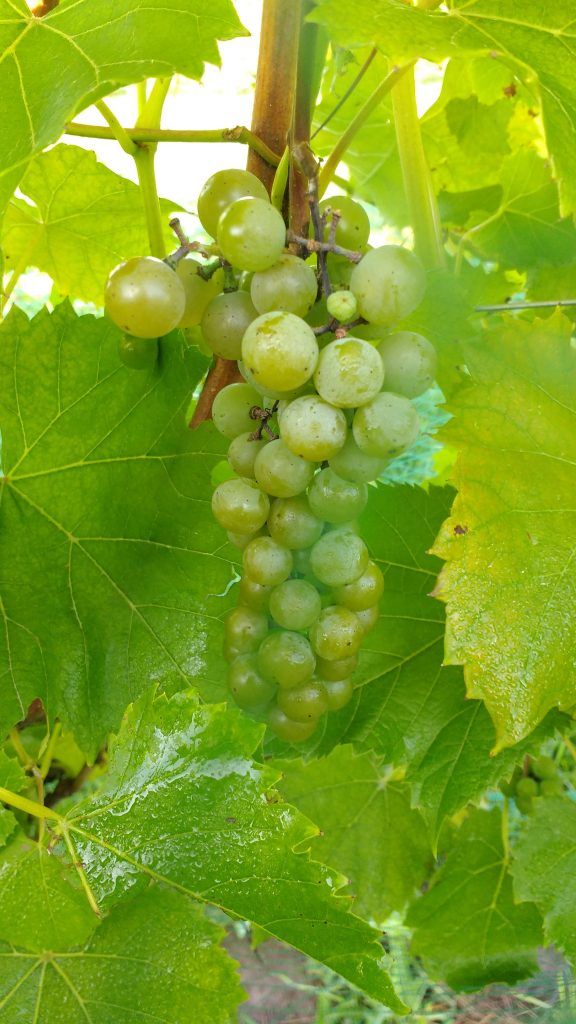 This article was posted in
Apples
,
Disease
,
Door County Report
,
Grapes
,
Insects
and tagged
Door County
,
PARS
.