Spring Insects in Berries: Eastern Flower Thrips, Tarnished Plant Bug, and Mites
Looking forward to another field season and a Wisconsin Spring, now is the time to pay attention to our spring insects in berries and in particular Eastern flower thrips, tarnished plant bug, and mites.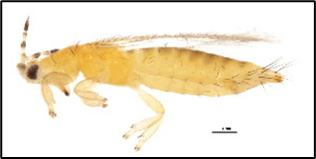 Eastern flower thrips (EFT) have not yet been reported in strawberry but it is important to start monitoring for thrips. EFTs are known to move on air currents from the south and can thus be unpredictable but could also be overwintering on wheat in Wisconsin. To monitor for EFTs, shake or tap 10 blossoms per site at 10 or more sites per variety in a white bowl or tray. Action thresholds of 2-10 thrips per flower or small berry may warrant a chemical control, depending on your level of tolerance (for more info see previous article on EFT here). Please refer to the 2019-2020 Midwest Fruit Pest Management Guide for pesticide recommendations.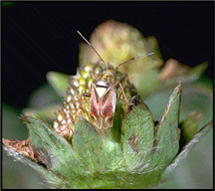 Tarnished plant bugs (TPB) in Dane county, TPB should be active in strawberry and the next generation should start appearing soon. Plants are blooming now and sampling should happen at least once a week. Look for adults and nymphs as both feed on strawberry plants and can cause damage. Chemical control should be implemented when you find four adults per 20 sweeps or one nymph in four flower clusters. Please refer to the 2019-2020 Midwest Fruit Pest Management Guide for insecticide recommendations. More info on TPB can be found in this previous article.
Mites: Monitoring and Control
Annual renovation of strawberry beds helps in reducing potential mite outbreaks the following season. Predatory mites are often effective at keeping two-spotted spider mite populations under control. Predatory mites move around much faster than two-spotted spider mites, and a ratio of one predatory mite to 10 two- spotted spider mites is adequate for biological control. Excessive nitrogen fertilization should be avoided, as it may cause spider mite population to build up. Early season insecticide applications can reduce natural enemy populations such as predatory mites, minute pirate bugs (Orius spp.) and lady beetles, and so should be avoided when possible. If two-spotted spider mite populations reach infestations of 25% or more of leaflets sampled (1 or more mites on 15 out of 60 leaflets sampled), the use of a miticide may be warranted. Products that have shown excellent control on spider mites include Abamectin (e.g. Agri-Mek), etoxazole (e.g. Zeal), hexythiazox (e.g. Savey), bifenazate (e.g. Acramite), and fenpyroximate (e.g. Portal). Please, check the 2017 Midwest Fruit Pest Management Guide for product recommendations and follow the label directions.
Happy growing season!
This article was posted in
Berries
,
Insects
and tagged
eastern flower thrips
,
Mites
,
Tarnished Plant Bug
.