Grape Scouting Report: First Grape Phylloxera Galls and Grape Plume Moth Larvae
Scouting of the grapes at the West Madison Research Station (WMARS) vineyard on 5/27/20 showed the presence of a few grape phylloxera galls (Fig. 1) and grape plume moth larvae (Fig. 2). Grape phylloxera galls should be treated with an insecticide such as Movento, Assail, Danitol, Platinum or Scorpion especially if you have a history of phylloxera in your vineyard. It is likely too late for all cultivars to spray Admire Pro as a soil soak as this should be applied before the first leaf expands.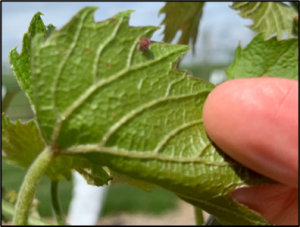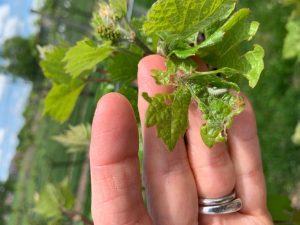 If you see galls and are not sure whether they are phylloxera or tumid gall makers, one easy way to differentiate is to look at the surface of the galls. If the surface is smooth then it is most likely grape tumid gall maker, if the surface is bumpy or warty, then it is grape phylloxera. Both can be controlled with Movento which is a systemic insecticide that will be translocated throughout the plant and reach the insects within the galls.
The other insects observed at WMARS were grape plume moth larvae (Fig 2). These are sporadically observed in vineyards and usually in very low numbers. They web the leaves together with silk and feed on the leaves, leaving holes in the leaves and distorted leaves. They are usually not a pest in the Midwest and should only be managed in case of high pressure as some experienced back in June 2016. If you observe higher than usual pressure from grape plume moth, please refer to this article for more info.
Thanks to Beth Workmaster for scouting at WMARS.
Happy growing season!
This article was posted in
Grapes
,
Insects
and tagged
grape phylloxera
,
grape plume moth
,
grape scouting
,
Grapes
.