First Detection of Spotted-Wing Drosophila in Wisconsin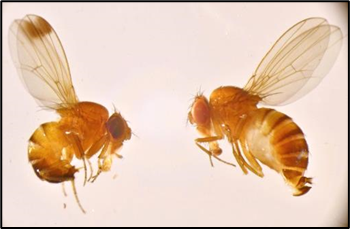 As we published the last article on Spotted-wing drosophila (SWD; Fig 1) not yet being detected in Wisconsin, my graduate student Hanna McIntosh had a chance to look at her trap and realized that our first SWD was actually present on June 19. At about the same time, DATCP also reported their first SWD in their monitoring traps. Hanna found one female on June 19, no SWD on June 26, and 25 SWD on July 3rd in her trap. Looking back at our first detection dates for the past 8 years (table below), it is important to start monitoring in late May to early June as we are more often detecting them in early- to mid-June. Unfortunately, we only have one monitoring trap for a research project at this time and SWD may have been present earlier than this date.
| | |
| --- | --- |
| Year | Date of 1st detection |
| 2013 | June 24 |
| 2014 | June 30 |
| 2015 | July 8 |
| 2016 | June 10 |
| 2017 | June 5 |
| 2018 | June 1 |
| 2019 | June 19 |
| 2020 | June 19 |
Now that SWD is active in the state, it is important to remember that as soon as your fruit is ripening and you either catch at least 1 SWD/trap/week or you find larvae in suspected fruit, you are advised to implement chemical controls to manage SWD in your fruit and to spray an insecticide every 5-7 days until harvest is completed. If you decide to sample suspected fruit, it is recommended to sample at least twice a week to look for the presence of larvae (see previous article here).
As I mentioned in the last article, conventional insecticides rated excellent for SWD control include Pyrethroids IRAC 3A (e.g., Brigade, Capture, Mustang Maxx, Hero, Danitol), Diamides IRAC 28 (e.g., Exirel), Spinosyns IRAC 5 (e.g., Entrust, Delegate), and organophosphates IRAC 1B (e.g., Malathion). Please remember to rotate amongst different classes of insecticides (different IRAC groups) to prevent insecticide resistance. In organic production, as Spinosad IRAC 5 (Entrust) is the sole compound with excellent efficacy it is even more important to maintain a rotation with other insecticide classes such as Pyrethrum IRAC 3A (Pyganic) or the chromobacterium Grandevo for resistance management. More insecticides are available for SWD control and not all are registered on all small fruit crops, so please check the labels to make sure the crop you intend to spray is present on the label and refer to the Midwest Fruit Pest Management Guide for more information.
Cultural control methods, including sanitation and 2-day harvest schedule, were discussed in a previous article and should be implemented when possible. Other management methods, such as physical barrier, refrigeration, and more on chemical control were discussed in our article on organic management of SWD and in this comprehensive organic management publication.
Happy growing season!
This article was posted in
Berries
,
Insects
and tagged
Berries
,
Spotted Wing Drosophila
,
SWD
.