Promoting Wild Pollinators in Wisconsin Cranberry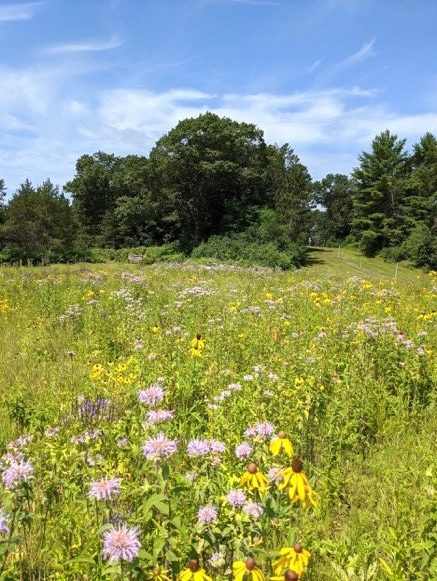 Planting a pollinator garden is a great way to support some of the over 400 species of bees we have here in Wisconsin, especially if you own or manage land used for agricultural production that relies on pollination. As you're probably aware, both managed honey bees and many native bees have experienced concerning population declines in recent years. Pollinator gardens can help bee populations by providing plenty of food and nesting resources, and a safe haven from pesticide spraying. Pollinator gardens additionally provide beautiful pops of color and texture to the landscape (Figure 1), and help enhance some of Wisconsin's native biodiversity.
We've been collaborating with Central Wisconsin cranberry growers since June 2018 to study the impact that pollinator gardens have on the bee communities in cranberry marshes, and what impact these pollinator gardens may have on cranberry production. We are currently in the third year of our study, and have so far collected over 40,000 individual bees from cranberry marshes with pollinator plantings, representing more than 100 different bee species. While we can't present our final study results just yet (still collecting data as we write this), we would like to share some important lessons for success in establishing pollinator gardens and what we've been observing in these plantings.
The two most important lessons we've learned while working with growers to get these pollinator gardens up and running are that site preparation and planting time are essential for establishing successful pollinator gardens. Good site preparation entails thoroughly eradicating the existing vegetation (likely weeds) where you intend to plant your pollinator garden, either through repeated cultivation or glyphosate applications. This step takes time- cultivation happens every 2-3 weeks between spring and fall, and glyphosate should be applied three times that season (spring, summer, and fall) after mowing or burning the intended planting site in the early spring. After almost an entire year of site preparation, the site should be tilled once again prior to seeding. Thorough site preparation ensures very few vigorously growing weeds compete with your pollinator garden seedlings and sets you up for success – we have seen pollinator gardens with native seedlings choked out by annual grasses and white clover due to insufficient site preparation. Very thorough site preparation like this isn't an absolute necessity, but it's your first step on the path towards pollinator garden success!
Planting time is another important consideration while developing a pollinator garden. There are three potential time periods for planting your garden: early spring (Mar.-Apr.), late spring (May-Jun.) and fall (Sep. 1-hard frost). While fall is the recommended planting time, each period has advantages and disadvantages, which you can read more about in a guide prepared by Prairie Nursery here. Notably, spring plantings will require irrigation during the summer of their first year, while fall plantings will not. Pollinator gardens do not require any irrigation after their first year. However, it's absolutely critical that you avoid planting during July and August. Planting during these months is essentially a death sentence for your pollinator garden seedlings, which easily fry in the hot sun, even with irrigation. Two of our pollinator gardens failed to take off in 2018 due to planting in the summer heat, and needed to be reseeded the next year. If you miss your opportunity to plant in the early spring, it's best to maintain your weed-free intended pollinator garden until the fall rather than risk a summer planting.
The seed mix for our pollinator gardens contains 4 grasses and 22 wildflower species that are perennial and native to the Central Sands area of Wisconsin, and was developed in collaboration with Prairie Nursery in Westfield, WI. Pollinator gardens are an investment in the future. During the year you plant you may see very little flowering (Figure 2). The next year, you may only see a few wildflower species (Figure 3) like black-eyed susans (Rudbeckia hirta) (Figure 4) or lance-leaved coreopsis (Coreopsis lanceolata) (Figure 5) emerge, but you will start seeing bees and butterflies hovering on flowers.
During this time, the other wildflowers in your garden are focusing on vegetative growth and developing the long root systems they need to thrive in Central Wisconsin. The second year after planting (Figure 1), you'll be rewarded in the early summer by tall spikes of smooth penstemon and blue vervain (Penstemon digitalis, Verbena hastata; Figure 6). A bit later on in July, wild bergamot (Monarda fistulosa) as well as yellow and purple coneflowers (Ratibida pinnata, Echinacea purpurea, Echinacea pallida) wash over the gardens, and attract tons of bumble bees, including the threatened yellow-banded bumble bee, Bombus terricola. You will hear the buzzing and bustling of all the wild native pollinators you attracted to your beautiful flowers!
We are eagerly waiting to see what other plant species emerge as the year progresses, and are excited to share those observations and the results of our research with you in the future! If you have any questions about pollinator plantings, you can reach master's student Nolan Amon at namon@wisc.edu or Christelle Guédot at guedot@wisc.edu.
This article was posted in
CCMJ
,
Cranberry
,
Insects
and tagged
bees
,
CCMJ
,
Christelle Guédot
,
Cranberries
,
pollinators
.