Let's Talk About Picnic/Sap Beetles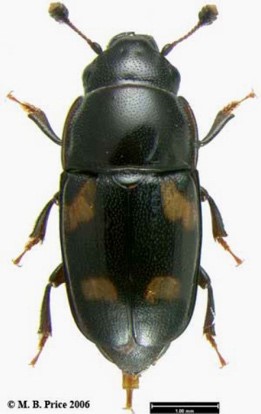 Picnic beetles, also called sap beetles, are a complex of over 160 species of beetles that feed on damaged, overripe, or decomposing fruits and vegetables. Most of them are small, 1/8 to ¼" long and oval in shape. An important identifying characteristic for sap beetles is the clubbed antennae (knob at the end of the antennae) on the adult beetles (Figure 1). Sap beetles overwinter as adults in plant cover near the soil. They emerge in the spring, feed on fungi, pollen, sap or decaying matter, and lay eggs. Larvae feed for about three weeks and emerge as adults in mid-summer. Adults fly into fruit and vegetable plantings from wooded areas at about the time berries begin to ripen. Strawberry sap beetle (Stelidota geminata) overwintering adults fly into strawberries planting from wooded areas, feed on berries, sometimes in groups, and females lay eggs on the injured fruit. There is only one generation per year for sap beetles in general.
Damage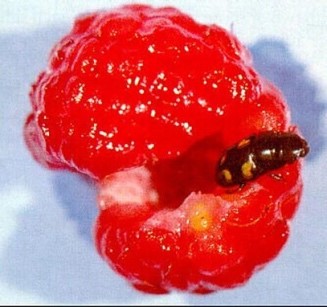 Sap beetles can directly damage fruits by chewing deep cavities in ripe berries (Figure 2) and indirectly as the injury they cause may facilitate the dissemination and colonization by pathogens. The cavities chewed in fruit can also serve as egg laying sites for sap beetles. The ensuing larvae will feed inside the fruit and may not be noticed until the fruit starts decomposing as a result of the damage. Overripe fruit is very attractive to sap beetles, and often they can be found on previously damaged or diseased fruits. The feeding by sap beetles makes fruit unmarketable and the beetles themselves can contaminate harvested fruits. Pick your own operations may suffer greater damage where pickers leave large numbers of ripe and over-ripe fruit in the field. Late maturing varieties of raspberry are more vulnerable as populations of sap beetles continue to increase throughout the summer.
Cultural control
As many sap beetles invade berry patches from nearby woodlots, if possible plant berries away from wooded areas. If berry patches are planted near wooded areas, monitor for the arrival of sap beetles to time control strategies. To monitor and intercept sap beetles that are walking or flying into the berry field place pitfall traps or bucket traps outside field borders near the wooded edges. Pitfall traps (for walking beetles) can be made out of plastic cups buried flush with the soil surface and partially filled with soapy water. Bucket traps (for flying beetles) consist of a 1 gallon bucket partially filled with soapy water and containing an 8 oz plastic cup that holds fermenting fruit or bread dough to attract the beetles. Other baits include stale beer, vinegar, and molasses-yeast-water mixture. Trapped beetles should be discarded often (every 3-4 days) and traps rebaited.
Practicing sanitation by removing overripe, damaged, and diseased berries from a planting and frequent and complete picking will decrease the attractiveness of the planting. Culled fruit can be buried deep in the soil or destroyed to eliminate attractant chemicals and reduce food sources for picnic beetles.
Chemical control
If the use of an insecticide is warranted in cases of heavy infestations, ensure penetration of the canopy and be aware of pre-harvest intervals as these insects are present when fruit is ripening and ripe. Insecticides should be applied when sap beetles are first detected.
Insecticides recommended for controlling sap beetles in fruit include neonicotinoids (IRAC 4A such as Assail), Pyrethroids (IRAC 3A such as Brigade, Danitol, Hero), organophosphate (IRAC 1A such as Sevin), and benzoylureas (IRAC 15 such as Rimon).
For organic production, products containing azadirachtin or neem oil, such as Aza-Direct or Neemix, will help control larvae and pupae and will repel and deter feeding from larvae and adults. Pyrethrins (IRAC 3A such as Pyganic) can also provide control of sap beetles.
Please check that the specific insecticide you intend to apply is registered on the crop you are targeting. More on product recommendations can be found in the Midwest Fruit Pest Management Guide. Please always fully read and follow the label before spraying any pesticide.
Happy growing season!
This article was posted in
Berries
,
Insects
and tagged
Berries
,
bucket traps
,
insect control
,
Insecticides
,
insects
,
picnic beetles
,
pitfall traps
,
Raspberries
,
Sap Beetles
,
Strawberries
,
strawberry sap beetles
.