A New Chapter in Breeding and Genetics Underway at the Wisconsin Cranberry Research Station
Over the last two growing seasons, we have worked diligently to develop hundreds of new cranberry research plots at the Wisconsin Cranberry Research Station in Black River Falls, WI. The newly developed cranberry research bed consists of 4×4 plots from available cultivars, wild collections, populations for trait mapping and breeding, and selected selfing and hybrid crosses. The research bed will allow us to study and breed enhanced cultivars for a variety of productivity and quality traits, including color, Brix, acid accumulation, size, firmness, and many other traits. Despite the restrictions brought on by the 2020 pandemic, we were able to plant 2,970 seedlings in June 2020, consisting of 2,445 genetically unique experimental plants and 525 'Stevens' controls. In total between 2019 and 2020, we planted 3,630 genotypes, including 2,933 genetically unique experimental plants and 697 'Stevens' controls.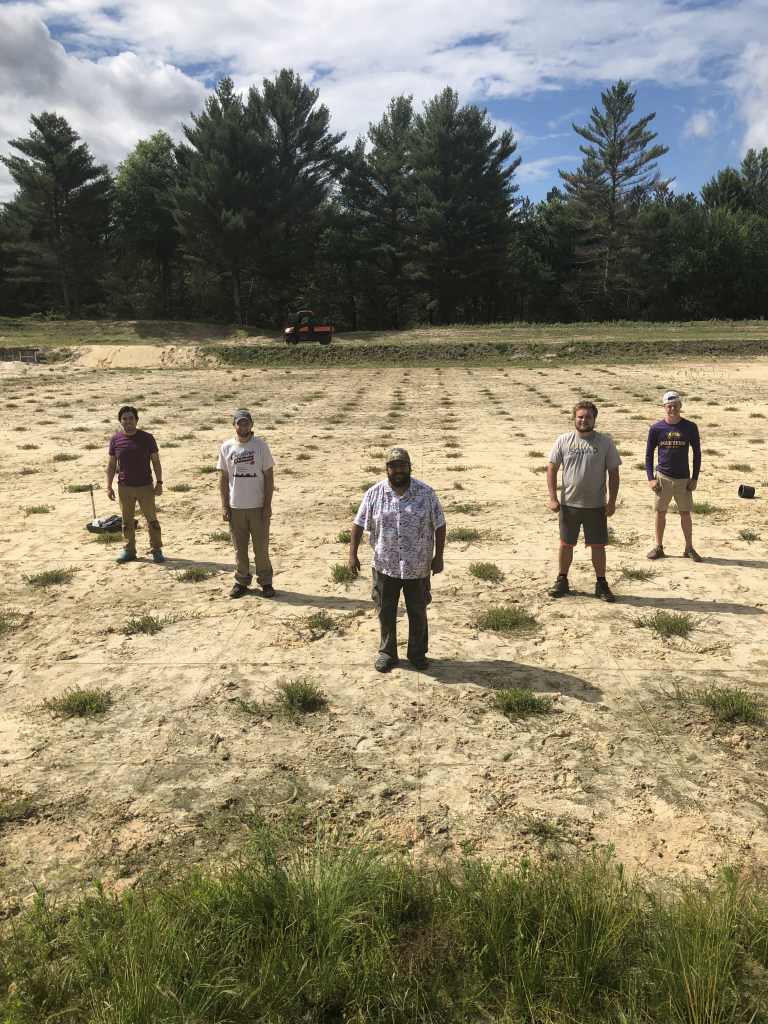 The 697 controls were planted randomly dispersed across the research bed and will help us account for variation in the field. We will use the control data to make valid comparisons between the newly developed cranberry plants and the control variety, which is the commercial standard. As additional control specimens, we also planted 32 other commercially grown cranberry cultivars that were confirmed to be genetically pure or which were identified as desirable genotypes by grower consensus. Like the randomly dispersed 'Stevens' plants, these 32 cultivars will allow us to compare the trait and adaptation performance of known commercial cultivars to each other and against any new plant in the trial. Based on this initial effort, we plan to develop another highly replicated cultivar trial for further testing of environmental effects in cultivar performance.
Of particular interest within the research bed is a collection of nearly 100 previously untested wild cranberry plants collected across 36 sites in Minnesota, Wisconsin, and Michigan, where wild populations have not been rigorously tested for natural valuable variation. We believe that testing these plants at the station will result in the discovery of some interesting adaptations and other traits in these wild accessions that could be useful for the industry.
In the past, our lab has studied and mapped traits using elite breeding populations. However, such populations are not always desirable for trait mapping studies since they are much less variable, which undermines the discovery of trait-gene associations. Therefore, in collaboration with Nick Vorsa at Rutgers University, we planted at the station two different mapping populations consisting of 488 individuals, which segregate widely for fruit productivity and quality traits. We will use these two populations to continue to refine our trait mapping efforts. Finally, we planted hundreds of self-crosses of multiple cultivars. Although most cranberry cultivars are developed in a hybrid-breeding system, cranberry is a clonal crop and therefore an obligate selfer (self-pollinated) in the field. For this reason, our experimental bed will enable our research to determine if certain genotypes have a greater ability to self-pollinate. We will also be observing how self-crosses perform and if selfing causes any negative effect such as lower yield within monocultures of certain cultivars. Furthermore, based on preliminary information, self-crosses may be an attractive breeding method that will allow us to purge weak seedlings with deleterious genes while selecting vigorous seedlings with advantageous gene combinations. Ultimately, the best self-seedlings will be crossbred to develop hybrids with enhanced selfing ability and other characteristics or traits.

Lastly, in an effort to preserve and use the DuBay cranberry collection, we isolated 56 genetically distinct plants from the collection, and planted them at the station along with many hybrid crosses among these DuBay genotypes and with other available cranberry cultivars. We are enthusiastic and confident that these newly established plots at the Wisconsin Cranberry Research Station will result in new knowledge and the development of enhanced cultivars for the Industry — turning a new page in breeding and genetics at the Wisconsin Cranberry Research Station.     
We thank Wade Brockman for his invaluable work setting up the research plots. We also thank Tom Lochner and the Wisconsin State Cranberry Growers Association for their funding and support.
This article was posted in
CCMJ
,
Cranberry
and tagged
breeding
,
CCMJ
,
Cranberries
,
genetics
,
WCRS
,
Wisconsin Cranberry Research Station
.