WiBee Cranberry 2021 Surveys: Preliminary Numbers
Thank you very much to everyone who sent in surveys this year. We had a slow start, and we heard reports that pollinators were also slow to start this year between the heat, cold and rain. But a number of people chipped as the season went along and we received a good number of surveys. At the time of writing this note, cranberries are pretty much done blooming in central Wisconsin, though people up north may still send in a few more surveys. As of July 19th, a total of 49 surveys have been submitted by 11 participants on 14 different days, and recorded 1,802 bee visits. For comparison purposes, last year there were 16 participants who submitted 78 surveys over 21 days, recording a total of 3016 bee visits. Last year cranberries were probably our best represented crop on WiBee and we are happy to have data again this year because we can more clearly see what influences bee visitation rates if we can account for their natural variability both place to place and year to year.
A first look at the pollinator visits shows roughly similar proportions of pollinator groups between years, with a higher proportion of bumble bee visits recorded this year. Even green bees showed up in 2021. 
We can also look at how often pollinators visited cranberries by calculating visits per minute. Here we see that the values are also similar between years, with more than double the rate of bumble bee visits and slightly lower rate of honey bee visits this year. Bumble bees and Small Dark bees are the most frequent wild bees that people are seeing on cranberry flowers.  There are 20 species of Bumble bees in Wisconsin and over 100 species of Small Dark bees.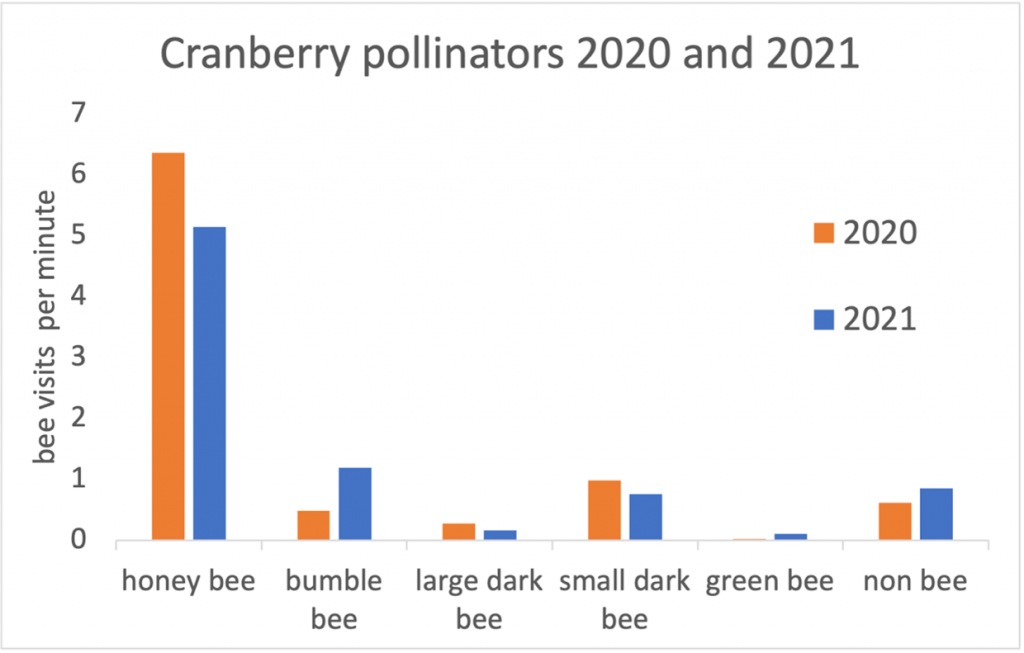 Last year, when the project team ran some spatial analysis, there was some evidence that the landscape surrounding cranberry marshes might be tied to bee visits. Floral resources in the landscape can influence pollinator health. Below shows the locations of 2021 WiBee cranberry surveys, which overlap with last year's data. This is going to be really helpful for analysis.  We are looking forward to digging into the statistics, likely once flowers and bees slow down a bit in the fall. We will post updates on the WiBee website: https://pollinators.wisc.edu/wibee/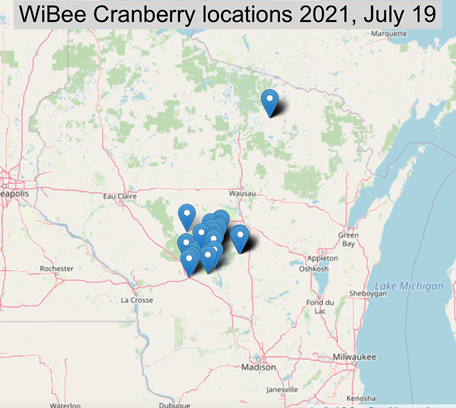 Thank you again to all our participants. We hope you will think of us next year. We want to make WiBee useful to you. If you participated and have ideas that would make the survey process smoother for you, or if there are things you would like to see result from the app, we'd like to hear from you at pollinatos@wisc.edu
This article was posted in
Cranberry
,
Insects
and tagged
Cranberries
,
insects
,
Pollination
,
pollinators
,
WiBee
.