Revisiting the Insecticide Avaunt
Avaunt is a not a new insecticide to Wisconsin but one that is seldom used by fruit growers in Wisconsin. With the loss of Lorsban previously discussed here, Avaunt is one alternative insecticide that can be used early season for the management of spring insects. Avaunt was registered with the Environmental Protection Agency (EPA) in 2000 and designated as a "reduced risk" insecticide and as an organophosphate replacement. The EPA defines a reduced risk pesticide as having at least one of the following advantages over conventional products: low impact on human health, low toxicity to non-target organisms (birds, fish and plants), low potential for groundwater contamination, lower use rates, low pest resistance potential and compatibility with Integrated Pest Management practices.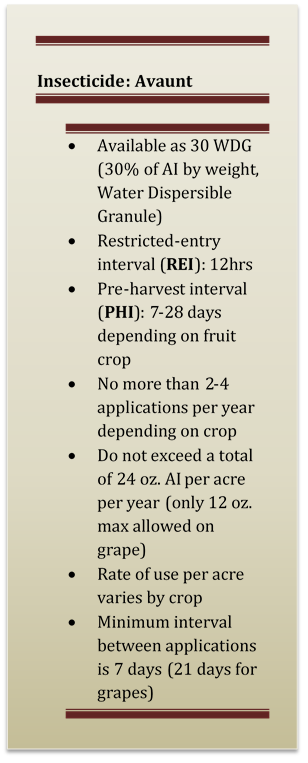 Avaunt is registered for use in Wisconsin on several fruit crops including pome fruit, pear, stone fruit, grape, bushberries, and cranberry. It is marketed by FMC under the formulation 30 WDG (30% of active ingredient by weight as Water Dispersible Granules). Avaunt is in the class of the voltage-dependent sodium channel blockers (IRAC group 22), known as oxadiazines which have a mode of action that targets the sodium channels in the neurons. Avaunt causes large hyperpolarization of the neuron and a reduction in action potential amplitude, blocking the movement of sodium ions in neurons and resulting in paralysis and death. The active ingredient in Avaunt is Indoxacarb. Avaunt is an insecticide with foliar activity that is most effective though ingestion of treated plant surfaces with some absorption through the cuticle. Affected insects will rapidly stop feeding, become paralyzed, and eventually die. Avaunt is primarily used as a larvicide and also has activity on eggs and adults of some insect species.
Avaunt has broad spectrum activity on many insect species, especially Lepidopteran pests. Under the different fruit crops mentioned, Avaunt is registered to control insects such as cranberry fruitworm, cherry fruitworm, Japanese beetle, grape berry moth, leafrollers, codling moth, plum curculio, tarnished plant bug, leafhoppers and many others. Some restrictions apply to grape so please review the label carefully to find the specific crop you intend to spray and follow the restrictions that apply to that crop.
Avaunt is a unique insecticide as it is the only one in IRAC 22 and is thus an important tool in IPM to prevent insecticide resistance to other more commonly used insecticides.
Avaunt may be applied as a foliar spray by ground equipment, by overhead sprinkler chemigation equipment, or by air. Directions on the minimum amount of water per acre for the different modes of application are specifically stated in the label. For more information on mixing and spraying, and all other considerations, please see the product label.
Avaunt is highly toxic to bees exposed to direct treatment or exposed to residues on blooming plants. Do not apply Avaunt when bees are foraging and until flowering is complete. Avaunt is toxic to fish and aquatic organisms and must not be applied directly to water. Avaunt is also toxic to mammals and birds. Avaunt has minimal impact on beneficial insects and mites.
As always, make sure to read the label before using any pesticide. You can find the label of Avaunt at the following link: https://www.cdms.net/ldat/ldFQT000.pdf
Happy harvest!
This article was posted in
Insects
and tagged
Avaunt
,
Christelle Guédot
,
Cranberries
,
Grapes
,
Insecticides
,
insects
.