Early Season Update: Late Spring and Hail
Across the state of Wisconsin, spring is late. A Vilas county grower reported being 100% frozen, and some areas have 12" of ice yet. In Price county, sanded beds have exposed vines but unsanded beds remain 75 to 100% covered. Monroe county has most beds thawed, with some growers flooding for recent high wind and cold days. In Wood County, much has thawed and many have irrigation ready before flooding against wind and cold.  
Asked to rate their own buds, 48% of growers have not yet seen them, 35% rate them as better than last year, and 17% rate them as about the same as last year.
April 12 saw a hail event across much of central Wisconsin. 52% of growers participating in the Mini-Clinic did not have hail; 14% had hail but their vines were covered by flood waters, and 33% had hail on exposed vines. 20% of participants thought they will have damage but don't know the extent yet; 7% expect less than 1% of damage, 7% expect between 1 and 2%, while 13% expect more than 2% damage. 19% also had more trash than usual without knowing the reason, and 31% had more trash than usual and attribute this to hail.
Spring is warming up late. Figures 1 shows accumulated to-date GDDS from Wood County over the past several years, and the season long GDDs to compare. We see a similar trend in 2018 with the late spring, although we were lucky that in 2018, we had caught up by May 15.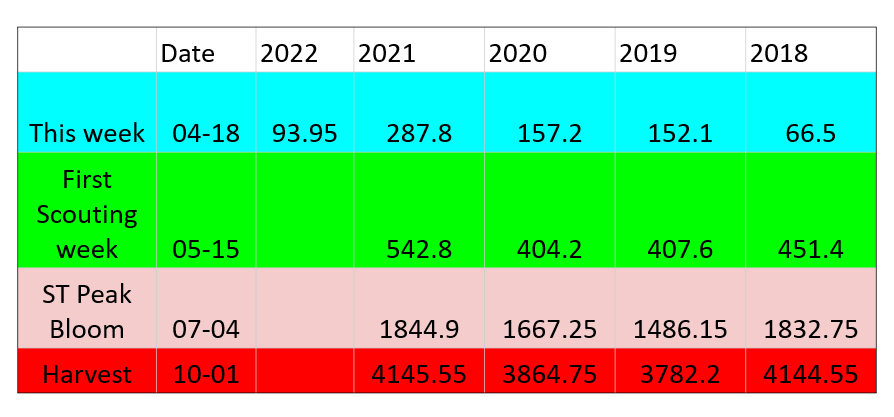 More than half of the participants thought that we are 2 weeks behind a "typical" year in terms of weather and management. Despite that, 90% of growers plan to continue with their usual Casoron management, while only 10% will use it at a reduced rate due to the late start.
The take-home message from the late spring is to plan for various scenarios and to prioritize your tasks and inputs.
This is a recap of Pamela Vurhulst's presentation at the April 21, 2022 Mini Clinic, prepared by Allison Jonjak.
This article was posted in
Cranberry
and tagged
Cranberries
,
early season update
,
Pam Verhulst
.