Galinsoga Management in Wisconsin Strawberry Production: Another Weed on the Move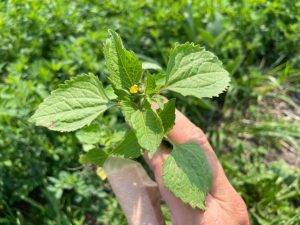 While not a newcomer to the Upper Midwest, in the past year or so we've observed and heard many reports of another weed on the move in Wisconsin fruit and vegetable production: galinsoga.  In fruit production, these reports are primarily related to new strawberry plantings, where galinsoga has become established and prolific in diversified rotational crops like vegetables grown in prior years.  In some cases, growers have reported galinsoga infestations so severe that they've had to abandon crops.  If you're lucky enough to not be personally acquainted yet with this highly problematic weed, great, but now is the time to get to know more about it so that early infestations can be controlled before they become widespread. 
Galinsogais a native South American herb and is considered culturally important to many communities throughout South America, Central America, and Africa. Some use it as a food source, as it has exceptionally high mineral concentrations. For others, its antibacterial and anti-inflammatory properties have made it useful as a traditional herbal drug.3 Sounds like a pretty beneficial plant to have growing in your backyard, right?
Wisconsin farmers are likely to disagree. Galinsoga has become an increasingly common and challenging weed since it arrived in the United States as an invasive species. The weed has struggled to compete in grasslands and natural areas, but thrives in short-statured, slow-growing, and late-planted crops. Reports suggest galinsoga infestations reduce vegetable crop yield up to 50%, depending on crop type, while also increasing production costs through significant weeding efforts and hindered harvest operations.3 In a survey of European organic farmers, 25% indicated that galinsoga was a highly problematic species and only 47% of farmers were able to reduce its populations.4
Two galinsoga species can be found in Wisconsin. Galinsoga parviflora, commonly known as small-flower galinsoga, grows up to 2 feet tall. Its stem is long, thin, and branched. Its leaves are broad, and its flower heads are made up of dozens of tiny yellow flowers and have small white petals. Small-flower galinsoga and its related species, hairy galinsoga (Galinsoga quadriradiata), are easily confused. Small-flower galinsoga will have a smooth or sparsely hairy stem, compared to the moderately or densely hairy stem of hairy galinsoga. Small-flower galinsoga also has narrower leaves than hairy galinsoga. Small-flower galinsoga and hairy galinsoga closely share biological characteristics and can be managed similarly.
Galinsoga's biology makes it a competitive agricultural weed. It emerges early in the growing season and flowers within 8 to 9 weeks. Each plant produces thousands of seeds, allowing for quickly compounding growth of the weed seedbank when plants are allowed to flower. Shed seeds lack dormancy and new generations of galinsoga constantly emerge throughout the growing season. This dramatically rapid and abundant seed production system allows for severe galinsoga infestations only a few years after the first colonizing plant is established in a field. Researchers have reported finding 5,500 galinsoga seedlings/m2 in recently infested fields, and seedbanks up to 20,000 seeds/m2 in chronically infested fields.2,4
High weed populations also harbor unwanted disease and pests, and galinsoga is no different. Galinsoga serves as a host for cucumber mosaic virus, curly top, aster yellow virus, and spotted wilt virus. Additionally, many species of thrips, aphids, and caterpillars are associated with the plant.1
No clear management strategy has been established to decrease galinsoga populations. Herbicides have shown limited efficacy and are not an appropriate tool for organic vegetable crops. Pre-emergent residual herbicides don't last long enough to control the several generations of galinsoga that occur each season, and most post-emergent options are ineffective. Aggressive early season weed management decreases competition when crops are most vulnerable but allows late-emerging weeds to produce seed and build the soil seedbank. Constant tillage operations to destroy galinsoga seedlings can be detrimental to soil health. So, how can growers fight galinsoga?
Prior to planting a new strawberry crop in fields infested with galinsoga, a fallow period or delayed planting is warranted while management strategies are implemented to reduce the galinsoga seedbank. Otherwise, growers will find themselves struggling to play catch-up, primarily with handweeding, during the strawberry crop years.
Growers should focus on depleting the weed seedbank without allowing more weed seeds to be produced. Germination, decay, and seed predation are the primary sources of weed seedbank reduction, with germination accounting for over half of weed seedbank loss.5 Germination is often triggered by soil disturbance since tillage exposes weed seeds to higher temperature and light levels. Growers can deplete the seedbank through weed seed germination in two ways: cover cropping and false seedbeds.
Seeding a cover crop in early spring or after fall harvest of preceding rotational crops can suppress galinsoga at several stages. Initial seedbed preparation will disturb the soil enough to terminate any early weed seedlings while also stimulating more weed germination. As the cover crop establishes, it will choke out any emerging seedlings and prevent weed seed production. Subsequent destruction and incorporation of cover crops will terminate any enduring weeds. Finally, the debris left behind after the cover crop is destroyed will help hinder further weed emergence. Cover crops also provide habitat for potential weed seed predators, further depleting the seedbank.
A false seedbed approach after will also deplete the weed seedbank. Before planting, a seedbed is prepared, stimulating weed seed germination through soil disturbance. Once weed seedlings emerge, they are killed thermally (through flaming or steaming), with non-residual herbicides or mechanically by shallow tillage. Once weed seedlings are killed, growers can plant under the assumption that most of the weed seeds in the germination zone have been destroyed.
Decay is also a factor in weed seedbank depletion, though less significant than germination. Decay happens when a seed does not experience favorable conditions for germination for an extended period and becomes unviable or rots. Decay can be manipulated by burying weed seeds deep enough that they cannot successfully germinate due to low temperature and light conditions.
Because galinsoga seeds are extremely small and rely on light to produce successful seedlings, germination is best while seeds are sitting on top of the soil surface. Germination rate drops to nearly 0% when seeds are buried at only 0.5 cm depths.6 Though it would be easy to bury seeds with shallow tillage, growers risk bringing buried seeds to the surface. Instead, deep tillage every few years is more likely to keep seeds suppressed. Two years of dormancy is enough for 78 to 100% of galinsoga seeds to lose viability, but deep tillage events should occur as infrequently as possible to maintain soil health.
Depleting the weed seedbank is a practical and important aspect of weed management. However, efforts are insignificant if galinsoga populations are not controlled during the growing season. Early-season management can alleviate weeding efforts later in the year but are unlikely to be the comprehensive solution to galinsoga infestations. Thousands of viable weed seeds can be destroyed in the spring, but allowing only a few dozen weeds to flower in the fall defeats any long-term benefits of management efforts.
Galinsoga is only one of many weeds that plague Wisconsin farmers, and like other weeds there is no quick band-aid solution. Investigating and testing management strategies for one tenacious weed will hopefully bring solutions for other weed species with similar biology. To do this effectively, growers and researchers need to consider long-term and diversified solutions to beat weeds. In response, we're initiating research this season to investigate an integration of weed management strategies in attempt to gain season-long galinsoga control. Management efforts will be layered during the growing season and will include deep tillage to bury seed, an allelopathic yellow mustard spring cover crop and the false seedbed technique where planting can be delayed a few weeks while still resulting in productive crops established well enough to overwinter.
Sources:
Batra (1979) Insects Associated with Weeds of the Northeastern United States: Quickweeds, Galinsoga ciliate and G. parviflora (Compositae). Environmental Entomology 8, 1078-1082.
Brown and Gallandt (2019) To each their own: case studies of four successful, small-scale organic vegetable farmers with distinct weed management strategies. Renewable Agriculture and Food Systems 34, 373–379
Damalas (2008) Distribution, biology, and agricultural importance of Galinsoga parviflora (Asteraceae). Weed Biology and Management 8, 147-153.
De Cauwer et al. (2021) Effects of soil and crop management practices and pedo-hydrological conditions on the seedbank size of Galinsoga spp. in organic vegetable fields. Weed Research 61, 55-67.
Gallandt (2006) How can we target the weed seedbank? Weed Science 54(3), 588-596.
Ivany and Sweet (1973) Germination, Growth, Development, and Control of Galinsoga. Weed Science 21(1), 41-45.
This article was posted in
Berries
,
Other News and Resources
and tagged
Emma Schmidt
,
galinsoga
,
Jed Colquhoun
,
Strawberries
,
Weed Management
,
Weeds
.