Beneficial Soil Bacteria – Role in Agriculture
Microbes such as bacteria, archaea, and fungi naturally occur in every soil. These microbes perform many different roles vital to the soils, from breaking down organic matter to helping with plant growth. Soil bacteria have been used to improve crop production for many years. The primary function of these beneficial bacteria is to decompose organic matter, provide nutrients to crops, produce hormones to enhance plant growth, improve soil structure, recycle soil nutrients, etc. Healthy populations of beneficial bacteria can help to suppress pathogens and pests, promote plant growth, and increase yield. Some of these beneficial soil bacteria include:
Nitrogen fixers obtain assimilable N for plants, which plants cannot do themselves. They can pull nitrogen from the atmosphere and into the soils primarily as ammonia that plants can use.
Plant growth-promoting rhizobacteria produce hormones, vitamins, and growth factors that enhance plant growth and increase yield. They promote soil bioremediation and protect from abiotic stresses and diseases.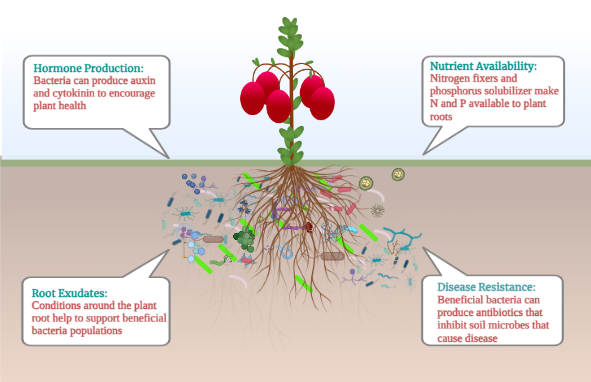 Phosphorus solubilizers make phosphorus more available to the roots and even produce synthetic plant hormones to promote healthy root growth. Bacteria that solubilize phosphorus can help to manage phosphorus in soils. Phosphorus that is applied in a form useable by crops can become quickly bound to soil particles and immobilized in a form that is unavailable to roots. Phosphorus solubilizing bacteria can help to mobilize the phosphorus that has been bound to soil particles, making it readily useable. Additionally, this could be a more ecologically sound management practice as phosphorus fertilizers can contribute to algae blooms.
Biological approaches are becoming more popular as a supplement to chemical fertilizers for increasing crop yield in an integrated plant nutrient management system. We have isolated more than 50 potentially beneficial strains that can be nitrogen fixers, plant growth promoting, and phosphorus solubilizing bacteria from cranberry soils, rhizosphere (soil around roots), and roots around the state. We are testing these bacteria and identifying their role in cranberry growth and yield to improve cranberry production sustainably.
This article was posted in
Cranberry
and tagged
Cranberries
,
Jessica Rohde
,
Jyostna Mura
,
microbes
,
nitrogen fixers
,
phosphorus solubilizers
,
plant growth-promoting rhizobacteria
,
rhizobacteria
,
soil
,
soil bacteria
.