Notes from the Field: A Grower's Perspective – Philippe Coquard Chat #8
Hello Wisconsin Fruit News subscribers and welcome back to Notes from the Field: A Grower's Perspective! I had my eighth chat with Philippe on July 26…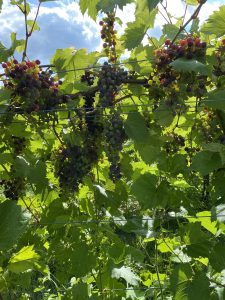 As Wisconsin continues to experience drought conditions, Philippe has returned to drip irrigation to compensate for the insufficient rain. Veraison has begun at Wollersheim and the Marquette grapes have already surpassed 20% veraison, while the Foch grapes have just begun the process. Philippe also notices that the shoots are turning woody.
Pest management measures are ramping up, as Japanese beetles and phylloxera have an increased presence at Wollersheim. Philippe and his crew applied a systemic insecticide to manage these pests and continues to manage fungal diseases with biopesticides. Due to the weather conditions disease pressure remains low. Weeds are well controlled from the last herbicide application.
Earlier in the season Philippe reduced fertilizer by 50% but at this point in the season he wonders if this was the best move. The lack of lush, green shoots in the struggling environment caused by the drought is urging him to reevaluate his approach. While he suspects the vines don't need 100% fertilizer, he wonders whether a 60% or 70% reduction might be more suitable.
"Making wine is a lot easier than growing grapes!" Philippe reflects on howthis season has been filled with challenges from spring frost to summer drought. There are significant inputs and challenges in the wine making process, that consumers may not be aware of. In anticipation of the upcoming harvest, Philippe and his crew will soon complete fruit removal, or green harvest, to ensure the remaining grapes receive the nutrients they need to develop.
The ripening process will likely move slower this season due to the lack of rain. Sadly, winter injury took its toll on some Marquette vines. The young vines proved to be more vulnerable. Philippe removed the fruit from these dying vines, as the grapes turned red but lacked sweetness.
That's all for now! Check out the notes from my next chat with Philippe in the 9th issue of Wisconsin Fruit News on August 11. If you missed any of my previous chats with Philippe, you can find them here.
This article series is NOT intended to be prescriptive for other vineyards. It is simply an opportunity for our readership to hear from other growers about their experiences growing fruit crops in Wisconsin.
Growing the same crop does not always justify the same practices. Management decisions at your farm should be tailored to your operation and take into consideration location, regional climate, disease and pest history of your vineyard, and your varieties.
The mention of a product is NOT an endorsement. Always follow the instructions on product labels and consult weather stations (ex. NEWA) in your area for current weather forecast and disease and pest prediction models.
This article was posted in
Notes from the Field
and tagged
Leslie Holland
,
Notes from the Field
,
Philippe Coquard
.