Wisconsin 2023 Apple Field Day Recap: Bitter Rot
Bitter rot of apple is an increasing concern for many orchards. Despite the predominantly dry conditions this season, late-season rains, particularly as we approach harvest, can lead to the development of bitter rot. Prevention for bitter rot should begin early in the growing season as inoculum of the pathogen is often available before fruits begin to develop. However, late season disease control efforts are still important, especially as conditions become more conducive (i.e., rain events and high humidity). In humid conditions, the fungus produces orange or salmon-colored spores that can spread through the canopy during rain events. Varieties like 'Honeycrisp' and 'Empire' are particularly susceptible to bitter rot, and unlike other rot-causing fungi, the bitter rot fungus does not require wounds and can directly infect the fruit skin.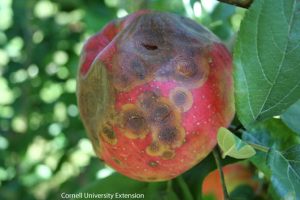 The fungi associated with bitter rot take advantage of different periods during the growing season to infect fruits. Infections that occur during bloom to early fruit development are often considered inactive (i.e., no symptoms are present) but they can become active under conducive environmental conditions. Pre-harvest infections happen when late summer or fall rains occur. Post-harvest infections are typically the outcome of infections that occurred while the fruits were still in the field.
Researchers have discovered that bitter rot spores are present throughout the apple tree's lifecycle, residing in buds and mummified fruit. Rainwater disperses these spores, and the fungus thrives in warm, moist conditions. Recent studies in Pennsylvania (Martin and Peter 2023) provided new information on bitter rot. Spores were detected in rainwater from bud break to leaf drop, with the highest quantities during summer and early fall, which aligns with optimal temperatures for the fungus. They also determined that temperature and moisture, instead of apple fruit phenology, play a significant role in infection periods.
To keep susceptible fruits protected, make sure fungicide coverage is maintained and avoid gaps in fungicide programs as harvest approaches. Late season rains can wash away residues, leaving the fruit vulnerable to infections. If multiple rain events occur in a week, growers should carefully assess the amount of rain and the last fungicide application to determine if reapplication is necessary. Gaps in fungicide coverage can also increase the chances of storage rots in apples. For Honeycrisp apples, applying fungicides ahead of hot temperatures and rainy weather can help mitigate bitter rot infections. Once the bitter rot pathogen has infected, fungicides will not be able to do much to protect the infected fruit. Prevention of infection is the best approach, especially since these fungi can survive on the fruit surface without obvious symptoms. Factors such as fruit maturity, temperature, and humidity can play a role in symptom development.
An effective spray program for bitter rot should consider different fungicides at specific stages.
From bloom to first cover, when initial bitter rot infections can occur, single site chemistries such as those in FRAC 3, 7, and 11 can provide great bitter rot protection. **Tank mix and rotate chemistries to avoid overreliance on a single mode of action. During this period, avoiding complex tank mixtures with captan is recommended to minimize the risk of phytotoxicity. Summer cover applications can continue to utilize these chemistries, but mancozeb (77-day PHI) can also be applied during the first or second cover spray by using the labels extended program for control of scab which provides collateral of bitter rot. As we approach harvest, combinations of FRAC 7 and 11 products (such as Merivon and Pristine) provide bitter rot control. Furthermore, these products have short pre-harvest intervals, and can also help reduce post-harvest rot issues.
Mention of a product is not an endorsement.
This article was posted in
Apples
,
Disease
and tagged
apple bitter rot
,
Apples
,
Bitter Rot
,
disease
,
Leslie Holland
.