Oblique banded leaf roller
We are in the middle of the second flight of the oblique banded leaf roller (Choristoneura rosaceana, OBLR), and, according to the DATCP Wisconsin Pest Bulletin, moths have begun laying eggs of the second generation. This means we will soon begin to see caterpillars from the final generation of OBLR of the season. We already covered this pest briefly last spring (WFN season 2, issue 2), when we discussed spring caterpillars. Here we focus on the summer and fall feeding damage by this pest.
Damage: OBLR feeds on a wide range of hardwoods, including apple, pear, cherry, and peach. There are three OBLR caterpillar feeding periods in Wisconsin orchards: spring caterpillars mainly feed on flower buds, summer caterpillars mainly feed on developing fruit, and late summer/fall caterpillars feed on both fruit and foliage. Mid-summer fruit feeding damage causes obvious deformation of the fruit, generally making it unmarketable. Late summer fruit feeding causes pits to form in the skin of the fruit, somewhat similar to the "stings" of unsuccessful codling moth entry, which are not obvious until the fruit is in storage, when rot may enter through the damaged skin.
Description and Life Cycle: OBLR has two generations per season in Wisconsin, with caterpillars present and feeding in orchards in early spring, again in mid-summer, and a final hatch of caterpillars in the fall (which will overwinter and continue to feed the following spring). OBLR caterpillars can be distinguished from other fruit tree leaf rollers by the light green body combined with the brown/black coloring on both the head capsule and the prothoracic shield (the body segment behind the head capsule; yellow arrow). The fall caterpillars we will see soon will feed on foliage and fruit for a while, before overwintering as second or third instar larvae inside a protective structure called a hibernaculum in the bark or other protected areas in the tree canopy.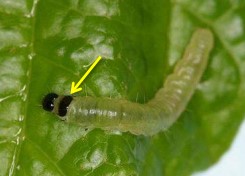 OBLR moths are ½ inch long. Their color ranges from reddish-brown to beige, with crisscrossing brown bands. The eggs are laid in egg masses of up to 200 eggs on the top side of foliage, and are light green in color, darkening as the larvae near hatching.
Monitoring and control: Monitoring traps can be set out using the commercially available P2 sticky traps and pheromone OBLR lures. It is recommended to set approximately one trap per 10 acres of orchard. Traps should be set at about eye height in the canopy of the apple trees and should be checked one to two times per week until the first moths are caught.
Cultural control can be used to keep the canopy and fruit less attractive to OBLR. Because these caterpillars prefer to feed in dense foliage or in the crevice between two touching apples, it can help to avoid excessive nitrogen applications, and to thin fruitlets adequately in the spring.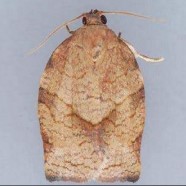 Chemical control windows occur when caterpillars are present in the orchard. In the fall, it is recommended to consider an insecticide application when 3-5% of fruit has OBLR feeding damage, which will help control the population for the following summer. It is difficult to set a simple threshold for when to spray based on monitoring trap catch numbers, because high trap numbers do not necessarily reflect high fruit damage. However, as a rule of thumb, 15 or fewer moths per trap per week is considered to be low enough numbers to not require an insecticide application.
If spraying for OBLR is necessary, check the latest Midwest Fruit Pest Management Guide for chemical control recommendations. It is especially important to be diligent about rotating mode of action classes when applying insecticides for OBLR, as some populations have already developed resistance to organophosphates and pyrethroids. As always, read the label before applying any insecticide, and be cognizant of unintended effects on beneficial insects including pollinators and natural enemies.
This article was posted in
Insects
.