Multicolored Asian Lady Beetle: a harvest-time grape pest
As grape berries near harvest, the main insect pests found in the vineyard are wasps and Multicolored Asian Lady Beetles (MALB). While scouting the vineyards at the West Madison Agricultural Research Station (WMARS), I have seen occasional MALB throughout the summer. Early in the season, they are considered a beneficial insect, because they consume a number of pest species. However, as berries are nearing harvest, MALB becomes a vineyard pest.
MALB come to the vineyard looking for sugar and energy, and both feed mainly on areas of the berry previously damaged due to other insects or diseases. However, the main damage caused by MALB is from tainting the flavor of the wine – if beetles are aggregated on a cluster of berries, and are not dislodged during harvest, they may be harvested with the clusters and will emit a bitter chemical compound as a defensive mechanism, which affects the taste of the wine made from those berries.
Identification and Life Cycle: Multicolored Asian lady beetles overwinter as adults, often in homes or other sheltered locations. The adults are variable in appearance, and look similar to many species of native, beneficial species of lady beetle. They can have between 0 to 19 black spots on orange or red wings. The most distinguishing thing about the MALB is a more-or-less distinct black "M" shape on the white "pronotum" behind their head (see yellow circle on image below).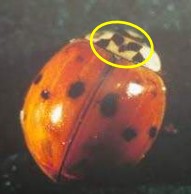 In the spring, females lay bright yellow eggs, which hatch into spiny alligator-like mobile predatory larvae (see image at left). The larvae are very effective biocontrol agents, eating aphids and other soft-bodied pest insects. There are two generations of MALB in Wisconsin, and this first generation does no damage to our fruit crops. The second generation larvae hatch in mid-summer, and continue to feed on pest insects. However, following pupation, those adults search out sugar-rich food to build up their reserves for overwintering. Because grapes and other fruit crops are nearing harvest at this time, the second generation MALB adults can become a pest if they move into orchards and aggregate on berry clusters. They will mainly aggregate where diseases, birds, or other insects have already opened the berries up. As mentioned above, the MALB do not cause significant feeding damage, but when accidentally harvested with the grapes will taint and spoil an entire batch of wine, possibly causing significant economic loss.
Monitoring and Control: Because the larval stage is beneficial, it is best to begin monitoring for MALB when the second generation adults hatch and begin to move into the vineyards. Controlling at an earlier time may decrease the beneficial capacity of the larvae. Monitoring can be done using yellow sticky cards placed in the vineyard, although a more accurate, but also more time consuming method of monitoring is to examine clusters for MALB adults. There is no hard-and-fast economic threshold for how many lady beetles is too many, because it depends on grape variety and what style of wine is being produced. However, as a general recommendation, if on average three or more beetles are found per ten clusters, measures should be taken to control them.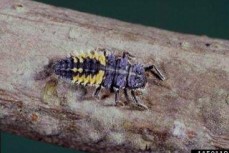 Cultural controls to deter MALB from affecting your wine include: maintaining healthy grapes, without any disease or other pest openings which would provide access for the MALB, as well as vigorously shaking the clusters during harvest to dislodge the beetles. On larger vineyards those are unlikely to be commercially viable options. One remedy is that some of the flavor contamination can be counteracted by adding oak chips or activated charcoal to wine (Pickering et al. 2006). However, when chemical controls are necessary, the following have shown good efficacy against multicolored Asian lady 12 Figure 1. Berry splitting followed by disease development in Petite Pearl after 10-inch rain in August 20 at West Madison Ag Research Station in Verona WI. beetles. It is especially important to take into consideration the pre-harvest interval when considering a spray program for MALB, since this is a pest that moves into the vineyard only shortly before harvest. As always, make sure to read the label before using any pesticide.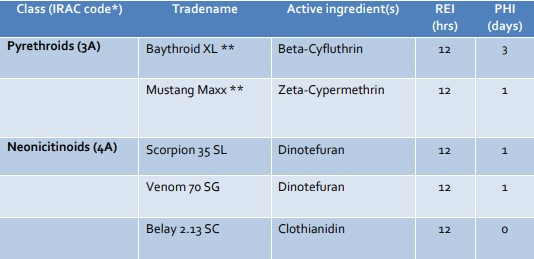 Pickering, G. J., Y. Lin, and K. Ker. 2006. "Origin and remediation of Asian lady beetle (Harmonia axyridis) taint in wine." In: Crops: growth, quality and biotechnology. III. Quality management of food crops for processing technology. R. Dris (Editor). WFL Publisher, Helsinki: 785-794.
This article was posted in
Insects
and tagged
MALB
.