UW-Madison/Extension Insect Diagnostic Lab Update
The caseload at the UW Insect Diagnostic Lab (IDL) has been high over the last two weeks. Reports of fruit crop insect activity submitted to the IDL from the last two weeks are summarized below:
Japanese beetles: the first reports of Japanese beetle activity came into the UW Insect Diagnostic Lab from southern Wisconsin on July 4th and 5th. This was slightly later than usual this year, likely due to the cool spring. Adults continue to emerge and feed on a wide range of plants. We're still trying to get a feel for Japanese beetle pressure for Wisconsin's growing season, but states to the south of us have reported high beetle pressure this year.
Rose chafers: Overall, the IDL has seen fewer reports of rose chafers this year than in the last 3-4 years. Nonetheless, this species has the potential to damage a wide range of plants, including grapes and tree fruit. The most recent reports of activity have come in from northern Wisconsin, suggesting that adult populations may be quieting down for the season in the southern parts of the state.
Fall Webworms: Caterpillars of the fall webworm have recently been reported in Dane and La Crosse counties. Like the eastern tent caterpillar, this species creates nests with silken webbing, although the webs are typically located towards the tips of branches and occur from July onwards. In contrast, eastern tent caterpillars are active in spring and tents are typically located along the main trunk. Fruit trees are occasionally attacked by the fall webworm, so growers should be scouting for this pest when making the rounds.
Spotted Wing Drosophila: Reports of this invasive fruit fly have increased around the state over the last two weeks. Strawberries that were delayed by the cool spring could be at risk as well as caneberries and similar fruits. Growers should be actively monitoring for activity of SWD in their area.
Brown Marmorated Stink Bug: BMSB nymphs (2nd and 3rd instars) are being reported in Dane county, indicating that the next generation of this pest is under development. Growers should keep an eye out for the tick-like juvenile stages—especially if they have a history of BMSB in their area.
Pearslug Sawfly: The IDL recently saw its first report for the year of the pearslug sawfly from southern Wisconsin. The slug-like larvae of this species can skeletonize tree fruit and rosaceous landscape plants. Pearslug sawflies have two generations per year and are typically active from July through September.
Plants bugs: Species, such as the tarnished plant bug, continue to be reported from around the state. Plant bugs can feed on a wide range of fruit crop and other plants.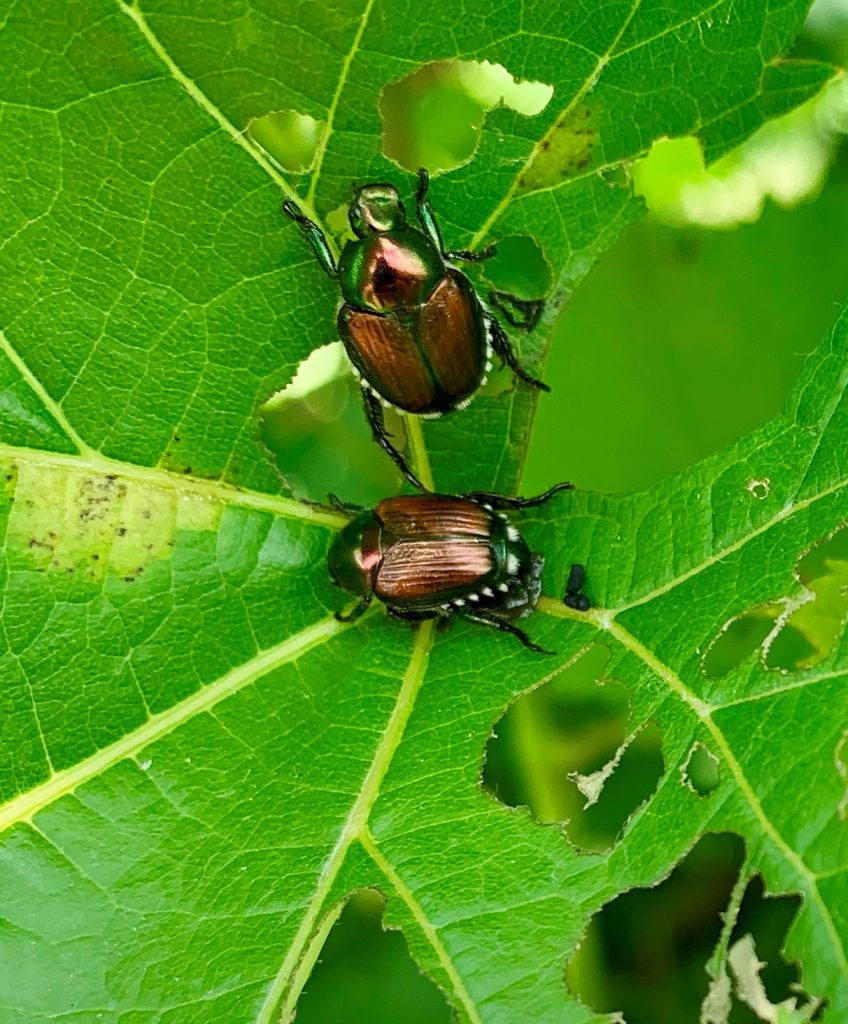 This article was posted in
Apples
,
Berries
and tagged
Brown Marmorated Stink Bug
,
Fall Webworms
,
Japanese Beetles
,
Pearslug Sawfly
,
Spotted Wing Drosophila
.