Insecticides for apple maggot and codling moth
Apple maggots are emerging in Wisconsin orchards and will continue to do so for the next several weeks. Numbers are slowly increasing and growers should keep monitoring their red sphere traps weekly, cleaning off the traps from debris and insects, and reapplying sticky coating to the trap regularly. The economic threshold for apple maggot is set at one fly per trap per week with unbaited traps or five flies per week on baited traps. Once you reach economic threshold, chemical treatment is advised and there are different products that can be used to manage apple maggot.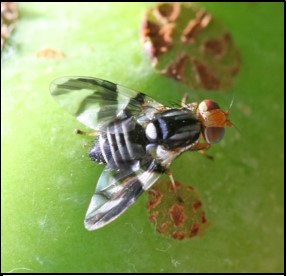 While organophosphates, such as Imidan, provide excellent control of apple maggot and codling moth, there are other products with good activity and fairly long residual activity that could be considered in an IPM spray program. Below is a table of insecticides that provide activity against apple maggot and codling moth in apple. This table is an exert of an article by John Wise from Michigan State University. There are many other tradenames available, and we do not recommend these that are listed above other options. Product recommendations can be found in the 2019-2020 Midwest Fruit Pest Management Guide. Please be sure to fully read and follow the label before spraying any pesticide.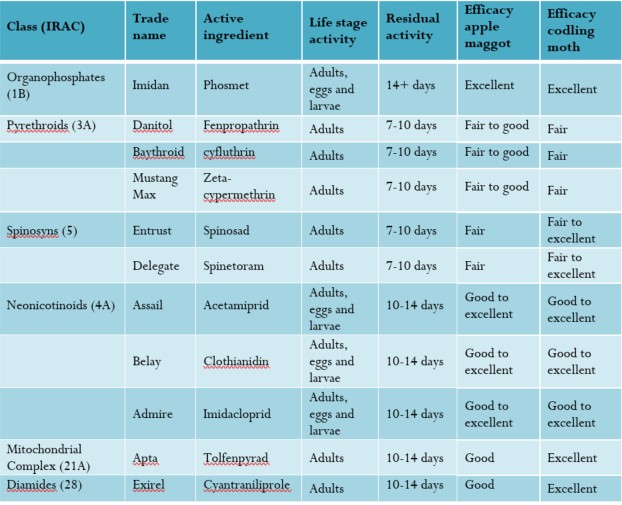 Happy growing season!
Reference: https://www.canr.msu.edu/news/managing-apple-maggots-with-insecticides
This article was posted in
Apples
and tagged
Apple maggot
,
Codling Moth
.