Grape scouting report: Japanese beetle and grape phylloxera continue to be present
This week, the scouting at the West Madison Research Station (WMARS) vineyard occurred on 7/29/19. Grape phylloxera galls continue to be observed on most cultivars, including Brianna, Frontenac, Itasca, Petite Pearl, Marquette, and Crimson Pearl with leaves folding over observed on Frontenac (Figure 1). There is no need at this point to apply an insecticide for phylloxera. If you experience high numbers of phylloxera galls and/or leaf folding, a preventative soil application of Admire Pro next Spring around bud break may be considered.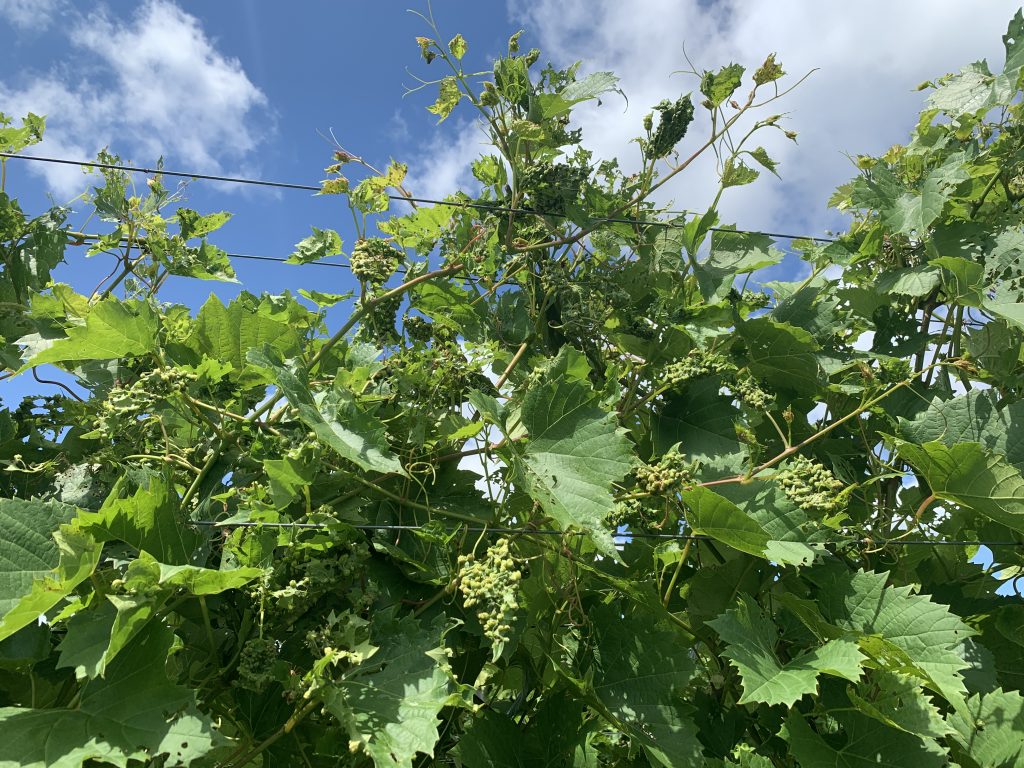 Japanese beetle adults continue to feed on grape leaves, causing defoliation primarily to the canopy of plants (Figure 2). Sevin XLR Plus (active ingredient carbaryl) was applied on the WMARS vineyards on 7/20/19 to control Japanese beetle. Sevin is rated excellent against JB and 9 days post-applications, populations are fairly low with an average of less than 10 JB per vine. Numbers range from zero to >20 beetles per vine, with the highest numbers recorded on Brianna, Frontenac, and Itasca. As mentioned in the last issue, we recommend using 30% defoliation as a threshold for applying an insecticide to manage JB in grape. Insecticides rated excellent against JB in the Midwest Spray Guide include Sevin, Baythroid, and Mustang Maxx.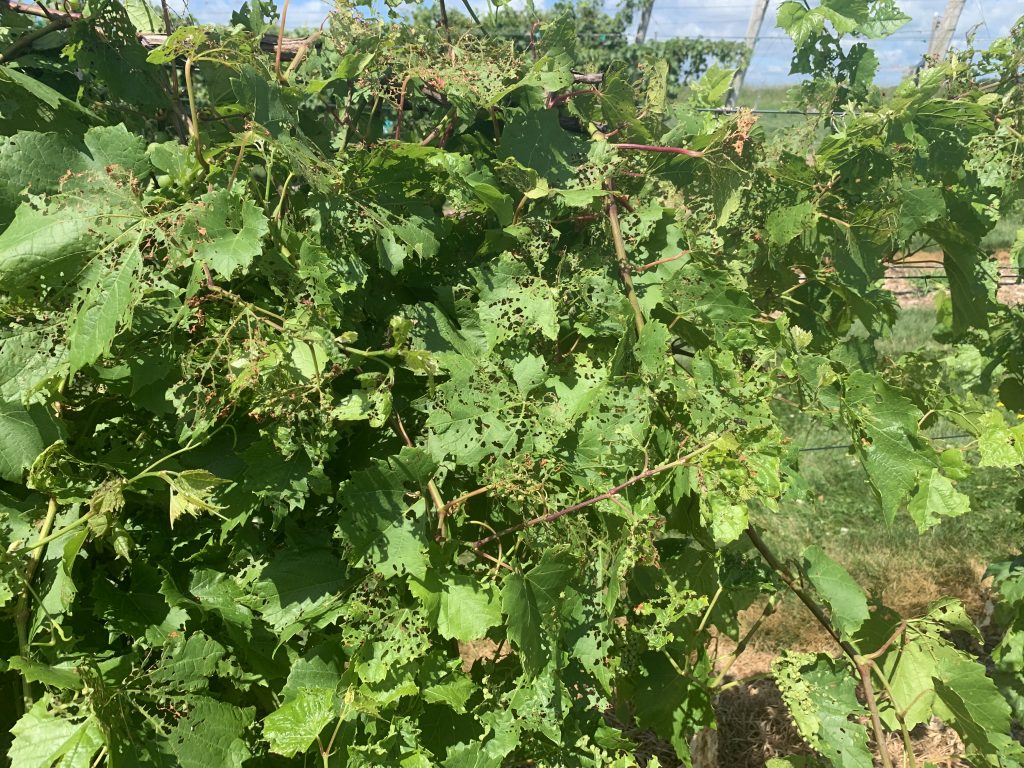 At the Peninsular Ag Research station (PARS) in Door County the main observation has been an increase in spotted wing drosophila (SWD) populations throughout Door County. SWD does not attack cold climate wine cultivars unless the berries are already damaged. If you suspect an infestation, our recommendation in grape is to sample the fruit for larvae. Use the salt-water method to check the fruit for SWD larvae by placing a sample of fruit in a Ziploc bag (~40-50 berries). Dissolve 2 Tbsp. table salt in 2 cups warm water. Pour salt water into Ziploc bag so it covers the fruit, close, lightly crush the fruit to break the skin, and let sit for 30 minutes to 1 hour before examining. You can examine the fruit through the bag or pour the sample in a shallow glass baking dish with white paper underneath and a bright light shined on top in order to maximize visibility of larvae (see article here for more info on SWD in cold climate grapes). Some cultivars, such as Somerset and other table grapes, may be particularly at risk and should be monitored closely for the presence of larvae in fruit. If larvae are found inside the fruit, it is advised to apply an insecticide with a short PHI and continue applying on the shortest time interval allowed by the label until harvest is completed.
During the scouting at PARS, Annie Deutsch also found a couple grape berry moth (GBM) larvae inside berries. We haven't had any issue with grape berry moth in a while in WI. If you suspect having grape berry moth, make sure to use monitoring traps available commercially in your vineyard to check for the presence, population densities, and seasonal phenology of this pest in your vineyard. One great resource if you detect GBM in your vineyard is the NEWA online application from Cornell University http://newa.cornell.edu which has built in the degree day model for GBM. Using the weather station from Sturgeon Bay, see below the output you would get today if you had detected GBM in your vineyard. Note at the bottom that it mentions the pest status at this time based on degree days accumulated to date by the Sturgeon Bay weather station as well as the pest management strategies to be applied.
Thanks to Andi Nelson and Annie Deutsch for scouting at the research stations.
Happy growing season!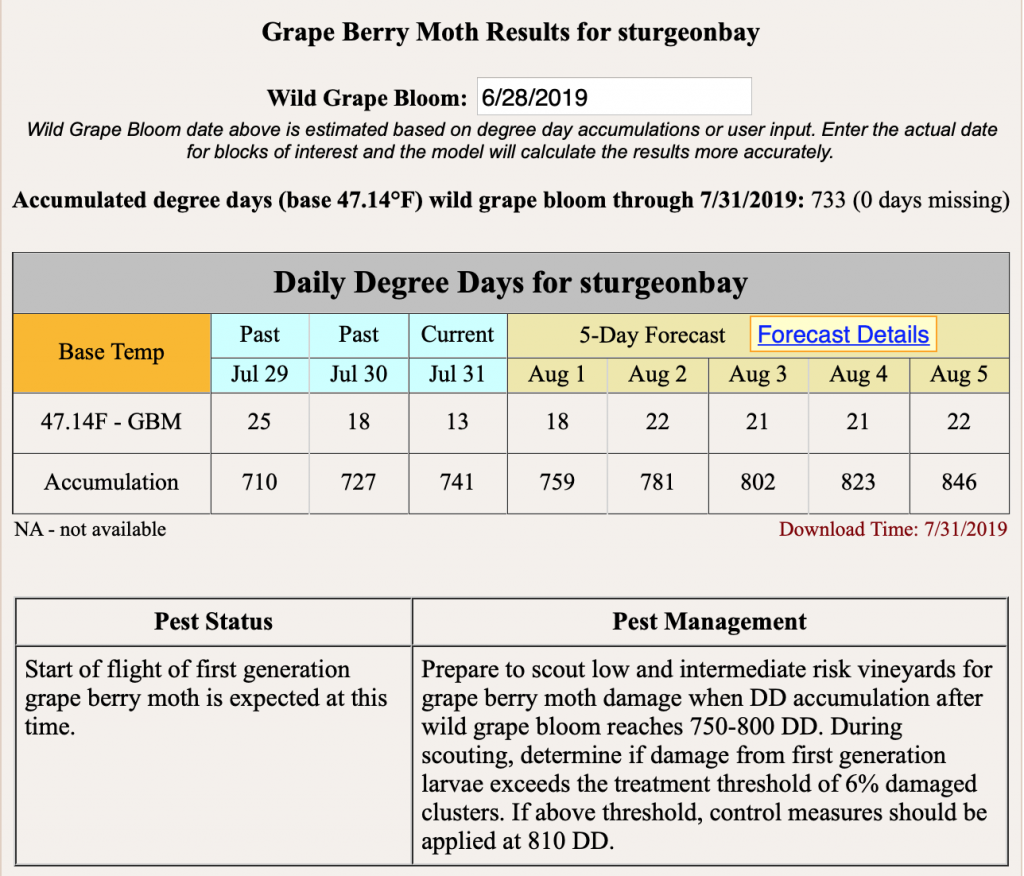 This article was posted in
Grapes
and tagged
Japanese Beetles
,
SWD
.