Grape scouting report: Japanese beetle and grape phylloxera continue to be present
The scouting at the West Madison Research Station (WMARS) vineyard occurred on 8/12/19. Grape phylloxera galls continue to be observed on all cultivars, including Brianna, Frontenac, Itasca, Petite Pearl, Marquette, and Crimson Pearl with leaves folding over on some cultivars, such as Frontenac (Figure 1). Incidence seems more predominant on Frontenac, Brianna, and Itasca this week. Remember to plan a preventative soil application of Admire Pro next spring around bud break if you experience high numbers of phylloxera galls and/or leaf folding.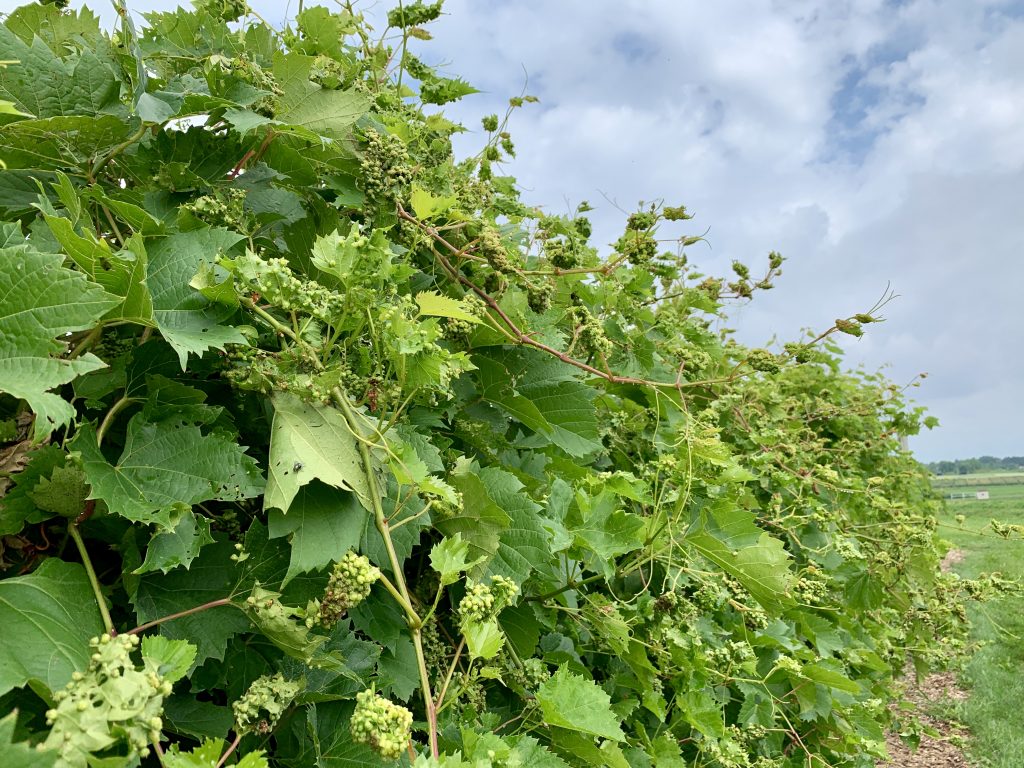 Japanese beetle adults continue to feed on grape leaves, causing defoliation at WMARS. Sevin XLR Plus (active ingredient carbaryl) was applied on the WMARS vineyards on 8/1/19 to control Japanese beetle. Between the Sevin application and the cool and wet weather, numbers were fairly low this week and ranged from zero to 20-40 beetles per vine, with the highest number recorded on Marquette vines. As mentioned in previous issues, we recommend using 30% defoliation as a threshold for applying an insecticide to manage JB in grape. Insecticides rated excellent against JB in the Midwest Spray Guide include Sevin, Baythroid, and Mustang Maxx.
Scouting at the Peninsular Ag Research station (PARS) in Door County also reports the presence grape phylloxera galls and a few Japanese beetles. This is the first time Japanese beetle adults are observed at PARS though they have been known to be present in Door County for a few years now. Together these observation suggest that Japanese beetle may be slowly expanding its range northward in Wisconsin. Some leafhoppers were also observed but not yet identified to species. Feeding by potato leafhoppers can cause yellowing and cupping of grape leaves and may reduce shoot growth, so growers should pay attention to leafhoppers.
Thanks to Andi Nelson and Annie Deutsch for scouting at the research stations.
Happy growing season!
This article was posted in
Grapes
and tagged
Japanese Beetles
,
Phylloxera
.