Development of new cold-hardy seedless table, juice, and raisin grape cultivars
In 2012, table grape breeding was added to the mix of breeding programs on the UW-River Falls campus. This was due to the fact that no other university in the Midwest has decided to breed for dessert grapes. The two wine grape breeding programs in the Midwest include the University of Minnesota and North Dakota State University. The lack of adapted dessert grapes is quite distressing, considering that even though the majority of the Midwest industry is designed around the wine industry, there is just as much adapted germplasm for table as in wine grapes that can be utilized to develop high-quality table/dessert grapes.
Once new, high-quality table grapes are released, there will be a ready market for them as illustrated by numerous farmers' markets across the Midwest. Grape growers grew winter-protected good quality table grapes and sold them at premium prices. Objectives of the research program are to develop winter-hardy, disease tolerant, high quality table/dessert, juice and raisin grapes, both seeded and seedless in any color, with good berry size and superior flavor.
In Summer 2012, "breeder crosses" were made to establish the basis for winter hardiness and disease resistance germplasm. We also acquired ten high-quality cultivars that served as the source of berry characteristics we wanted to incorporate in our new hybrids. We also shipped in wild germplasm and Labrusca grapes from the National Germplasm Repository in Geneva, NY and collected some of our own wild germplasm for crossing.
In Summer 2013, seedless X seeded crosses were made. In Summer 2014, the first seedlings from hybridization were established in the field and further seedless hybrid crosses were made. By Summer 2015, approximately 295 grape seedlings from 5 crosses were grown in plug trays for field establishment. In the Summer 2016, we collected wild grapes grown up from cuttings for limited crossing in Spring 2016. The USDA awarded us a grant for $97,931 for next 2.75 years for our project, which was entitled, "Development of New High Quality, Winter-hardy, Seedless Table, Juice and Raisin Grape Cultivars to Improve Grower Profits and Farm Sustainability". This funding has allowed for greatly expanded hybridization and germplasm development and the addition of greatly needed infrastructure.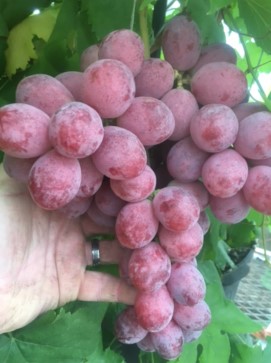 Our first year (Spring 2016) of larger scale hybridization in the greenhouse resulted in 4,395 seed originating from 14 parental combinations. In Summer 2017, we found that it was unwise to plant young seedlings in the field, due to slow establishment and potential winter mortality. Therefore, our protocol was revised so that hybridizations are made in the spring, followed by fall stratification, spring/summer germination and growth in deep plugs, overwinter in coolers and field-transplanted the next spring. Therefore, since we did not make any hybridizations the year the grant proposal was submitted (2015) we only had 295 seedlings ready to plant in summer 2016, tracing back to 2014. Seed from the 2016 crosses were warm-stratified for a month and then cold-stratified for approximately 8 months before they started to germinate. By June 2017, we were able to transplant the germinating seedlings into 50-count deep plug trays. These were grown in the greenhouse all summer in order to achieve maximum growth. Our inventory indicated a total of 1,141 seedlings, which was fewer than our goal. We believed we could augment and fine-tune germination and stratification techniques to achieve a higher percentage on seed for our 2018 seedlings. On September 20, we moved the 1,141 seedlings to the outdoor growing nursery in order to acclimate them for winter. They were placed in winter storage in our walk-in coolers and established in the vineyard in Summer 2018.
Hybridization in Spring 2017 was very successful. Although we did not quite make our goal of 33 crosses (we actually had 31), we did achieve a much higher seed number (9,973) than the predicted goal of 6,000. Based on the total number of seed produced, 51%, 44% and 5% are targeted for the Raisin/Dessert, Juice (traditional Labrusca type) and Dessert (strictly) categories, respectively. Based on the original planned percentages of crosses, 10%, 16% and 74% were targeted for juice, raisin, and dessert grape cultivar objectives.
One raisin grape cross in particular, skewed results more towards raisin grapes since 21% of all the seeds from 2017 hybridization were produced in this particular combination of parents. Since many of the hybrid seed produced with objectives of either raisin or dessert as an end point had wild V. riparia as a parent, it would be unlikely any of the offspring would be so skewed towards raisins that it would make much of a difference this early in the cultivar development timetable.
Seeds from all crosses were first placed in warm stratification and then cold stratification in November 2017. In June 2018, those seeds started to germinate and approximately 2,377 seedlings generated, which is above our goal of 2,178 seedlings/year. Hybridization in spring 2018 resulted in 29 parental combinations, so again, although we did not reach our goal of 33, we did achieve 8,852 seed, well above our goal of 6,000. Since we are typically obtaining higher percentages of actual seedlings, we are content with the results. This past year of 2018, we had a more balanced distribution of seed across the different breeding goals as opposed to 2017.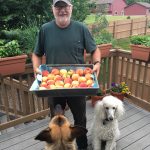 This article was posted in
Grapes
and tagged
cold hardy grapes
,
grape hybrids
.