Stone Fruit Hybridization
The University of Wisconsin-River Falls has been researching stone fruit hybrids. This is the only program of its type in an 11-state and 3-Canadian province area and could potentially serve that entire area. Significant improvements have already been made over existing cultivars (BlackIcetm), with several selections close to release as new varieties (cultivars).
Primary goals of stone fruit hybridization research include:
unique flavor combinations
increasing the potential harvest season
winter hardiness
late spring bloom
A very promising untapped potential exists for hybridizing high-quality California cultivars with native wild species to improve performance. The existing tart cherry industry in the state could integrate new high quality cherry cultivars immediately in to the marketing system. The new plum and apricot cultivars being developed could improve the agricultural economy of Wisconsin by serving as the basis for an entirely new industry.
New Hybrids
There are a number of new hybrids of plums that have been released or are scheduled for release.
Two wild plum selections (best of 255 seedlings) will be released as dual-purpose pollinizer/jelly cultivars. Two high-quality plum selections are also on track to be released. RF 98-95-17-7 is the oldest selection and had 70 lbs of fruit on an 8' tree the first time it fruited as a seedling. It has great winter hardiness, longevity, productivity and is a distinct improvement over 'Waneta.'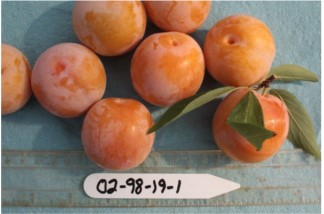 The yellow selection pictured above is a very sweet and tender selection with wild plum and pluot (3/4 plum, ¼ apricot) in its background and is being propagated to ramp-up production for release.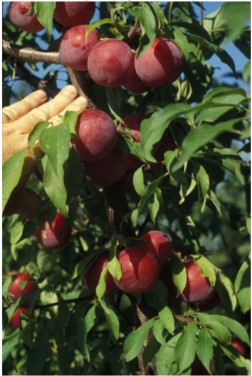 Another hybrid plum is 16-09-04-14-3 (California Myrobalan plum hybrid x 'South Dakota') – It has a yellow base with dusky rose/bronze blush over 80% of fruit. Fruits are close to round; 5 cm wide over suture and opposite side and 4.5 cm. high. The pit somewhat flattened and 2 cm long from tip to tip and 1.5 cm wide. With a vibrant yellow flesh and semi-freestone, it is a delight to consume. This cultivar has a very sweet, rich aromatic flavor and meaty texture throughout like the very best Japanese dessert plum. The skin is thin and tender with no astringency. This cultivar started fruiting at 5 years old. Tree has good growth habit; spreads same width as height and good crotch angles. It is winter hardy, having survived 12 years with no dieback. We budded 10 rootstocks of this genotype in greenhouse fall 2016.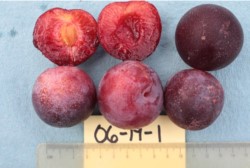 The 16-06-19-1 cultivar is a red/dusky purple plum with prominent but small and numerous white/gray dots. The fruit is 4 cm high and 4.5 cm. wide and almost completely globe-shaped. It virtually lacks suture. This cultivar has thicker skin but no astringency or tartness. The flesh is blood-red and very sweet with a tangy aftertaste; pit is small and clingstone. Tree is spreading, with good crotch angles.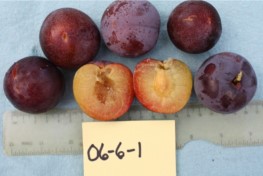 The new hybrid plum, 16-06-6-1, has a dusky bronze-purple with many prominent tan dots that vary in size. The fruit is oblate and 4.25 cm tall x 4.5 cm. wide, with just the slightest hint of a suture on the side. It has a shallow basin with very short stem. The yellow-green firm flesh is tinted red just underneath the skin surface on one side and a very meaty texture. It is sweet and very juicy, but may have insufficient flavor. The pit is 1.75 cm long and 1 cm wide and completely clingstone. Tree is upright, with many short limbs.
Another wild species, the beach plum, from the Atlantic coast, is very late blooming and we have several selections from our breeding program. 15-10-M-41 comes through with a crop every year with no pesticide use. It resists Japanese beetle feeding, plum curculio damage and can be made into great sauces, jellies and ice cream. Beach plums are the basis of a cottage industry on the East Coast.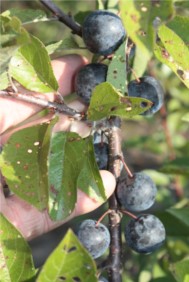 We also have an apricot (99-95-21-7) and cherry selection (1/2 sweet cherry, ½ tart cherry) being readied for release.
apricot 99-95-21-7

apricot 99-95-21-7

cherry 06-98-8-2
This article was posted in
Berries
and tagged
plums
,
stone fruit
.