Field Trial for Lure Longevity
Background: Rubber septa loaded with female moth pheromone, placed in P2 sticky traps around marshes, are widely used as lures in the cranberry industry to monitor moth populations. This practice is a foundational tool for integrated pest management. It helps marsh managers determine the start, peak and end of flight to better inform the use of pest control. In 2018 we examined the pheromone loads within lures purchased from the four primary suppliers and compared it to trap catches in the field. We tested sparganothis fruitworm (SFW) lures manufactured by ISCA Technologies, Scentry, Trécé, and AgBio, and found that Trécé lures contained much greater amounts of pheromone. The higher pheromone concentrations related to significantly higher trap catches in the field (Chasen and Steffan, 2018). We tested blackheaded fireworm (BHFW) manufactured by the same four companies and while each lure was composed of different amounts and ratios of the pheromone components, this did not relate to differences in field trap catches. In 2018, ISCA was the only company to manufacture a cranberry fruitworm (CFW) lure and their lures performed well in the field (Chasen and Steffan, 2018).
Growers and consultants consistently change lures in the field every two weeks to ensure reliable trap-catch data. However, labels on lure packaging from manufactures suggest that the lures should be dependable for 4-8 weeks. Therefore, this year we examined trap-catches from 2- and 4-week-old lures to test whether older lures could provide comparable trap-counts to younger lures.
Methods: Lures were aged by hanging them inside of a delta trap (with no sticky card) at marshes for either 1 week (2-week treatment) or 3 weeks (4-week treatment) before being placed in P2 traps. This process ensured that the lures were exposed to the same environmental conditions prior to testing. Four-week old lures were set out for exposure 2 weeks prior to the 2-week old lures so that trap catches would all take place at the same point in moth flight. Lures were placed in P2 traps, distributed randomly in beds throughout each marsh for 1 week and then collected. Six replicates were used of each brand-species-lure age combination.
CFW and SFW lures were tested in central WI marshes, and BHFW lures were tested in northern WI marshes. Trécé CFW and SFW lures were tested at one marsh, while ISCA CFW and Scentry SFW lures were tested at a separate marsh. BHFW lure brands (Trécé and Scentry) were tested at separate marshes.
Because each marsh only had enough space to test longevity from one brand, we were not able to compare between manufacturers; we could only compare the aged lures within manufacturer.
Results: There was no statistically significant difference between CFW trap-catches for 2- or 4-week-old lures for either Trécé (t = -1.83, df = 9.86, p = 0.10) or ISCA (t = 1.79, df = 8.83, p = 0.11) products (figs. 1A & B). However, ISCA lures tended to catch fewer moths from the older lures.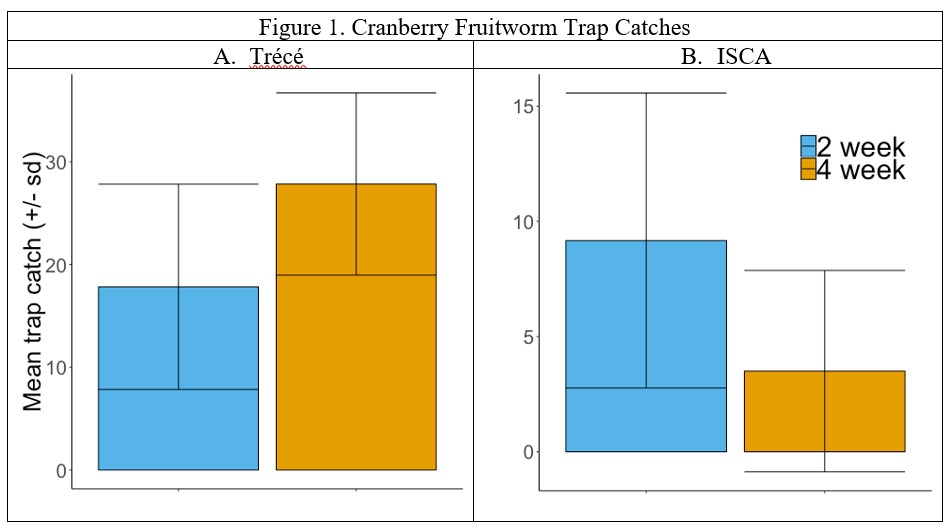 There was no significant difference in SFW trap-catches for the differently aged Trécé lures (t = 0.65, df = 9.79, p = 0.53) (fig. 2A). However, the 4-week-old Agbio lures caught significantly fewer SFW moths (t = 2.43, df = 9.46, p = 0.04) than the 2-week old lures (fig. 2B).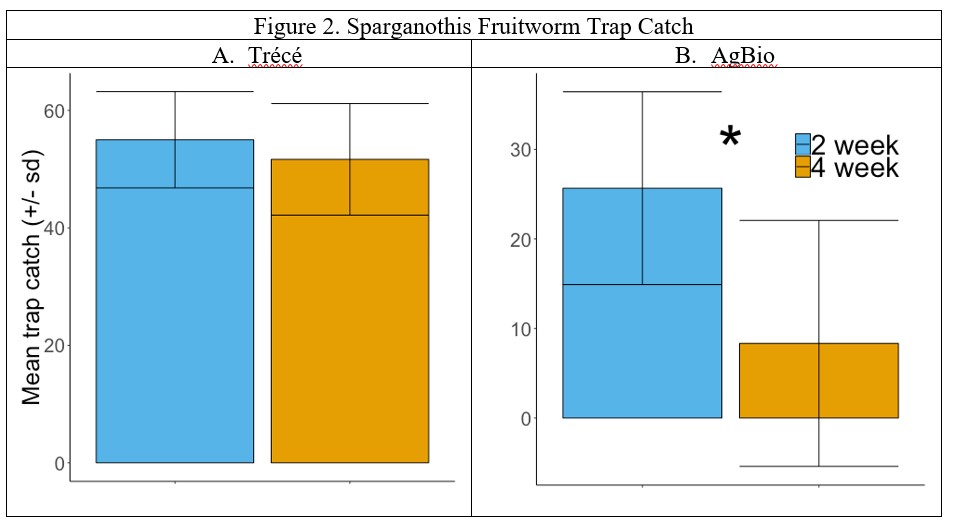 There was no statistically significant difference for BHFW trap catches for lures aged 2- or 4-weeks for either Trécé (t = 0.78, df = 5.80, p = 0.46) or Scentry (t = 1.63, df = 7.24, p = 0.15) lures.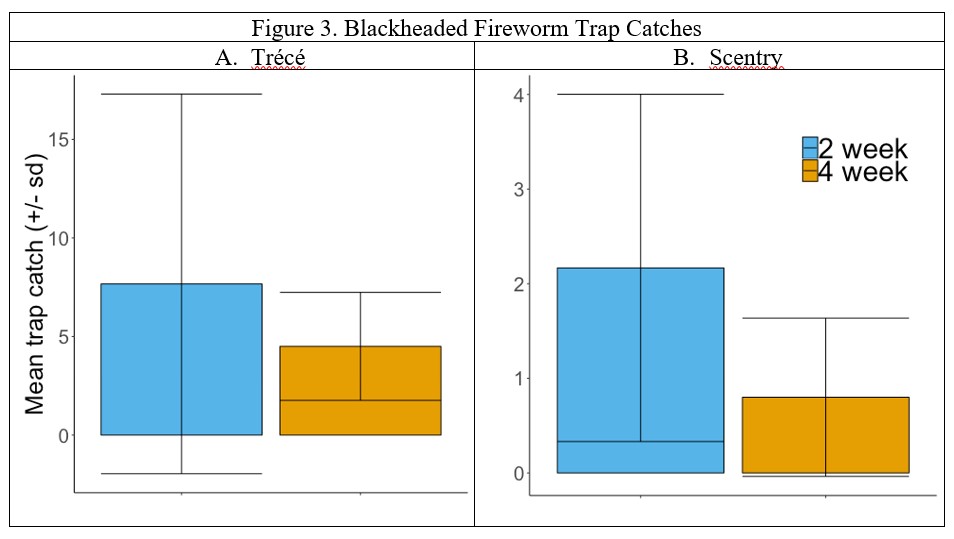 Discussion: While there were few significant differences found in our trap-catch data from this year, the general trend was that Trécé products appear to have equal or greater longevity in the field compared to other products. Our results from this year are consistent with the fact that Trécé products had equal or greater performance in side-by-side trials in 2018 (Chasen and Steffan, 2018).
Works cited:
Chasen, E. and S. A. Steffan. 2018. Pheromone Loading in Cranberry Insect Lures and Trapping Data. Cranberry Crop Management Journal, 31(6): pgs 2-3.
This article was posted in
Cranberry
,
Insects
and tagged
BHFW
,
CFW
,
lure
,
SFW
,
sticky traps
.