Grape scouting report: Social wasps are here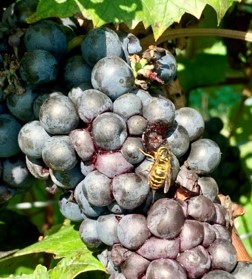 At the West Madison Research Station (WMARS), a lot of berry splitting was observed on 9/23/19 and social wasps started showing up to take advantage of these sources of sugar (Fig 1). Overall, we are seeing an increase in the number of wasps, particularly yellowjackets, we observe in our studies and it seems that Vespula maculifrons, the Eastern yellowjacket is dominating at least around Madison this year. Paper wasps, Polistes spp., such as Polistes dominulus are also present and can be differentiated from yellowjackets by their dangling legs when in flight (Fig 2). Polistes dominulus has been shown to carry microorganisms responsible for sour rot and can help facilitate the transmission of sour rot to grapes (Madden et al, 2017). Whether other wasp species carry microorganisms associated with grape pathogens remains to be addressed.
As mentioned in the last grape scouting report: Removing damaged grapes will help prevent high buildup of wasp populations. Once wasps are present, insecticides with short pre-harvest intervals may be applied. However, there is no product with wasps on the label and the regional spray guides do not provide any options for wasp control. Products with short pre-harvest intervals, and in particular pyrethroids, should provide adequate control for wasps.
Spotted wing drosophila (SWD) is another insect that is present in vineyards around this time and while our research showed that adults are not able to break the skin of selected cold climate wine grapes (Pelton et al., 2017), there is now evidence that SWD can also vector sour rot as a carrier of the acetic acid bacterium. Once splitting or damage has occurred, SWD, other drosophila, or other insects such as wasps may carry microorganisms responsible for sour rot and more research is needed to determine which insect species are mostly contributing to sour rot spread.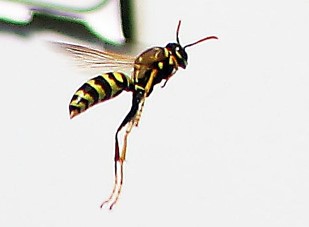 No insect was reported from the Peninsular Ag Research station (PARS) in Door County.
Thanks to Andi Nelson and Annie Deutsch for scouting at the research stations.
Happy harvest!
References
Madden A.A. et al. 2017. The emerging contribution of social wasps to grape rot disease ecology. PeerJ. DOI 10.7717/peerj.3223.
Pelton E. et al. 2017. Susceptibility of cold hardy grapes to Drosophila suzukii (Diptera: Drosophilidae). J. Applied Entomology 141:644-652.
This article was posted in
Grapes
,
Insects
and tagged
social wasps
,
SWD
,
Wasps
,
yellowjackets
.