Managing Micronutrients in Apple orchards- Prebloom foliar applications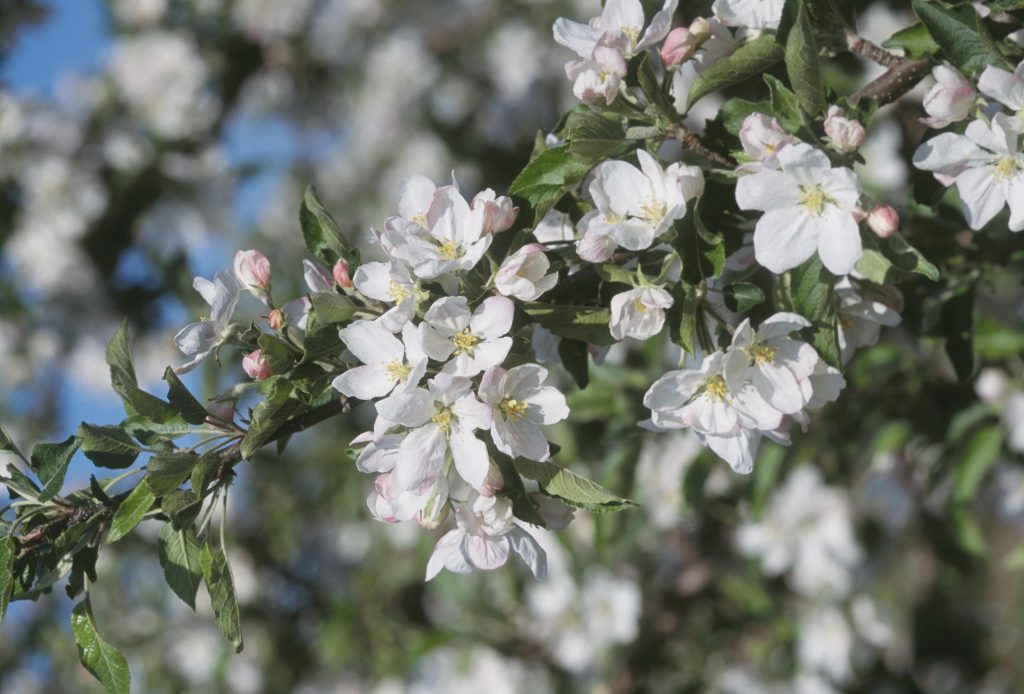 Micronutrients (i.e., boron, zinc, manganese, iron, copper) although needed in very small quantities compared to macronutrients (i.e., nitrogen, phosphorus, potassium, calcium, magnesium) play a critical role in pollen germination, fruit set, fruit and tree growth. Here are a few recommendations for boron and zinc fertilization during prebloom.
Boron is essential for the normal development of new shoots, flowers, fruits, and roots. It is also a key element for pollen germination and fruit set. Deficiencies of boron are common in orchards in Wisconsin, especially in coarse‐textured soils, with high pH, and low organic matter. Tissue analysis is the best diagnostic tool to determine boron levels in apple trees, and the leaf concentrations of 30 to 50 ppm boron are required for normal tree performance.
Boron can be applied to the soil or with foliar applications. In an orchard without boron deficiency, 2 lbs of boron/ac uniformly broadcast or sprayed over the soil (this can be done during spring, summer, or fall), plus a foliar spray of Solubor at 1 lb per 100 gallons dilute during tight cluster to pink are recommended. If boron levels are low (<30 ppm in tissue test results), an additional foliar application of 1 lb of Solubor/ac at 1/2" green is recommended. Solubor should not be tank‐mixed should with oil or with any pesticides contained in water‐soluble plastic packages because it inhibits the dissolution of the plastic. Solubor will increases spray water pH, and an acidifying agent might be needed if Solubor is used with pH sensitive pesticides.
Zinc deficiency is one of the most common deficiencies in Midwest orchards. Zinc is relatively immobile within the soil and is not available for plant uptake in high pH and/or high phosphorus in the soil. Zinc is involved in hormone production in buds that stimulates shoot and fruit growth. Foliar application of zinc is the most cost-effective way of providing this element to apple trees. A general recommendation for zinc fertilization in orchards without deficiencies would be Zn‐EDTA at label rate per 100 gallons at tight cluster to pink is recommended. If there is a zinc deficiency an additional spray of Zn‐EDTA at label rate per 100 gallons @ 1⁄2" green is recommended.
Finally, if the results of the leaf analysis show low levels of zinc and boron, a combined application of 1 lb of Solubor and Zn‐EDTA at label rate per 100 gallons @ 1⁄2" green followed by a second application at tight cluster to pink is recommended.
This article was posted in
Apples
and tagged
fertility
,
micronutrient
,
nutrition
.