Cold Climate Grape Cultivar Developmental Stages: May 27, 2020
Phenology
At the West Madison Agricultural Research Station (WMARS) in Madison, WI, shoot development ranged between E-L* stage 9 ("2 to 3 leaves separated") on some Petite Pearl to some shoots at stage 14 ("7 leaves separated") on La Crescent. Frontenac, La Crescent, and Marquette were the most advanced with on average 6 leaves separated. Crimson Pearl and Itasca were close behind with 5 leaves separated, on average. Petite Pearl and Brianna were the least developed with most shoots at 4 leaves separated. It is interesting to note that by E-L stage 12 the inflorescences on the shoot are clearly distinguished from the leaves.
*E-L stands for the Eichhorn-Lorenz growth stages scale to describe grapevine development.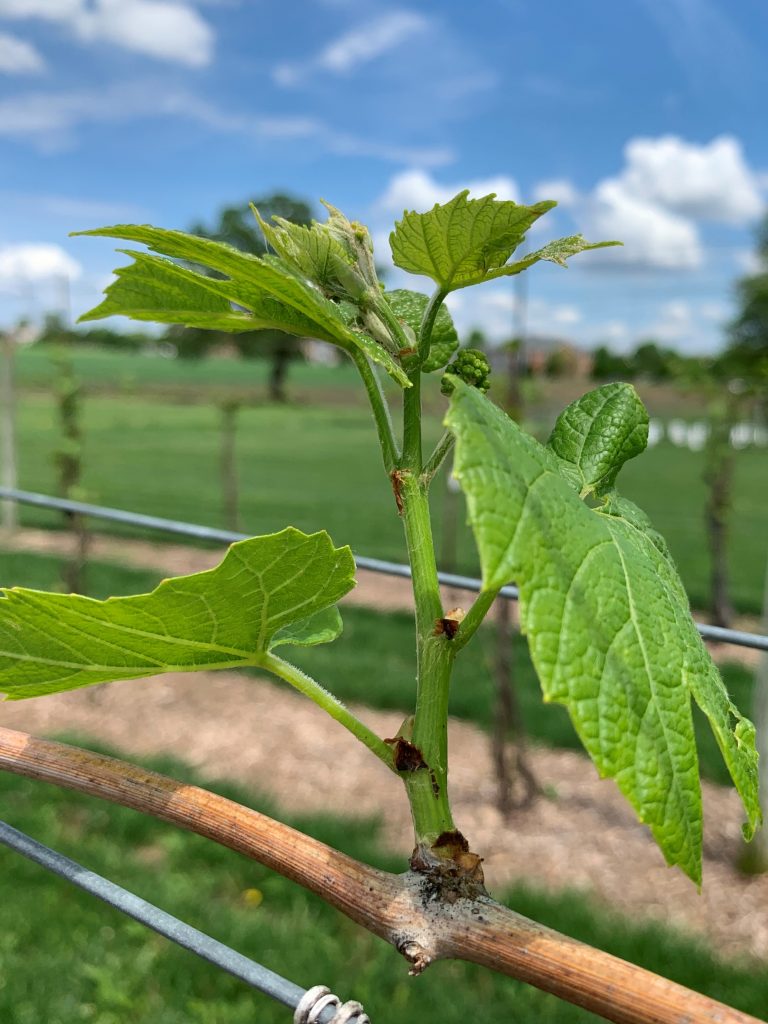 Growing Degree Day (GDD) Accumulations
Depicted in the table and on the graph are the GDD accumulations from April 1 through May 27 for this season and the past two seasons. Currently at WMARS, the GDD accumulation for the 2020 season continues to be similar to the 2019 season. In comparison, in 2018 the month of May was much warmer, resulting in half again as much heat accumulation as we have experienced to date. At the Peninsular Agricultural Research Station (PARS), the GDD accumulation so far this year is in between what was reached in 2019 and 2018.
We use the NEWA website as our source for GDD data. You can visit their "About degree days" page to learn more about the concept of degree days and the formulas used in calculations. (http://newa.cornell.edu/index.php?page=about-degree-days).
Growing degree day accumulation as of May 27, 2020 (April 1 biofix date; base 50 °F BE*) at the WMARS and the Peninsular Agricultural Research Station (PARS).
| | | | |
| --- | --- | --- | --- |
| Location | 2020 | 2019 | 2018 |
| WMARS | 277.3 | 269.6 | 418.1 |
| PARS | 127.9 | 98.2 | 197.3 |
*BE = Baskerville-Emin calculation method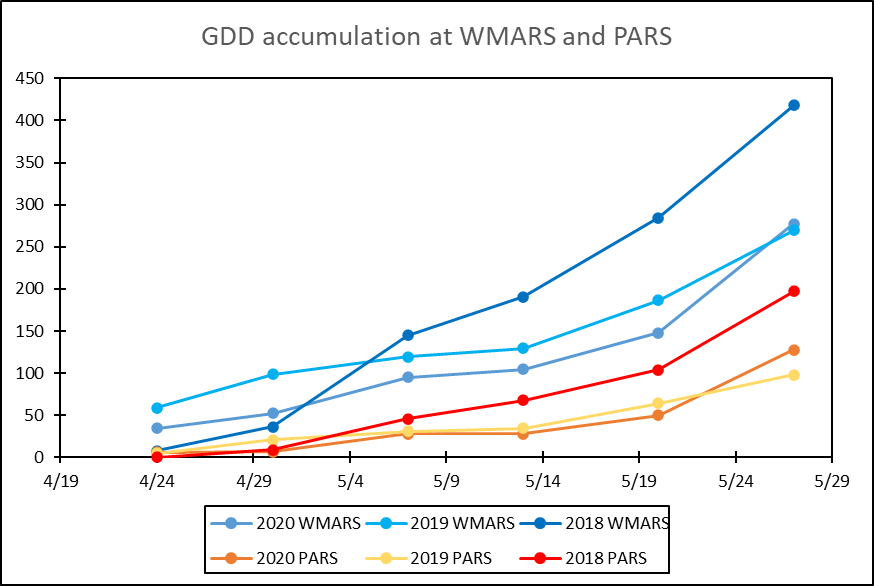 This article was posted in
Grapes
,
WFN
and tagged
grape phenology
,
Grapes
,
grapes developmental stages
.