Grape Cultivar Developmental Stages: June 24, 2020
Phenology
At the West Madison Agricultural Research Station (WMARS) in Madison, WI, shoot development as of June 24 ranged between E-L* stage 27 ("Setting, young berries enlarging >2 mm diameter") on several Petite Pearl to some shoots at stage 31 ("Berries pea-size") on Brianna, Frontenac, La Crescent, and Marquette.
One management practice to consider as fruit set occurs and berries begin to expand is leaf pulling. The removal of 2 to 3 basal leaves and laterals from around the clusters has the effect of significantly increasing the amount of light that reaches the fruiting zone as berries are developing and, later, maturing. Greater light exposure also results in higher berry temperatures. Research from our program has shown that this canopy management practice can help to reduce malic acid levels in the fruit, while also increasing anthocyanins in red cultivars.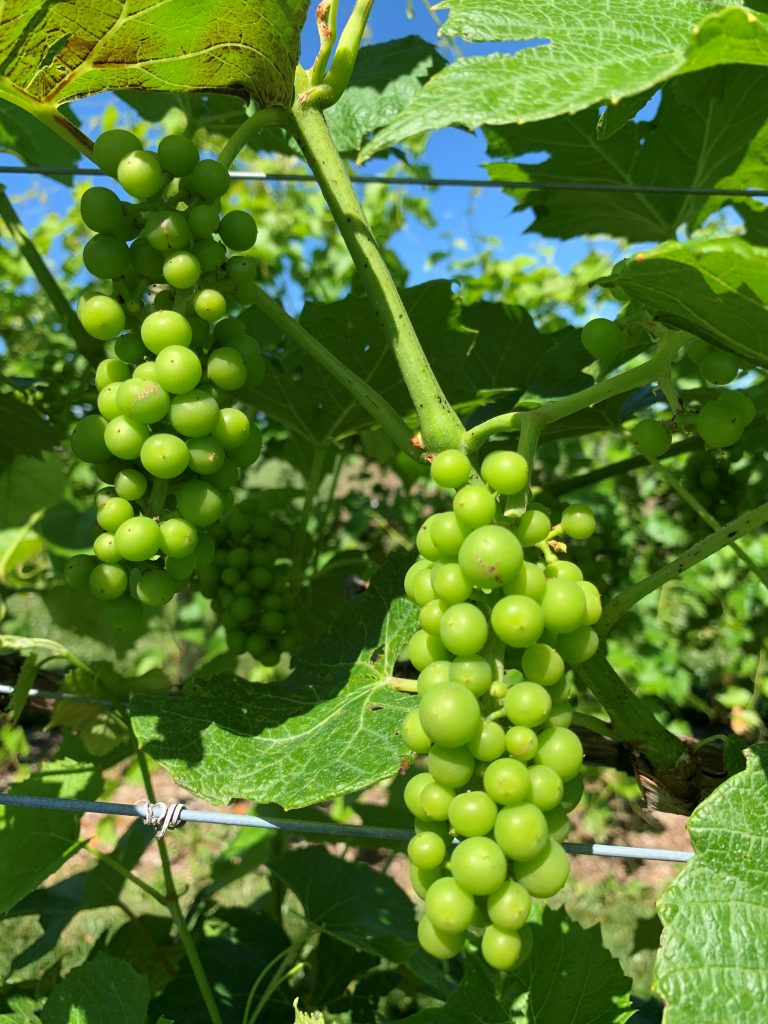 *E-L stands for the Eichhorn-Lorenz growth stages scale to describe grapevine development.
Growing Degree Day (GDD) Accumulations
Depicted in the table and on the graph are the GDD accumulations from April 1 through June 24 for this season and the past two seasons. Currently at WMARS, the GDD accumulation for the 2020 season is midway between the 2019 and 2018 seasons. The temperature experience over the last two weeks has been similar to the same period in the 2018 season (the lines are nearly parallel, showing similar rates of accumulation). Through May this year the GDD accumulation at WMARS was similar to 2019, but June has gradually become warmer this year than last year (note that the 2020 graph line during June is steeper than for 2019). At the Peninsular Agricultural Research Station (PARS), the GDD accumulation so far this year continues to be in between what was reached in 2019 and 2018.
We use the NEWA website as our source for GDD data. You can visit their "About degree days" page to learn more about the concept of degree days and the formulas used in calculations.
(http://newa.cornell.edu/index.php?page=about-degree-days).
Growing degree day accumulation as of June 24, 2020 (April 1 biofix date; base 50 °F BE*) at the WMARS and the Peninsular Agricultural Research Station (PARS).
| | | | |
| --- | --- | --- | --- |
| Location | 2020 | 2019 | 2018 |
| WMARS | 776.1 | 680.7 | 944.7 |
| PARS | 458.3 | 339.0 | 557.2 |
*BE = Baskerville-Emin calculation method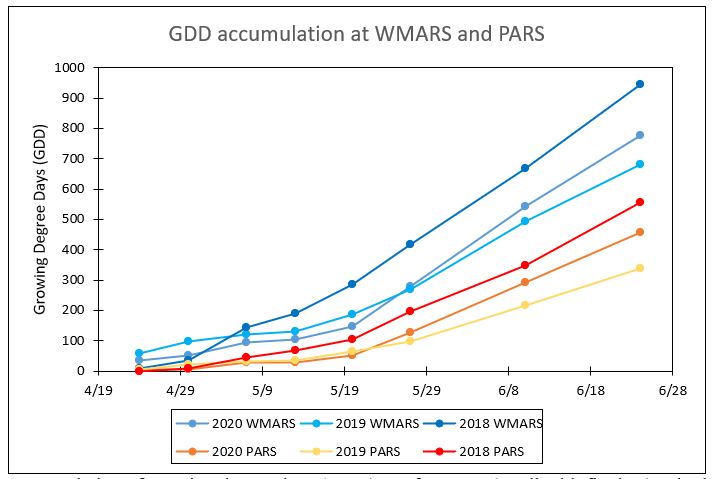 Accumulation of growing degree days (GDD) as of June 24 (April 1 biofix date) at both the West Madison Agricultural Research Station (WMARS) and the Peninsular Agricultural Research Station (PARS) for 2018, 2019, and 2020.
This article was posted in
Grapes
and tagged
grape phenology
,
Grapes
,
grapes developmental stages
.