Increase Fruit Quality of Cold Climate Grapes With Cluster-Zone Leaf Removal
Cluster-zone leaf removal is a very effective practice to open up the canopy and increase the exposure of clusters to sunlight and airflow. What are the benefits of this practice?
Reduce disease pressure, as clusters dry quickly after dew or rainfall in an open canopy.
Increase spray coverage and efficacy.
Improve fruit quality (reduced TA, increased phenolic compounds and color in red wines).
Three years of research on cluster-zone leaf removal in cold climate grapes in Wisconsin (done in vines trained as VSP and High Cordon) have shown that cluster-zone leaf removal can reduce titratable acidity (TA) by 5 to 20% at harvest depending on the year, mostly due to a reduction in malic acid concentration. In addition, cluster-zone leaf removal has also increased total anthocyanin concentration in juice and wine of red cultivars, such as Marquette, Frontenac, and Petite Pearl. For most of the cultivars we have evaluated, we have not seen a negative effect of the cluster-zone leaf removal treatment on yield, with the exception of Brianna. During the three-year study period, Brianna had significantly lower yields in the fruit-zone leaf removal treatment compared to the control. Brianna is a cultivar that has long internodes and relatively big leaves compared with other cold climate grape cultivars, which means that removing 2 or 3 leaves around the clusters might reduce the production of carbohydrates and negatively impact yield.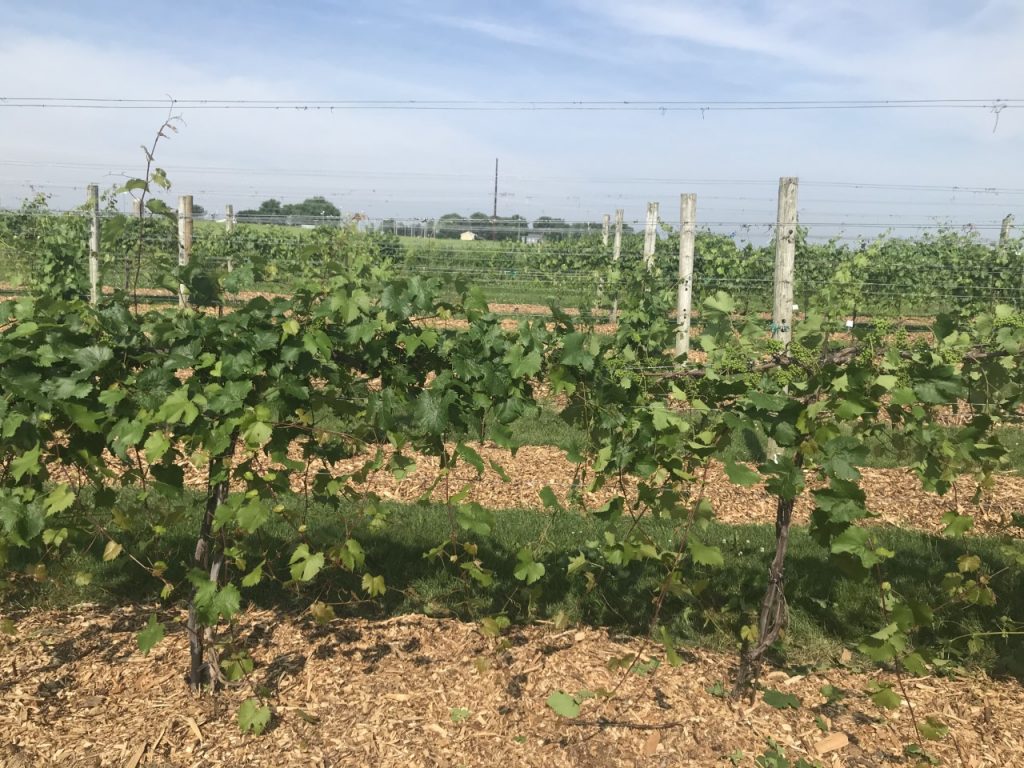 When is the best time for fruit-zone leaf removal?
This practice can be carried out any time between fruit set and veraison. Studies looking at timing of leaf removal have reported reduced fruit set when leaf removal is done during bloom or earlier. It is possible that removing those leaves very early reduced the amount of carbohydrates need during fruit set and initial berry growth period, thus reducing yield. Leaf removal past veraison can also have detrimental effects, as fruit grown in shaded canopies have thinner skin that is more prone to sunburn, in addition to not being as effective on improving fruit quality as when after fruit set.
How many leaves should be removed?
Leaf removal can be done manually or mechanically. Removing 2 to 3 leaves per shoot around the cluster (remove the leaves that are shading the clusters) can be enough to increase fruit sunlight exposure. Prior to removing leaves, make sure to tuck in shoots and remove lateral shoots, which will also help increase sunlight exposure and improve airflow in the fruiting zone.
This article was posted in
Grapes
and tagged
cluster zone leaf removal
,
cold climate grapes
,
Grapes
.