UW-Madison/Extension Insect Diagnostic Lab Update
Caseload at the UW Insect Diagnostic Lab has been very high over the last two weeks. A summary of fruit crop pests submitted to the UW Insect Diagnostic Lab over the last two weeks can be found below:
Pearslug Sawfly (Caliroa cerasi): First generation larvae of the pearslug sawfly are active, and I've received many recent reports from around the state of feeding activity on fruit trees, including cherry, plum, and pear. Ornamental plants from the rose family can also be attacked by this insect. The dark, slug-like larvae feed on the upper surface of leaves, creating a delicate, brown lace-like appearance on the foliage. Damage is rarely severe but can be quite noticeable. A second generation of larvae occurs in late summer.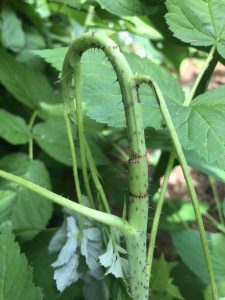 Raspberry cane borer (Oberea bimaculata): I've recently seen several reports of raspberry cane borer from northern parts of the state. Adult beetles emerge in June and females girdle tips of primocanes twice before laying eggs. Affected tips droop and can be noticed readily. Management involves pruning out and destroying affected cane tips before eggs hatch and larvae burrow down into stems.
Brown Marmorated Stink Bug (Halyomorpha halys): Reports of adults continue to come in from southern Wisconsin. I've also had several reports of nymphs in southern Wisconsin, with tick-like second instar nymphs abundant in some areas.
Rose Chafer (Macrodactylus subspinosus): Rose chafers activity has continued around the state over the last two weeks but is starting to decrease and rose chafer activity should be wrapping up for the year in the near future. This beetle occurs in areas with sandy soil and can cause damage similar to Japanese beetles and attacks many of the same crops.
Japanese beetle (Popillia japonica): Japanese beetles are active in much of the state and I've seen recent reports of damage from raspberries, grapes, strawberries, and tree fruit. Japanese beetles have a long adult "season" and will be present for the next two months. Activity typically lessens in September. This pest can affect a very wide range of fruit and other crops, so growers should be scouting for and managing this pest as needed.
Grapevine beetle (Pelidnota punctata): This large distinctive beetle is more of a curiosity than a threat to grape plants. The adult scarab beetles are beige, up to 1 inch long and possess six small black spots on the wing covers. I've recently had reports from south central Wisconsin and the Fox River Valley areas.
Cranberry pests: Two uncommon cranberry insects were recently submitted to the UW Insect Diagnostic Lab. The first sample consisted of leafhopper nymphs (juveniles). These were consistent in appearance with the blunt-nosed leafhopper (Limotettix vaccinii), but adult specimens will be needed to confirm. The blunt-nosed leafhopper is of interest as it's associated with Cranberry False Blossom Disease. A second insect of interest from cranberries was a plant bug: Plagiognathus repetitus. This species has occasionally been noted in cranberries in the eastern US. It is typically associated with bog plants from the family Ericaceae.
This article was posted in
Insects
and tagged
Brown Marmorated Stink Bug
,
cranberry pests
,
grapevine beetle
,
Insect Diagnostic Lab
,
insects
,
Japanese Beetles
,
Pearslug Sawfly
,
raspberry cane borer
,
Rose chafer
.