Japanese Beetles Increase at West Madison AG Research Station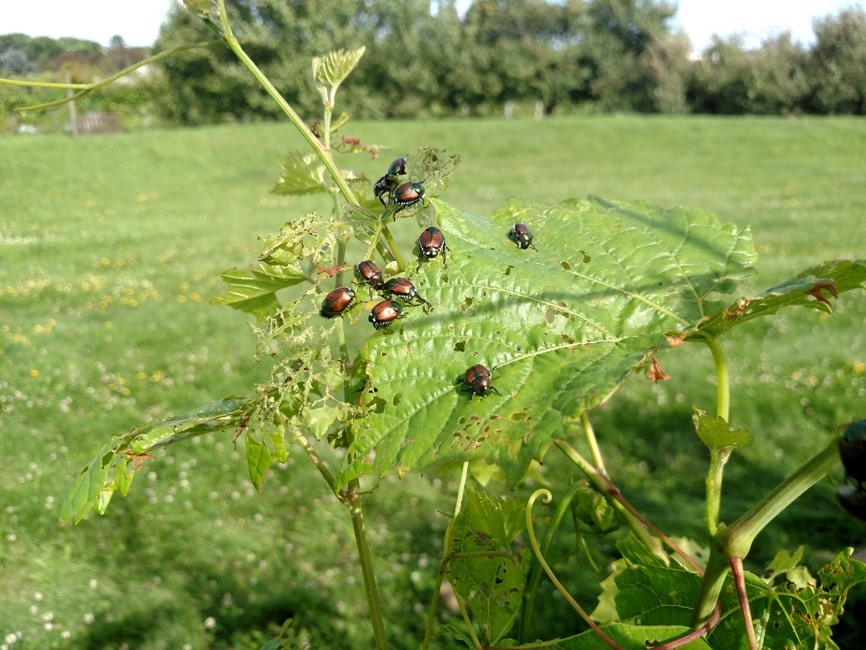 Japanese beetle adults (Figure 1; JB) are increasing at the West Madison Ag Research Station (WMARS) vineyards while decreasing slightly at my house. I visited OJ Noer Turfgrass Research Station in Verona, WI on Friday July 17, 2020 to set up a pilot experiment assessing the impact of nematodes on Japanese beetle grubs (in collaboration with my colleague Shawn Steffan) and there too they noticed a decrease in JB adults this past week. You may be experiencing a natural increase (if you started a little later) or decrease in numbers (following the first emergence of adults) at this early stage of the adult population (Fig 2, notice the dip in numbers in the 3rd or 4th week after first occurrence in both years).
Regardless, JB adults are here and they will be active until around the third week of September. As a reminder, in grapes we recommend 30% defoliation as a threshold for implementing chemical control. If you already applied an insecticide to protect your grapes from JB (see previous article for recommendations) please remember to check the label for the interval between sprays before reapplying an insecticide of the same class (IRAC number) if you choose to do so.
Pyrethroids, such as Danitol, Baythroid, or Mustang Maxx provide knockdown of JB and 7-10 residual activity, while Assail provides knockdown and 2-5 day residual activity followed by systemic activity for some time (not sure how long).
For more in depth information on the biology and management of Japanese beetle, please see the webinar on "What to do now in the vineyard: post bloom". No other insect was reported at WMARS at this time.
Thanks to Beth Workmaster for scouting at WMARS.
Happy growing season!
This article was posted in
Grapes
,
Insects
and tagged
Christelle Guédot
,
Grapes
,
insects
,
Japanese Beetles
,
WMARS
.