Grape Cultivar Developmental Stages: July 23, 2020
Phenology
At the West Madison Agricultural Research Station (WMARS) in Madison, WI, as of July 23, Itasca and Frontenac had clusters at shoot development E-L* stages 33 ("Berries still hard and green") to some clusters at stage 34 ("Berries begin to soften"), while all other cultivars were at stage 33.
At WMARS, our cultivars are expected to reach veraison in one to two weeks. Veraison is one of the two times in the growing season (the other is bloom) recommended for performing leaf petiole sampling for nutritional analysis. Veraison is considered by some to be the best time to assess the vines' nutritional status, as this is when nutrient levels are the most stable. Check out the link here to read a recent Wisconsin Fruit posting for instructions on how to best conduct leaf petiole sampling to get the most reliable results.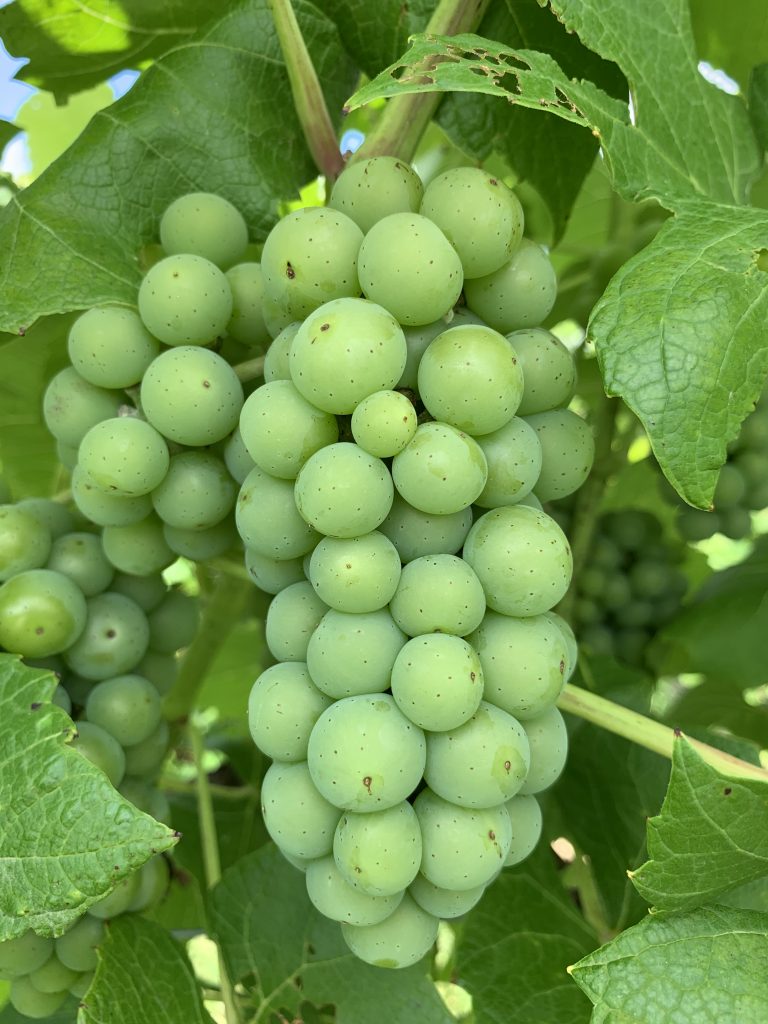 Growing Degree Day (GDD) Accumulations
Depicted in the table and on the graph are the GDD accumulations from April 1 through July 22 for this season and the past two seasons. Currently at WMARS, the GDD accumulation for the past two weeks of the 2020 season was similar to the heat experience for the same time period of 2018 (note the lines for the two years are parallel). The temperature experience at the Peninsular Agricultural Research Station (PARS) over the last two weeks was also similar to that for 2018, and at this point in time, the total heat accumulations for the two years comparable.
We use the NEWA website as our source for GDD data. You can visit their "About degree days" page to learn more about the concept of degree days and the formulas used in calculations.
Growing degree day accumulation as of July 22, 2020 (April 1 biofix date; base 50 °F BE*) at the WMARS and the Peninsular Agricultural Research Station (PARS).
| | | | |
| --- | --- | --- | --- |
| Location | 2020 | 2019 | 2018 |
| WMARS | 1450.6 | 1366.2 | 1593.7 |
| PARS | 1072.8 | 844.5 | 1117.2 |
*BE = Baskerville-Emin calculation method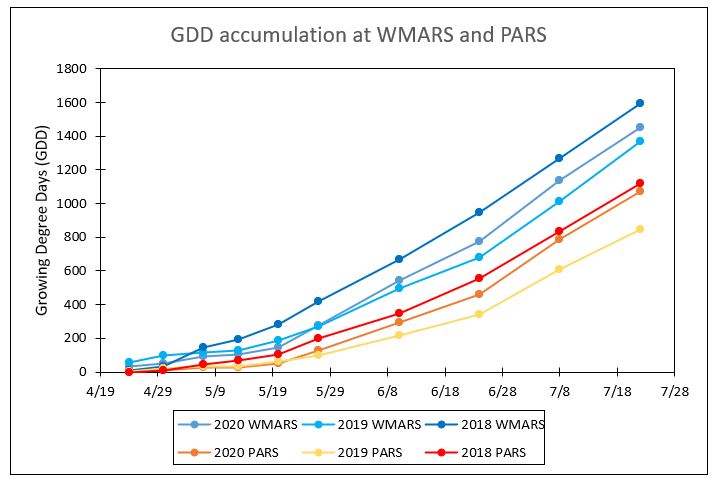 This article was posted in
Grapes
and tagged
grape phenology
,
Grapes
,
grapes developmental stages
.