A Fun Way to Help Manage Spotted-Wing Drosophila: Hummingbirds!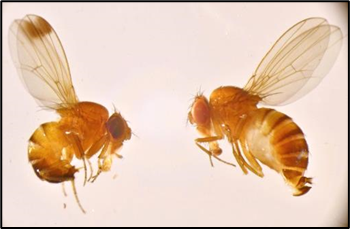 A recent study conducted by J. Carroll, C. Weber, and G. Loeb at Cornell University assessed the impact of hummingbirds on managing spotted-wing drosophila (SWD, Drosophila suzukii, Fig 1). In this interesting study, they used the hummingbirds' appetite for insects to see if hummingbirds would be keen to eat our number one pest of brambles, the infamous SWD.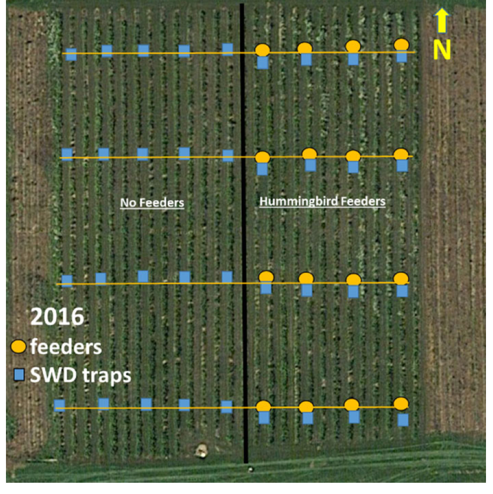 Over four years, the authors placed 25 hummingbird feeders per acre in brambles to encourage hummingbirds to feed on SWD (Fig 2). The study found that hummingbirds are attracted to the feeders and spend time in the plantings in the plant canopy, where most SWD are present. Hummingbirds were also found to increase in number year after year, suggesting they their populations may increase over time, as they likely learned to come back to the plots for some tasty treats.
Overall, when both hummingbird and SWD numbers were high (which tend to vary from year to year), there was a 59% reduction in SWD adults in traps and a 56% reduction in larval infestation in fruit in the hummingbird feeder treated areas compare to the untreated areas. Though the authors acknowledge that the reductions in trap catches and fruit infestation did not consistently occur across all the weeks sampled, these results are encouraging and hummingbird feeders could be considered to complement an Integrated Pest Management program to manage SWD in brambles. Here is the link to the full extension article for more detail about the study.
Happy growing season!
This article was posted in
Insects
and tagged
hummingbirds
,
insect control
,
insects
,
Spotted Wing Drosophila
,
SWD
.