Grape Scouting Report and Preparing for Harvest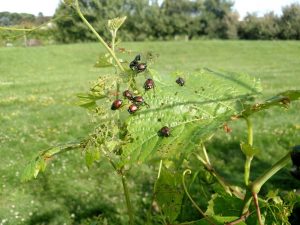 As you may expect, Japanese beetle adults (Figure 1; JB) continue to be present at the West Madison Ag Research Station (WMARS) vineyards. So far at WMARS, there were six insecticide sprays applied targeting grape phylloxera and Japanese beetle (Table 1).
The numbers don't seem to be as high as I was expecting which is great news but they should still be active until around the third week of September. If you are applying another spray to control JB (see previous article for recommendations) make sure to rotate your insecticides to use different classes (IRAC groups) of insecticides to delay insecticide resistance. For more in depth information on the biology and management of Japanese beetle, please see the webinar on "What to do now in the vineyard: post bloom". No other insect was reported at WMARS at this time.
Table 1. Insecticides applied at WMARS in 2020 thus far. We do not endorse these products over others. More product recommendations can be found in the Midwest Fruit Pest Management Guide.
| | | | |
| --- | --- | --- | --- |
| Products (active ingredients) | Rate (/acre) | Date applied | Insect target |
| Wrangler (imidacloprid)* | 14 oz | May 13 | Grape phylloxera |
| Assail 30 SG (acetamiprid) | 4 oz | May 29 | Grape phylloxera |
| Movento (spirotetramat) | 3 oz | June 13 | Grape phylloxera |
| Sniper (bifenthrin) | 6 oz | July 15 | Japanese beetle |
| Sevin XLR+ (carbaryl) | 1 qt | July 23 | Japanese beetle |
| Sevin XLR+ (carbaryl) | 1.5 qt | August 5 | Japanese beetle |
*applied as a soil drench
As we are approaching harvest, there are a number of insects that you should prepare for as they can become problematic at harvest. These include multicolored Asian lady beetle, social wasps, and spotted-wing drosophila, which were all discussed during our last grape webinar of the season "What to do now in the vineyard: veraison to harvest". In this webinar, we discussed how to prepare and manage for these harvest insects as well as other topics, including bird management options by Annie Klodd from UMN and grape maturity and fruit sampling by Amaya Atucha from UW-Madison. For more information on spotted-wing drosophila management in grape, please refer to this previous article.
Thanks to Beth Workmaster for scouting and to Janet Hedtcke for managing pests in the vineyards at WMARS.
Happy growing season!
This article was posted in
Grapes
,
Insects
and tagged
grape phylloxera
,
Grapes
,
insects
,
Japanese Beetles
.