Preparing for Brown Marmorated Stink Bug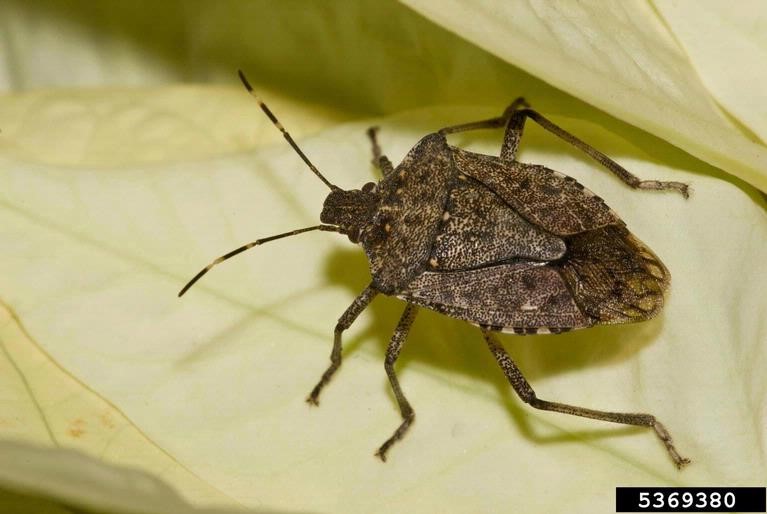 Brown marmorated stink bug (BMSB, Halyomorpha halys; Fig 1) is well established in WI. It has now been confirmed in 32 (orange) and suspected in 4 (yellow) counties since its first detection in 2010 (Fig 2). DATCP reported BMSB adults caught in monitoring traps in Dane, Racine, and Walworth counties this past July and we expect many more in the months to come.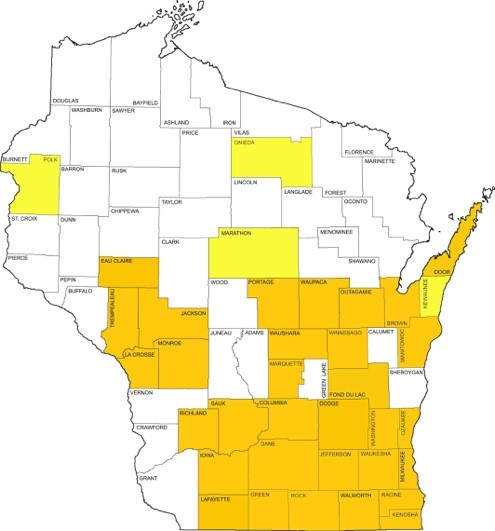 If you are located in one of the confirmed counties (orange in Fig 2) or have a history of BMSB being present in or around your orchard, it is advised to pay close attention for the occurrence of BMSB in your orchard and for fruit injury this season. It is recommended to monitor for BMSB with sticky traps or pyramid traps. The provisional action threshold used in Eastern states where BMSB is a severe pest in apple is 10 BMSB per week for black pyramid traps. No threshold has yet been established for sticky traps. At this time, very few apple orchards in WI may reach this threshold, but if you do, you should apply an alternate row-middle-spray using pyrethroids (IRAC 3A), carbamates (IRAC 1A), or neonicotinoids (IRAC 4A) (Table 1). As the season progresses and you start seeing damage on your fruit, you may wonder what could have caused the damage since it may look similar at first glance. We discussed how to differentiate damage from BMSB, apple maggot, bitter pit, and hail, using a simple flow chart in a previous article.
For more general information about BMSB, please see this extension publication.
Happy growing season!
Table 1. Selected insecticide options for BMSB in Wisconsin. We do not recommend these chemistries above other options, and more product recommendations can be found in the Midwest Fruit Pest Management Guide. As always, it is the law to read and follow the label.
| | | | | |
| --- | --- | --- | --- | --- |
| Class | Trade name | Active ingredient | PHI (days) | Efficacy |
| Neonicotinoid | Actara | Thiamethoxam | 35 | Excellent |
| | Belay | Clothianidin | 7 | Good |
| | Assail | Acetamiprid | 7 | Good |
| Pyrethroid | Baythroid | beta-cyfluthrin | 7 | Excellent |
| | Danitol | Fenpropathrin | 14 | Excellent |
| | Mustang Maxx | zeta-cypermethrin | 14 | Excellent |
| Carbamate | Lannate | Methomyl | 14 | Excellent |
This article was posted in
Apples
,
Insects
and tagged
Apples
,
Brown Marmorated Stink Bug
,
insects
.