Guidelines on How To Estimate Yield in Beds
Early and accurate yield estimation is very useful information for growers to adapt management decisions and inputs (i.e., fertilizer, herbicides, fungicides, etc) based on potential yield. However, precise early yield estimation is challenging in cranberry because there is high variability in fruit production within a bed, but also because a percentage of newly set fruit will stop growing during the weeks after fruit set and will not develop into full berries. Yet, for many of our research projects we need to estimate yield early in the growing season and we have tested different ways to do so through the years. In this article we want to present some of the ways we estimate yield in our studies hoping that they can be useful for growers to adopt for their own estimations.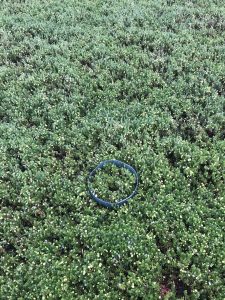 During the last three years, I have worked on the nitrogen fall fertilization project and have acquired significant experience estimating yield. This particular study was established in 3 'HyRed' beds (~1000 x 150 ft), and to estimate yield I collected all the fruits in a 0.5 ft2 sample area (Fig. 1) starting about 4 to 5 weeks after full bloom. I collect six 0.5 ft2 samples per bed, two in the first 1/3 of the bed, two in the middle, and two in the last 1/3 of the bed. The advantage of taking two 0.5 ft2 samples in each section of the bed rather than one 1 ft2 sample, is that the more samples you collect the better yield estimation you get, as you account for more variability within the bed. However, avoid taking samples from the bed's edges, or spots with excessive presence of weeds, pest damage, and poor or excessive growth, as those are probably not representative of the entire bed.
The next step consists on counting the total number of fruits per sample (Fig. 2). At this point in the growing season, you can already distinguish between the fruits that will develop into a full berry and those smaller ones that will not continue to develop (Fig. 3). For the purpose of estimating yield, we do not count those smaller fruits that will not grow into full berries. The next step is to multiply the number of fruits in each sample by the average final fruit size, and here you have two option, 1) if you have a historical average berry size for certain cultivars in your marsh you can use that, or 2) you can use the average berry size in Table 1.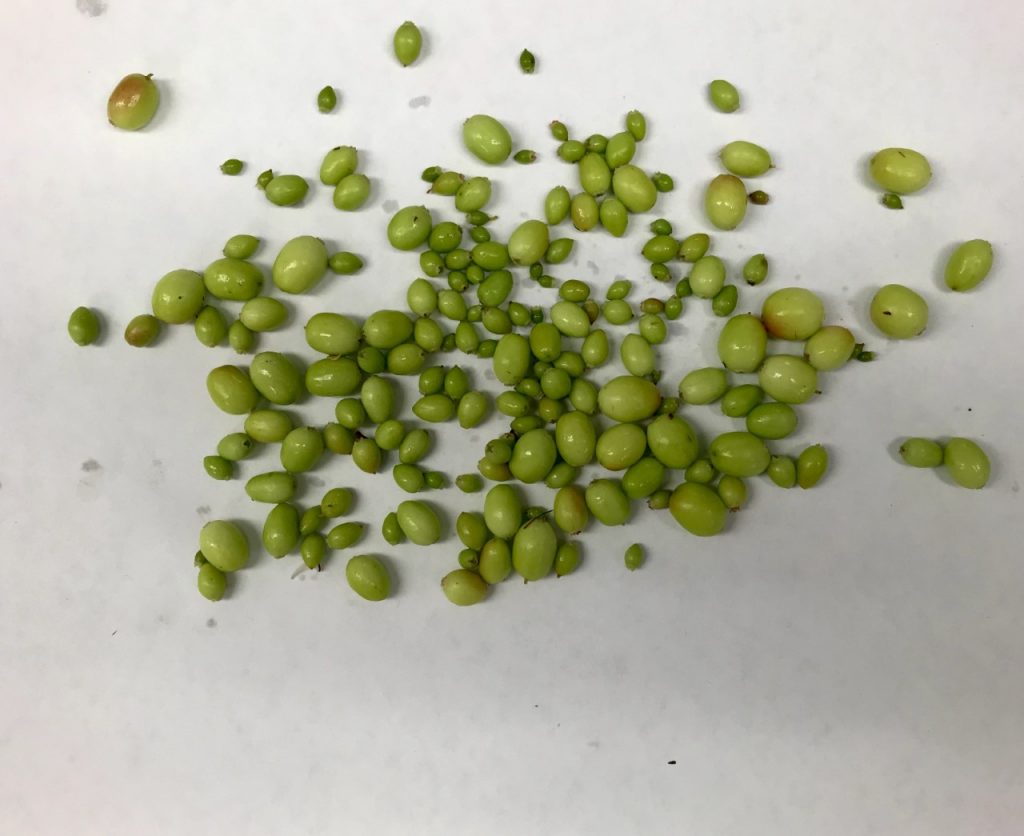 For the fall nitrogen fertilization study, the average berry size of the 'HyRed' beds in my research plots ranged between 1.2 to 1.58 grams, so to be conservative with my yield estimation I used 1.2 grams per fruit (0.0026 lb.) and multiply by the average number of fruits from the 6 samples I had collected (165 fruits per 0.5 ft2 or 330 fruits/ft2). By multiplying 330 fruits/ft2 by 43,560 ft2 (1 acre) by 0.0026 lb., I estimated approximately 374 barrels/acre.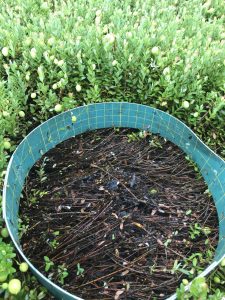 Another alternative to estimate yield is to use the total number of uprights per 1 ft2 area. This will provide us not only information about fruit production, but an overall view of how much vegetative growth the bed has at the time. The first step is to collect all the uprights in a 1 ft2 area (Fig. 4), and for this I used the same criteria as for the fruit sampling (see above) and collected 3 samples per bed. Then I sorted each sample into vegetative uprights (no fruit) and fruiting uprights (with fruit). For example, in most of the samples from my study about 68% of the uprights were vegetative and only 32% were fruiting. Now, to estimate yield based on the number of fruiting uprights I assumed that each fruiting uprights would produce 2 berries, which can be conservative for some cultivars that produce more than 2 berries per upright but is about right for older cultivars such as Stevens. Now, if we consider the total number of fruiting uprights in my sample (~170) and multiply by 2 (the average number of fruits per upright), and then you multiply this by the average berry weight (0.0026 lb) and by 43,560 ft2 (1 acre), the yield estimation is approximately 386 barrels/acre, which is comparable with the yield estimation obtained by counting berries.
Both methodologies yielded similar results and you can use either one of them. Maybe one advantage of using the fruiting upright number versus the number of fruits is that you can estimate yield earlier in the growing season because you are not counting developing fruits. However, the most accurate estimation will always result from counting fruits as close to harvest as possible.
Table 1. Reference table for average berry weight in selected cultivars (oz and g).
| | | |
| --- | --- | --- |
| Cultivar | Average berry weight (oz) | Average berry weight (g) |
| Stevens | 0.072 | 2.04 |
| Pilgrims | 0.058 | 1.64 |
| Mullica Queen | 0.074 | 2.1 |
| Crimson Queen | 0.053 | 1.5 |
| Sundance | 0.067 | 1.9 |
| Ruby Star | 0.053 | 1.5 |
| HyRed | 0.058 | 1.6 |
This article was posted in
CCMJ
,
Cranberry
and tagged
Amaya Atucha
,
CCMJ
,
Cranberries
,
fall nitrogen fertilization
,
Pedro Rojas Barros
,
yield
,
yield estimation
.