Brown Marmorated Stink Bug and Late-Season Apple Damage
At this time of year, you may start noticing damage on apple fruit that may be hard to identify. It is often hard to distinguish stink bug damage from other types of damage, such as hail or bitter pit damage. We discussed stink bugs in apple in a video you can see here and I discussed in more depth how to prepare for brown marmorated stink bug (BMSB) in the previous issue. As you can see in the previous article, the distribution of brown marmorated stink bug (BMSB) has been steadily expanding throughout the state and you may be wondering how different is BSMB damage from other late-season apple damage.
Below we provide a provides a flow-chart (Figure 1) to distinguish between some common late-season look-alike symptoms, which we will discuss in more detail in the following paragraphs.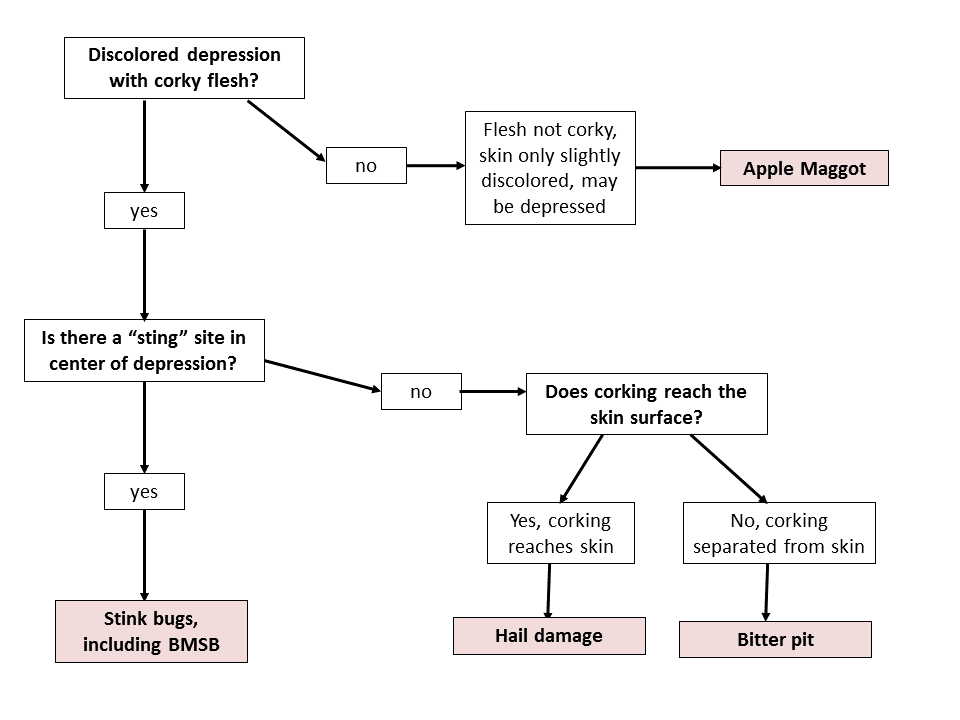 BMSB vs. other stink bug damage
Unfortunately, BMSB damage is indistinguishable from other stink bug damage, so the only way you can be certain of the culprit is if you are able to see the actual insect doing the feeding. If you have seen BMSB in your orchard, it is highly recommended to monitor for it using commercial traps. All stink bug damage manifests in a discolored depression, with a stylet hole visible (although very small) in the middle of the discoloration. If you cut into the fruit, the flesh will be corky and brown along where the stylet of the bug was in the fruit, so the corky flesh will come all the way up touching the fruit skin.

Hail damage vs. BMSB
Hail damage is generally localized, follows a known hail event, and may be worse on one side of the orchard block or of the trees affected. Similarly to stink bug damage, hail damage shows a discolored depression where, if the fruit is cut into, flesh is corky all the way up to touching the fruit skin. Hail can be differentiated because the hail damage has no stylet hole visible in the depression on the skin. Thus, close inspection of the fruit is necessary and a magnifying glass may help in determining the presence of stylet holes, in particular if no hail events have been reported in the area.
Bitter pit vs. BMSB
Bitter pit is associated with nutrient imbalance. Similarly to hail damage, bitter pit also shows a discolored depression with no stylet hole visible. In general, most damage is seen on the calyx (bottom) half of the apple. Unlike stink bug damage, the corky flesh in bitter pit is deeper in the apple and does not touch the fruit skin (see image at right). Bitter pit is most likely to be found in highly susceptible cultivars (including Honeycrisp), and appears as often in the center as the edges of the orchard (unlikely insect damage, which is found more often on the orchard edges).
Apple maggot stings vs. BMSB
Apple maggot stings occur when the fly tries to oviposit into an apple, but does not lay an egg, or the larva fails to develop. There may be a slight depression with some discoloration, but generally less distinctive than in the other cases. There is always an oviposition hole visible, which is generally larger and more obvious than the stylet hole found following stink bug damage. Flesh is not corky, but flesh may be soft and mealy.
Happy harvest!
This article was posted in
Apples
,
Insects
and tagged
Apple maggot
,
apple maggot stings
,
Apples
,
Bitter pit
,
Brown Marmorated Stink Bug
,
Christelle Guédot
,
hail damage
,
Janet van Zoeren
,
late-season apple damage
,
stink bug
,
stylet hole
.