Managing Spotted-Wing Drosophila in Fall-Bearing Raspberry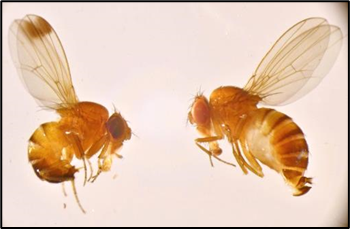 As the end of summer is approaching and fall bearing raspberry are getting ready for harvest, it is important
to review the management strategies that should be implemented to manage the infamous spotted-wing drosophila (SWD; Figure 1). At this time of the year, SWD are likely active in your berry patch and monitoring for first detection is important especially if you do not have a history of SWD-damaged fruit in your patch. You can either monitor with homemade or commercial traps baited with homemade baits (apple cider vinegar or yeast and water) or with commercial SWD lures. More can be found here for the homemade versions which we recommend as a cheap and effective option. Another way to monitor (which should be implemented especially by strawberry and grape growers) is to sample suspected fruit to look for the presence of larvae (see previous article here). We recommend checking fruit twice a week, crushing the fruit and looking inside for SWD larvae or using the salt test method.
Cultural control methods, including sanitation (removing damaged and overripe fruit) and 2-day harvest schedule, were discussed in a previous article and should be implemented when possible. Hummingbird feeders were discussed in this article as a possible management strategy, more on this soon I hope. Other management methods, such as physical barrier, refrigeration, and more on chemical control were discussed in our article on organic management of SWD and in this comprehensive organic management publication.
Briefly, in organic production, it is highly recommended to implement sanitation and a 2-day harvest schedule in combination with chemical control which includes spinosad (IRAC 5; Entrust) rotated with a chromobacterium (Grandevo) or pyrethrum (IRAC 3A; Pyganic) to prevent resistance development to spinosad. Chemical control should be implement every 4-7 days until harvest is completed.
In conventional production, these cultural control practices are also recommended but chemical control offers more options. Conventional insecticides rated excellent for SWD control include Pyrethroids IRAC 3A (e.g., Brigade, Capture, Mustang Maxx, Hero, Danitol), Diamides IRAC 28 (e.g., Exirel), Spinosyns IRAC 5 (e.g., Entrust, Delegate), and organophosphates IRAC 1B (e.g., Malathion). Please remember to rotate amongst different classes of insecticides (different IRAC groups) to prevent insecticide resistance. More insecticides are available for SWD control and not all are registered on all small fruit crops, so please check the labels to make sure the crop you intend to spray is present on the label and refer to the Midwest Fruit Pest Management Guide for more information.
Happy growing season!
This article was posted in
Berries
,
Insects
and tagged
Berries
,
Christelle Guédot
,
fall
,
fall-bearing raspberry
,
Harvest
,
insect
,
Raspberries
,
Spotted Wing Drosophila
,
SWD
.