Learn About New and Emerging Crops With UW-Extension's Cutting Edge Podcast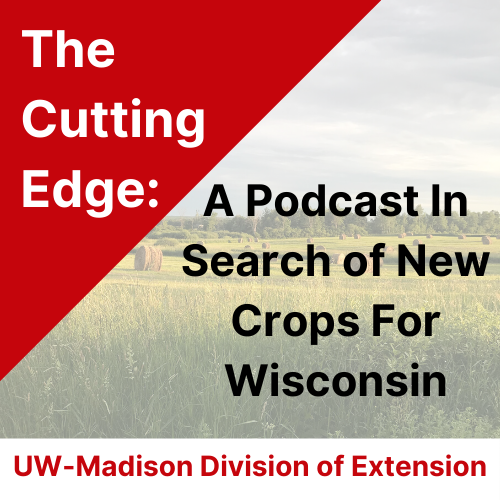 Agricultural diversification is a hot topic right now.  Faced with an ongoing stretch of depressed commodity prices, growers are looking for other cropping options.  To meet the need, UW-Extension has launched a new podcast to provide growers with research-based information on new and alternative crops.  Each episode of The Cutting Edge: A Podcast in Search of New Crops for Wisconsin focuses on a single crop by interviewing researchers, growers, and movers and shakers behind each crop.  Says, Jason Fischbach, Agriculture Agent for Ashland/Bayfield Counties and one of the organizers and co-hosts for the podcast: "The goal of the podcast is two-fold.  First, we want to give growers in-depth knowledge and information about emerging and alternative crops to help growers decide whether to pursue the opportunity.  Second, we want to provide growers and stakeholders an inside look at what it takes to develop new crops and markets for these crops".
According to Jerry Clark, Agriculture Educator for Chippewa County: "Given the ongoing Covid-19 pandemic and the limitations it has placing on our in-person programming, we felt a podcast was a great way to connect with our growers across the state. Plus, we're finding many of our clientele are listening to podcasts more and more these days. Whether in the tractor or in the field hoeing carrots, growers are tuning into podcasts to do some learning and to be entertained."
There are currently 21 episodes available with more added each month.
More information about The Cutting Edge podcast can be found at: https://fyi.extension.wisc.edu/grain/cutting-edge/. Or you can subscribe to the podcast through Google Podcasts or Apple Podcasts by searching for The Cutting Edge: A Podcast In Search of New Crops For Wisconsin.
The Cutting Edge is a product of the University of Wisconsin-Madison Division of Extension and produced by Jason Fischbach, Agriculture Agent Ashland/Bayfield Counties, Jerry Clark, Agricultural Educator Chippewa County, Carl Duley, Agriculture Agent Buffalo County, Ashley Olson, Agricultural Educator Vernon County, George Koepp, Agriculture Agent Columbia County, Evan Hawthorne, Adams County, and Alana Voss, Juneau/Sauk Counties
This article was posted in
Other News and Resources
.