The WiBee App Tracks Wild Bee Pollinators on Your Farm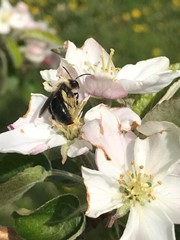 On any warm, sunny day during the growing season, you may see many different species of bees visiting fruit and vegetable blooms: bumble bees, honey bees, leafcutter bees, mason bees, sweat bees and more. Wisconsin has over 400 species of native, wild bees that were here pollinating wildflowers long before the European honey bee was brought to North America in the early 1600s. Wild bees are uniquely adapted to the Midwest's climate and ecosystems, yet their populations (and contribution to crop pollination) vary from farm-to-farm. This local variation poses a challenge when just a handful of researchers are out each season collecting data.
To address this challenge, the Gratton Lab at the University of Wisconsin-Madison Department of Entomology has created a new community science app called WiBee: The Wisconsin Wild Bee App that will enable growers to help survey wild bees on Wisconsin fruit and vegetable farms. The WiBee App (pronounced wee-bee) is publicly available for anyone to use, whether you are a gardener, grower, student, or just interested in bees.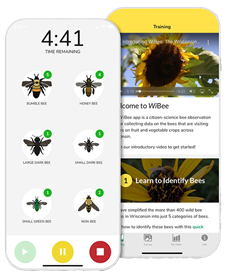 A new smartphone app to survey the wild bees on your farm
The goal of the WiBee App is to observe and collect data on the abundance and diversity of wild bees visiting blooming crops on your farm. With the app, you complete timed observations of bee flower visits on a small patch of a blooming crop. After you install the app and take a brief tutorial on how to identify bees, here's how it works:
Select single plant species in a 3 x 3 foot patch in bloom to survey.
Answer a few questions in the app about the habitat and crop.
Begin your first 5-minute survey. While the timer counts down, observe and record each time a bee or other pollinator visits a flower in the 3 x 3 foot patch.
Once the 5 minute survey is complete, you can move to a new 3 x 3 foot area in your field and start another survey.
We get the best data if participants do three 5-minute surveys on a single day for at least three different days during a crop's bloom (e.g. complete a minimum of 9 surveys for the cranberry bloom). It's important to do observations over multiple days because bee activity is highly dependent on the weather.
Thank you 2020 participants
WiBee App was developed in 2020, thank you to all our volunteers last year! Participants recorded a total of 10,501 wild bee visits in 983 surveys in Wisconsin, with 162 surveys in apple, 78 in cranberries and 77 in curcubit crops among others.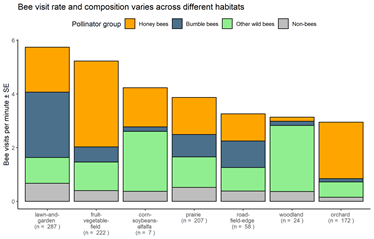 Data showed that wild bee visitation rate varied between habitat types. Factors such as temperature, on-site management practices which affect floral habitat and pesticide exposure, are likely driving this pattern. Preliminary data also suggest that bee habitat available in the surrounding landscape is also a factor. Because of the variability we are seeing, a large compilation of data will be needed to separate factors that can increase bee visitation (thus pollination) rates.
We invite you to help grow that dataset by taking part in 2021 and in future years by using the app to survey bees on your farm or property.
How to get started:
Visit our website to learn how to identify bees: www.pollinators.wisc.edu/wibee.
Sign up for our quarterly newsletter to stay in the know.
Open the app and take a short Bee ID Quiz to confirm your identification skills, and then you are ready to begin completing 5-minute surveys of the bees on your farm.
At the end of the growing season, submit a W-9 form to receive a $50 honorarium for participating in the project (Wisconsin growers only). Email us at pollinators@wisc.edu with any thoughts or questions.
We've designed the app to give you real-time insights about the data you are collecting, so that the app is a tool you can use to track and improve the pollinator community on your farm over time. Whether your goals are to save money renting honey bee hives for pollination services, understand and improve the health of your local ecosystem, or improve crop yields or quality, it's helpful to be able to document pollinator activity year-to-year and see trends resulting from changes to practices on or adjacent to your farm.
Improving our pollinator communities with more flowers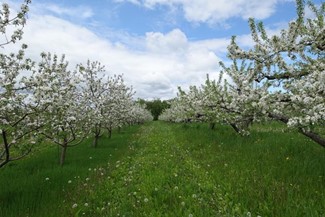 Both wild bees and managed honey bees pollinate many important fruit and vegetable crops. A poorly-pollinated crop can result in lower yields and deformed fruit. This year as you walk around your farm or orchard, take a look at your fields and the surrounding landscape: how many flowers (crop or wild) do you see in bloom? Landscapes with an abundance of flowers throughout the growing season tend to have a larger, more diverse wild bee community that contributes more to crop pollination.
Colleen Satyshur and Katy Thostenson are present and past project coordinators for WiBee: The Wisconsin Wild Bee App, developed by the Gratton Lab at the University of Wisconsin-Madison Department of Entomology. The project is funded by a University of Wisconsin Baldwin Idea Award with additional support generously provided by Gwenyn Hill Farm.
This article was posted in
Insects
,
Other News and Resources
and tagged
Honeybees
,
Pollination
,
pollinators
,
WiBee
.