Japanese Beetles Increase at West Madison Ag Research Station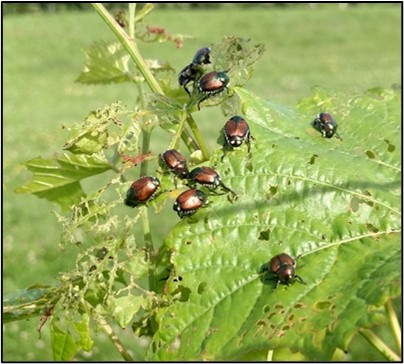 Japanese beetle adults (Figure 1; JB) continue to be present at the West Madison Ag Research Station (WMARS) vineyards. The numbers have not been really high this year and you may start experiencing a slight decrease in numbers following the first emergence of adults in late June. JB adults are here and they will be active until around the third week of September. As a reminder, we recommend about 30% defoliation as a threshold for implementing chemical control in grapes. If you already applied an insecticide to protect your grapes from JB (see previous article for recommendations) please remember to check the label for the interval between sprays before reapplying an insecticide of the same class (IRAC number). Pyrethroids, such as Danitol, Baythroid, or Mustang Maxx provide knockdown of JB and 7-10 residual activity, while Assail provides knockdown and 2-5 day residual activity followed by systemic activity for some time. The carbamate Sevin likely provides some residual activity for 1-2 weeks.
For more in depth information on the biology and management of Japanese beetle, please see the webinar on "What to do now in the vineyard: bloom". No other insect was reported at WMARS at this time.
Thanks to Leslie Holland for reporting insect presence at WMARS.
Happy growing season!
This article was posted in
Insects
and tagged
Christelle Guédot
,
grape scouting
,
Grapes
,
Japanese Beetles
.